CLI International Debt Collectors – Should You Pay? 2022
For free and impartial money advice and guidance, visit MoneyHelper, to help you make the most of your money.
Debts are, unfortunately, a part of our daily lives. It's more common than you think to end up owing a company you didn't realise you owed money to, and it can be a real headache.
However, with a bit of planning ahead, and some good organisation, you can get through the whole process pretty painlessly. We take a look at what to do if you have received a letter from CLI International Debt Collectors.
It's not your fault. Complaints to the Financial Ombudsman have risen this year from 830 to 2,006, so it's safe to say that you're not alone.
Deal with your debt today and feel amazing tomorrow.
Beating Debt Collectors
There are several ways to deal with Credit Limits debt and improve your finances.
Choosing the right way to tackle your debt could save you time and money, but the wrong one could cause even more harm.
It's always best to find out about all your options from a professional before you take action.
Fill out the 5 step form to get started.
CLI International Debt Collectors
According to their website, CLI International Debt Collectors, or Credit Limits International if you go by their full title, are an independent Kent-based debt collection agency.
They collect debts in Kent, in the UK and all over the world on behalf of small to medium-sized enterprises and large corporations from all industry sectors.
One of the biggest sectors of CLI International Debt Collectors is in international debt collection. Their website says that they have a worldwide network with strategic alliances in over 140 different countries.
Are you struggling with debt?
Affordable repayments
Reduce pressure from people you owe
Stop interest and charges from soaring
Get started
Are they a legitimate company?
Anyone who gets a letter from a company that they may not have had dealings with before, that demands they pay an amount of money you may not even know about can be a cause for suspicion. It's really good practice to make sure that the company you have received a letter from are legitimate.
In the case of CLI International Debt Collectors, they are a legitimate company. They are registered on Companies House with the company number 06854365. Their registered address on Companies House is 7 Church Road, Oare, Faversham, Kent, ME13 0QA.
You'll also see on their website that they list 2 other addresses. The first of these is PO Box 267, Faversham, ME13 3AX. This is the address that they ask you to direct all your postal enquiries to. They then give the following address as their actual location: 14 Shunters Close, Faversham, ME13 8GF. They advise that you don't direct your postal enquiries to this 2nd address.
One important thing to note is that CLI International Debt Collectors are not authorised or regulated by the Financial Conduct Authority (FCA).
Why is CLI International Debt Collectors getting in touch with me?
CLI International Debt Collectors could be contacting you for a wide variety of different reasons. Debt collection companies often collect debts for a wide range of different clients.
Other companies will involve debt collection companies such as CLI International Debt Collectors to reclaim any outstanding payments. In their initial correspondence, they will specify exactly who they are collecting the debt on behalf of.
Feeling like Chandler?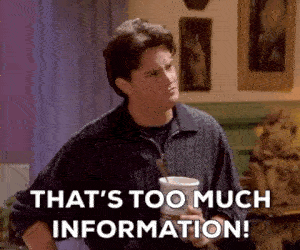 Is all this information starting to feel overwhelming? Don't panic! There's plenty of help available. You can get started below.
Who do CLI International Debt Collectors collect for?
Under the 'About Us' section on the CLI International Debt Collectors website, you can find a list of some of their clients. Unfortunately, often due to client confidentiality, they cannot name any of their clients outright.
Their website states that their clients include the trade and industry sector, collection agencies, solicitors and enforcement firms, insolvency practitioners, private schools and universities, and companies selling to consumers.
They specialise in international cash collection, however, forming a bridge between foreign clients and customers. There have been reports, such as this one on the Guardian website, that CLI International Debt Collectors purchase outstanding debts from around the world and then send out letters in the hope that people might be spooked into paying them.
What do I do if CLI International Debt Collectors get in touch?
It can be a cause of distress and worry if you get a letter saying that you owe money that you didn't think you owed. You may not think you actually owe the money in the first place. It is very rare that companies like CLI International Debt Collectors send out these letters in error, so more often than not, you will owe the money that they say you owe.
Check the details
When you get your letter from CLI International Debt Collectors, it is likely that they will have the necessary details of the original company that you owe the debt to. Make sure you cross-reference this with any information you can find, to ensure that the debt is correct.
In the instance where you might be confused as you actually do owe the debt, you can request a 'Prove the Debt' letter from them.
Take notes
As you go down the process of paying back CLI International Debt Collectors, it's worthwhile taking notes of everything you do. Put down the dates of each letter, and if you end up having a phone call with them, take down the names of the people you speak to. This will help you further down the line if they accuse you of discrepancies.
Paying up
If you know for sure that the debt is yours, and you are able to pay it, you should settle it as quickly as you can. The sooner you do this, the sooner their letters and phone calls will stop. If you can't afford it, you may be able to negotiate a repayment scheme where you pay monthly instalments.
FAQs
Here, we will answer some of the more common questions when it comes to dealing with debt collection companies like CLI International Debt Collectors.
Can they visit my house?
If you continue to ignore CLI International Debt Collectors, they will be able to send a representative to your home.
Are they the same as a bailiff?
They are not. They can, however, employ a
bailiff
to come to your home if you continue to ignore them.
What happens if I don't pay them?
If you do owe the amount they are chasing you for, you ought to pay in full. If you don't pay, they could escalate matters by sending bailiffs, and eventually even getting a court date.
Can I complain about them?
If you believe that CLI International Debt Collectors have behaved in a disrespectful or unprofessional way, then you will be able to make a
complaint
. You can get in touch with them directly to complain. If they fail to respond to your complaint, you will be able to escalate the matter to the
Financial Ombudsman Service
.
Are you struggling with debt?
Affordable repayments
Reduce pressure from people you owe
Stop interest and charges from soaring
Get started