Cobra Financial Debt Collection – Do You Need to Pay?
For free and impartial money advice and guidance, visit MoneyHelper, to help you make the most of your money.
Debt collectors often have a bad reputation, which is largely down to the tactics they use to get their payments. They can be really persistent and it is often a rather unpleasant experience dealing with them. If you've received a letter from Cobra debt recovery, and you aren't sure how to deal with them, you've come to the right place.
While it is a stressful and sometimes frightening situation to find yourself in, with a bit of planning, you can deal with them quickly and easily. There may also be a possibility that you won't have to pay them at all. Read on for our guide and how you might be able to beat them at their own game.
It's not your fault. Complaints to the Financial Ombudsman have risen this year from 830 to 2,006, so it's safe to say that you're not alone.
Deal with your debt today and feel amazing tomorrow.
Beating Debt Collectors
There are several ways to deal with Cobra debt collectors and improve your finances.
Choosing the right way to tackle your debt could save you time and money, but the wrong one could cause even more harm.
It's always best to find out about all your options from a professional before you take action.
Fill out the 5 step form to get started.
Who is Cobra debt recovery?
You may be wondering just who Cobra debt recovery is if you've received a letter from them. After all, it's unlikely that you would have had any dealings with them in the past.
Cobra debt recovery is a debt recovery agency. They work with businesses and individuals whose debtors are refusing to pay. Their website declares that they are the UK's fastest-growing debt recovery agency and that they take the stress out of debt collection.
They have offices across the UK, with branches in Liverpool, the Midlands, Wales, London, Devon & Cornwall, and they specialise in home visits. They claim on their website that if you are owed £1,000 or more, then they will collect that money from your debtor.
Are you struggling with debt?
Affordable repayments
Reduce pressure from people you owe
Stop interest and charges from soaring
Get started
Who do they collect debts for?
Debt collection agencies like Cobra debt recovery often collect debts for a wide variety of different industries and companies. Some of them focus solely on one industry, however.
Cobra debt recovery collects debts for a large range of different industries, from large corporate companies all the way through to individuals. They also offer their services to a wide variety of specialist sectors, which include the following:
Professionals (such as solicitors or accountants)
Insurance
Education
Entertainment & Leisure
Financial services (such as outstanding claims and bank charges)
Technology
Mortgage arrears (including unpaid personal loans)
Motor Finance
Travel (such as unpaid fees for package holidays and non-payments of excursions)
Construction & Tradespeople
Automotive (including petrol suppliers and chains)
So as you can see, they are involved in a large number of industries.
Are they trustworthy?
It's always worth checking if a company like Cobra debt recovery is legitimate. We all have received scam letters and emails, so it's good practice to check up on them.
Cobra debt recovery is indeed a legitimate business. Their Companies House page tells you that their company number is 06897493 and their registered office address is Aintree Building, Aintree Way, Aintree Racecourse Retail & Bus Pk, Liverpool, England, L9 5AQ.
If the address on your letter is different from their registered office address, don't be too alarmed. As we mentioned, Cobra debt recovery have a total of 6 different offices in the UK – you can find the addresses for each of these offices here.
Feeling like Chandler?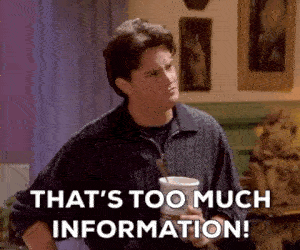 Is all this information starting to feel overwhelming? Don't panic! There's plenty of help available. You can get started below.
What kind of reviews does Cobra debt recovery have?
Most debt collection agencies don't have glowing reviews. No-one likes a strongly-worded letter claiming that they owe an amount of money they may not even realise they owed, after all. Cobra debt recovery, on the other hand, has quite good reviews.
On Trustpilot, they have a 4.9 rating, and in 2019, they had a 90% success rate – equating to £14 million collected, which is an industry high. Be warned though – leaving a bad review on Trustpilot will lead them to chase you up, and they have even threatened police action against bad reviewers!
What to do next
So that's the basics about Cobra debt recovery. Now we'll give you a guide on how to deal with them. If you plan carefully, you may even be able to beat them at their own game.
Gather information
As soon as you receive any correspondence from Cobra debt recovery, make sure you read through it carefully and note down exactly who they are collecting the debt on behalf of. Then go through your own documents and find as much information about the original creditor as you can. If the amounts are different after cross-referencing them, you may not have to pay them.
Know your rights
Cobra debt recovery is somewhat renowned for being quite heavy-handed. They specialise in home visits and often will arrive at your door very early in the morning.
Cobra debt recovery is not regulated by the Financial Conduct Authority, which means they do not have to adhere to their rules and regulations. That being said, they should at least treat you with some respect, including not harassing you, not misleading you, or threatening and abusing you.
Prove the debt
If you don't think that the debt is yours, you can send Cobra debt recovery a 'Prove the Debt' letter. This means they will have to respond with evidence of the debt in writing.
You can find templates for a 'Prove the Debt' letter here.
FAQs
Below, we answer some of the more commonly-asked questions about Cobra debt recovery and debt collection agencies in general.
Should I pay them?
If you are certain that the debt is yours, and you have the funds to pay them in full, you
should pay
Cobra debt recovery. They won't stop contacting you until you pay them, so it is best to settle it as soon as you can.
Will they visit my home?
Yes. Cobra debt recovery prides themselves in their face-to-face debt collection – they even have a
section
on their website dedicated to it. They have been known to use body cameras as well, and claim a success rate of 90.4%. They do, however, have to supply you with written notice about their visit, and they shouldn't visit before 8am – reports have said that they often visit at 7am.
Can I make a complaint?
Yes. Debt collection agencies can occasionally behave quite disrespectfully and may seem like they're harassing you. If you feel that Cobra debt recovery have not treated you correctly, you should get in touch with them directly with the nature of your complaint. If they do not respond, you should escalate the matter to the
Financial Ombudsman Service
.
Are you struggling with debt?
Affordable repayments
Reduce pressure from people you owe
Stop interest and charges from soaring
Get started