EE Debt Collection – Do You Have to Pay? 2022
For free and impartial money advice and guidance, visit MoneyHelper, to help you make the most of your money.
Debt collection is a massive industry nowadays. There are thousands of debt collection agencies across the country that all collect for lots of different companies and industries, with debts being collected every day.
It may be stressful to get a letter in the post, often from a company you don't recognise, claiming that you owe money, but if you think ahead and act quickly, you will be able to beat them back.
Here, we take a look at how to beat EE debt collection, and answer some frequently asked questions about debt collection agencies.
It's not your fault. Complaints to the Financial Ombudsman have risen this year from 830 to 2,006, so it's safe to say that you're not alone.
Deal with your debt today and feel amazing tomorrow.
Beating Debt Collectors
There are several ways to deal with EE debt collectors and improve your finances.
Choosing the right way to tackle your debt could save you time and money, but the wrong one could cause even more harm.
It's always best to find out about all your options from a professional before you take action.
Fill out the 5 step form to get started.
EE Debt Collection
If you have a contract with EE, then you will be expected to pay the amount you have agreed with them, usually once a month. However, everyone's circumstances can change at the drop of the hat, and it can be very easy to inadvertently fall behind on a payment.
If this happens, as it happens to the best of us, you may end up receiving some correspondence from EE with regards to your repayment. Sometimes, though, these letters will fall between the cracks.
When this happens, you will be contacted by an agency that will be representing EE debt collection. EE will also cease the services they provide to you until the debt has been paid. They also warn that if it comes to a case of EE debt collection, they will add the incurred fees involved in employing a debt collection agency to your final bill.
There is also a chance that the agency used for the EE debt collection will add on their own fees or charges to recover the debt.
Are you struggling with debt?
Affordable repayments
Reduce pressure from people you owe
Stop interest and charges from soaring
Get started
EE Debt Collection – who are they?
EE often use a debt collection agency to reclaim the unpaid money you might owe. One of the companies that EE are reported to use in their debt collection is a company called Moorcroft Debt Recovery Limited.
If you have received a letter regarding EE debt collection from Moorcroft Debt Recovery Limited, you may be confused. After all, you probably haven't had any dealings with them before. There are a few steps we advise you take before dealing with them:
Have you received a letter from this debt collector? I'll buy it off you for £5
Are they a legitimate company?
As you may not recognise the company name, you may be wondering whether or not Moorcroft are a legitimate business. Many people are out there trying to scam you with threats of debts you don't actually owe, so it's good practice to be suspicious.
The best way to find out if a business is legitimate is by checking the Companies House website. In the instance of the EE debt collection agency, Moorcroft Debt Recovery, they are indeed legitimate.
Moorcroft Debt Recovery has its own Companies House page, with the company number 01703704. Their registered office address is Moorcroft House, No.2 Spring Gardens, Stockport, SK1 4AA. This means that you should treat their letters seriously.
Another level of legitimacy can be found if whether they are regulated by the Financial Conduct Authority (FCA). Moorcroft Debt Recovery are both authorised and regulated by the FCA, and they also claim to adhere to the Credit Services Association code of practice.
Feeling like Chandler?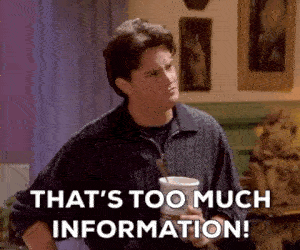 Is all this information starting to feel overwhelming? Don't panic! There's plenty of help available. You can get started below.
Do I owe the money they say I owe?
You may be wondering whether the debt that they claim you owe is for you in the first place. It's rare that a debt collection company will contact you in error, so it's unlikely EE debt collection would contact a debt collection agency without evidence of your debt.
Nonetheless, it's essential to double-check and cross-reference the amounts stated in the letters they send. Be sure to go through all the correspondence you might have received and compare the figures they quote in the letters that EE might have sent you.
You can also write them a 'Prove the Debt' letter, using a template that you can find on this link.
This letter asks Moorcroft Debt Recovery, working on behalf of EE debt collection, to prove, in writing, that you owe the money they say you owe.
Should I ignore them?
It may be tempting to ignore EE debt collection, and you may think that this will make them go away. Unfortunately, ignoring any letters and phone calls from EE debt collection will not make them go away.
They will continue to send letters and call your home, and if you don't reach out to them, they may escalate matters. They can arrange for bailiffs to visit your home, and they can take out a County Court Judgment (CCJ) which can lead to bankruptcy and a bad credit rating. So it's best to be active and get in touch with EE debt collection as soon as you can.
FAQs
So that should cover all the information you might need if you have to deal with EE debt collection. In this section, we go through a few of the more common questions about debt collection agencies in general.
Can they visit my property?
Yes. This may only happen in rare cases, however, and it doesn't happen very often, but they may well send a representative to your home. They do not have the power to come inside, though, unless you invite them.
Should I pay them?
If you have the funds in full, and you are certain that the debt is yours, then you should
pay them
as soon as you can. This will stop all the letters and phone calls they make straight away.
What happens if I can't pay?
If you
can't pay them
, don't panic. If you get in touch with them as soon as possible, you should be able to arrange a repayment scheme and pay the debt back in monthly instalments.
Can I make a complaint?
If you believe that the company used by EE debt collection has behaved in a disrespectful way, you can make a
complaint
about them. Start off by contacting them outright. If they do not respond, you can escalate the complaint to the
Financial Ombudsman Service
.
Are you struggling with debt?
Affordable repayments
Reduce pressure from people you owe
Stop interest and charges from soaring
Get started