How to Help Someone get out of Debt – 2022 Guide
For free and impartial money advice and guidance, visit MoneyHelper, to help you make the most of your money.
Are you looking for guidance and support on how to help someone get out of debt? You're in the right place.
It can be a difficult experience watching a family member or friend struggle with debt and financial insecurity. You probably want to help but are unsure of what to do. The good news is there are ways you can help someone get out of debt without having to pay their debts yourself.
How to spot a debt problem
Many people with money problems and debts will not ask for help. They can feel embarrassed or ashamed that they have gotten into debt and be reluctant to confide in you, even if you are their best friend or close family. Thus, it is good to know the red flags which might suggest that your loved one has a debt they are struggling to repay.
Here are some of the red flags that might mean your friend or family member has money worries:
They are withdrawing from social occasions without providing a reason
They sold their vehicle and started using public transport
They avoid talking about finances or change the subject quickly
You frequently notice unopened bills and letters around their home
They get lots of calls or text messages that change their mood
In combination with any of the above, they recently lost an income, such as being made unemployed.
In combination with the points above, they seem depressed and anxious
Don't worry, here's what to do!
There are several debt solutions in the UK that can be used to improve your finances. Choosing the right way to tackle your debt could save you time and money, but the wrong one could cause even more harm.
It's always best to find out about all your options from a professional before you take action.

Fill out the 5 step form to get started.
What to do if you suspect a debt problem
If you suspect a friend or family member has a debt problem, the only way to know for sure is to ask them in a respectful and compassionate manner. Sit down with them alone and explain that you have the impression that something isn't quite right. Give them the opportunity to tell you before asking directly if they are having money problems.
Do not try to find out using other methods, such as looking through their personal belongings or trying to read their mail.
How can you help someone pay off their debt?
There are lots of ways to help someone you care about get out of their debts. This doesn't mean you have to pay off their debts for them. In fact, StepChange states that many of their clients are experiencing a debt problem becomes they tried to help friends and family by giving them money.
This doesn't mean paying off their debt isn't an option. But you should be very careful and protect yourself first. If your friend has a debt, it may be a sign they will struggle to pay you back as well. Instead, you can be a source of information, encouragement and support throughout their journey out of debt.
Feeling like Chandler?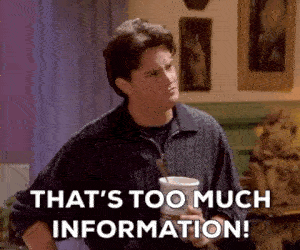 Is all this information starting to feel overwhelming? Don't panic! There's plenty of help available. You can get started below.
How to help someone get out of debt
Anyone wanting to know how to help a friend get out of debt will find three important steps below:
#1: Offer confidential emotional support
Once you have found out that someone you care about has a debt problem, offer them confidential and emotional support so they can talk to you and explain what is going on.
If you have promised not to tell anybody else, make sure you don't or it could break the trust you have built up. Let them know they can contact you at any time to discuss the issue. Gradually over time, they may start to reveal more about the problem.
It's important to offer them emotional support because debt can lead to mental health issues and even depression and suicide. It is estimated that in England over 400,000 people consider suicide to get out of debt each year.
#2: Make a monthly budget together
You should encourage the debtor to make a monthly budget, which you can help them with. A monthly budget is a great way to work out the debtor's income and essential expenses, including debt repayments. The budget will help them find ways to save some money and it can be useful when the debtor gets free debt advice to arrange a debt solution – which is the next step!
#3: Encourage them to speak with a debt charity
The third and arguably most important way to help someone get out of debt is to encourage them to speak with a debt charity. These charities offer free and confidential debt advice. The adviser will assess the individual circumstances of the debtor and can even recommend a debt solution to make repayments affordable. Sometimes the charity will even negotiate everything with creditors on the debtor's behalf.
You could encourage your friend or family member to get free debt advice by providing them with the contact information and explaining how they help. You can also show them reviews left on sites like Trustpilot so they can see how people in a similar situation got out of debt using these free services.
Related FAQs
How do I get out of debt with no money?
If you have no disposable income to pay off your debts, you may want to consider a Debt Relief Order (DRO). This debt solution prevents creditors from asking you to make payments for a year, and if your finances have not improved after the year then all debt gets written off.
How can I help my partner in debt?
You can help your partner out of debt by offering confidential support, making a budget together and encouraging them to speak with a debt charity that offers free debt advice.
How can family members get out of debt?
Family members can get out of debt by speaking with a debt advice charity. The free and confidential advice they receive will explain the most suitable and best ways they can get out of debt, and they may even organise debt solutions directly with creditors.
More debt help at MoneyNerd
Learn about the different methods people use to get out of debt on the MoneyNerd debt solutions hub.
Are you struggling with debt?
Affordable repayments
Reduce pressure from people you owe
Stop interest and charges from soaring
Get started