IVA advice Forum – Complete Overview with Tips & More
When in debt, you can use a debt solution service to pay off the debt over time. There are lots of solutions available, and one of them is an Individual Voluntary Arrangement, otherwise known as an IVA.
An IVA is a serious solution and one that legally binds you to make repayments. The process of getting one can be complicated and even when you have been using an IVA for years (they typically last five years because they are for people with big debts) you might still need answers.
That's why many people hoping to get an IVA or already on one will flock to an IVA forum.
What Is an IVA Forum?
An IVA advice forum is just like any other forum in its purpose. It is there as a way for people to share information and support each other online via a website. People can join the forum and post questions or start discussions on any topic relating to an IVA.
For example, people using an IVA forum may ask for recommendations on where to find a company that will help them secure an IVA, or they could ask if they qualify for an IVA by explaining their situation.
Overall, IVA forums can be very useful because they offer quick information and support in a stressful situation.
Feeling like Chandler?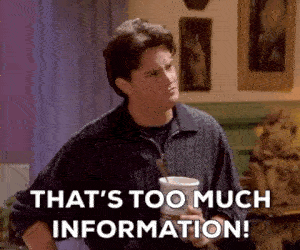 Is all this information starting to feel overwhelming? Don't panic! There's plenty of help available. You can get started below.
What Is the IVA Advice Forum?
The IVA Advice Forum is one such forum. It is a forum owned by a debt management company called Channel Active Limited and has been live since 2011. Thus, the forum has the usual purpose of providing information to their IVA community, but it is also used as a vehicle to generate leads for their debt management company which offers to process IVAs.
It is still a helpful IVA forum that includes posters from everyday people and professional insolvency experts, but it also commercially geared somewhat.
The Benefits of the IVA Advice Forum
The IVA Advice Forum categorises its pages well by creating special pages for the most common IVA questions. This will be especially useful to people who are brand new to the confusing world of IVAs. Along with these pages, there are sections dedicated to the most current discussions and to the top IVA threads to date.
One of the big benefits of the IVA Advice Forum is that the forum is used by real IVA experts and professionals. On many occasions, these people will start conversations and answer debtor queries, giving them peace of mind that they receive accurate advice from a certified person.
The Not So Good Parts…
Even though having professional advice on the forum is so invaluable, the motivations for this are clearly to sell IVA services, and this will put some people off. But there are no obligations to use their services so you can get professional advice on IVA Advice Forum with no catch.
But the aspect of the IVA Advice Forum that is not so good is the website itself. It is outdated and doesn't provide easy navigation. For example, you can move to one thread and then find difficulty getting back to the homepage or elsewhere, which gets a bit annoying.
What Other IVA Forums Are Available?
The IVA Advice Forum is not your only option and there are many other IVA forums out there that you can use for free. Two other options are:
The Money Saving Expert website is exceptionally popular and made famous because it is chaired by Martin Lewis, the UK's money expert and familiar trusted face. This site is practically better than the IVA Advice Forum, but it is not dedicated to IVAs and does not have as many professional users so advice may not always be accurate.
IVA.co.uk on the other hand is very similar to the IVA Advice Forum. They are both owned by debt management companies and include many professional IVA users that answer questions. If anything, IVA.co.uk is probably the better option because the website is more modern and has better navigation.
Which IVA Forum Should I Use?
Although we recommended using IVA.co.uk instead of the IVA Advice Forum and Money Super Market, there is nothing stopping you from using all three. Each has its merits and can become useful as you try to secure an IVA and go through the lengthy process. They are all free to use.
You can also use them to share your experiences and help other people too!
How Easy Is It to Get an IVA?
An IVA is only a suitable option for people with £10,000+ of debt and someone who has multiple creditors. If your debts are small, this debt solution is not for you, but you could benefit from something else, such as a Debt Management Plan (DMP).
Even if you do meet the criteria for an IVA, the decision to accept the IVA rests with your creditors as a collective group. They vote on the terms (i.e. how much you will pay each month) put forward and 75% must vote in favour of the IVA for it to be active.
This is why you can never be certain to get an IVA. If you get one or not will come down to how much you owe and how much you are able to pay back each month.
How Do I Get an IVA?
Securing an IVA is not something you can organise yourself. You will need the help of a certified insolvency practitioner to get the IVA set up and monitored, which means paying fees for the whole 60 months it is active.
You can often find insolvency practitioners directly at their own finance companies, or you might find them at accountancy firms. The third option is to use debt management companies that employ an insolvency practitioner so they can offer IVA services to debtors.