Merligen Investments Debt Collection – Should You Pay? 2022
For free and impartial money advice and guidance, visit MoneyHelper, to help you make the most of your money.
If you've received a letter from Merligen Investments Debt Collection, you're probably wondering, who is this company? Why are they sending me letters? Do I have to pay what they are asking for?
Whether you recognise the debt they are claiming you owe or not, this guide will take you through the steps of dealing with Merligen Investments without the stress and worry.
It's not your fault. Complaints to the Financial Ombudsman have risen this year from 830 to 2,006, so it's safe to say that you're not alone.
Deal with your debt today and feel amazing tomorrow.
Don't worry, here's what to do!
You could get rid of Merligen Investment Debt Collectors by writing off some of your debt.
There's several debt solutions in the UK, choosing the right one can take years off your debt, but the wrong one can be expensive and drawn-out.
Fill out the 5 step form to get started.
Who is Merligen Investments Debt Collection?
Merligen is a specialist consumer debt purchaser. This means they buy debt from lenders at a significantly reduced rate and then chase the debt directly from the individuals in order to make a profit.
They are known for acquiring debt in the following sectors:
Financial Services
Consumer Lending
Motor Finance
Utilities
Claims Management
Telco
Insurance
Retail
Are you struggling with debt?
Affordable repayments
Reduce pressure from people you owe
Stop interest and charges from soaring
Get started
Is Merligen Investments Limited a Legitimate Firm?
Yes, Merligen Investments is a legitimate debt collection agency. If you've received a letter from them, they have legally acquired your debt and now you owe them the outstanding debt.
Have you received a letter from this debt collector? I'll buy it off you for £5
Bear in mind that debt collection agencies usually bulk acquire small debts and then send out persistent letters in an attempt to make their money back. You should, as this will make their attempts to recover debt from you even more persistent and without the proper checks, you won't know for certain if you are legally obligated to repay the debt in the first place.
Should I Ignore Letters from Merligen Investments?
If you don't recognise the debt and you're concerned you've received a scam letter, you could ignore the initial letter. If this is a scam, they likely won't send another one if they get no response from you. However, if you've already received multiple letters from the firm, or you recognise the debt, it's best to respond and open up a dialogue.
Again, never admit to owing the debt. Instead, let the company know that you dispute the debt and will need proof (more on how to do this later).
Feeling like Chandler?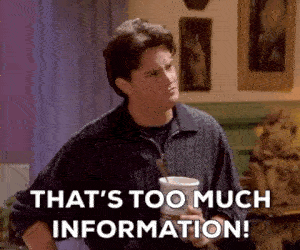 Is all this information starting to feel overwhelming? Don't panic! There's plenty of help available. You can get started below.
How Do I Stop Merligen Investments Coming to My Home?
It's highly unlikely that this debt collection agency will come to your home. They are a debt agency, not bailiffs, so they have no right to seize property or enter your home without permission. Because of this, it's an expensive process to send agents out to houses, only for them to be turned away immediately.
If, on the unlikely occasion they do come to your home, simply tell them to leave and get in touch with you by post only. Never let them in and never agree to any sort of payment plan in person.
Should I Pay Merligen Investments Straight Away?
Absolutely not. Before you pay any money, you should first do your own due diligence and ensure the debt is legitimate and registered in your name. If it's not, then there's no need to pay them anything.
What Legal Action Can Merligen Investments Take?
Here are the steps Merligen Investments Limited will take in attempts to recover the debt from you:
1. Send letters and call your home
You'll receive letters stating that your debt is now under their management, how much you owe, and how to pay it.
Here's an example of a letter they have sent:
"We give you notice that Money Junction Limited assigned to Merligen Investments Limited all of Money Junction Limited rights in and under the above detailed account on 30 November 2017.
As a result of this assignment the full amount outstanding on the accounts is now due to Merligen Investment Limited.
Following the assignment of these accounts Merligen investments limited is the data controller of your information in respect of these accounts and has the same rights to give information to credit referencing agencies about the personal debt that you owe in respect of these accounts, for example if you have fallen behind with your payments.
Your accounts are now being managed by Moriarty Law Limited and all communications and payments should now be directed through Moriarty Law Limited.
Please ensure that you or your 3rd party representative who is advising you, contacts Moriarty Law Limited following receipt of this letter.
They can review your circumstances and agree an affordable repayment amount. The process can be dealt with quickly over the telephone. Please contact 02031264544 and their advisors will be pleased to assist you further.
Yours faithfully
signed: Merligen investment ltd."
2. Send more letters
Since this is a for-profit debt collection agency, their main tactic for recovering debt is to continue to send letters and make phone calls. This is an attempt to pressure individuals into paying back money without the need of expensive court cases.
Also, most of the debt cases acquired by Merligen Investments are relatively small, making court proceedings highly unlikely.
Can Merligen Investments take me to court?
Merligen do have the power to take you to court, however, unless the debt is substantial enough, this isn't going to be a likely route.
They will also send notice that your account is closing and legal action is being considered before actually involving the courts.
How Do I Stop Merligen Investments From Contacting Me?
Unfortunately, you can't stop them from contacting you altogether. They are within their rights to contact you either by phone or post.
What they're not allowed to do is harass you and pressure you into paying back debt you either don't recognise or can't afford.
If they do, you should lodge a complaint with Merligen Investments Debt Collection directly:
Post: Po Box 480, West Byfleet, KT14 9DG
Phone: 0845 218 2020
What Do I Do When I Receive a Letter From Merligen Investments?
Here are some simple steps to take as soon as you receive a letter or phone call from this debt collection agency:
1. Check whether the debt is yours
Is the debt registered in your name? These debt collection agencies do sometimes make mistakes, so it's best to be sure the debt is legitimate. You can do this by checking your credit report online with reputable credit check agencies like Experian.
2. Ask them to prove the debt
Next, inform Merligen Investments that you do not believe you owe the debt and will need proof. They will need to send the original loan or credit agreement that has been signed by yourself.
If they can't give you evidence of the money owed, you have no obligation to pay them anything.

Top tip: Never sign anything you send to Merligen Investments Debt Collection. Theoretically, they could use your signature to forge a credit agreement.
3. Check if the debt is Statute Barred
In England, creditors have six years from the final payment (five if you live in Scotland) to retrieve any outstanding debt.
After this time, the debt is legally Statute Barred and you don't need to make any payments.
If your debt is statute barred, you can ignore all correspondence from Merligen Investments as you have no obligation to pay them the debt.
What Do I Do if I Can't Afford to Pay Merligen Investments?
If you've done the checks above and found that:
The debt is registered in your name
Merligen have provided evidence of the debt
The debt is not statute barred
Then you are required to pay the debt owed. However, if you can't afford to do this, you do have some options:
1. Agree on a payment plan with Merligen Investments
Come to come to an agreement with Merligen Investments Debt Collection on an affordable monthly repayment plan.
Make sure they don't add any penalties or high interest rates on top of the amount owed.
2. Negotiate a final settlement
This debt collection agency is looking to make a profit on the debt, so they are probably open to negotiating a final settlement amount.
First, ask them the lowest amount they will take to settle the figure. Then offer a lower amount, you'd be surprised how low these debt collection agencies will go when negotiating.
Can I Write Off My Debt?
If Merligen Investments Limited are not willing to offer you an affordable repayment plan or a lowered settlement, you might be able to get your debt written off.
An Individual Voluntary Arrangement (IVA) is a debt management scheme that consolidates all of your debts into one affordable monthly payment.
An IVA is a popular choice with people with several debts who are struggling to make the monthly minimum payments.
Still Unsure of How to Deal with Merligen Investments Debt Collection?
There are many more options available to help you pay off your debt without getting into more financial trouble. Make sure to check out this debt management guide which gives more detail on the different routes you can take
Are you struggling with debt?
Affordable repayments
Reduce pressure from people you owe
Stop interest and charges from soaring
Get started
References
CONC 7.3 Treatment of customers in default or arrears (including repossessions): lenders, owners and debt collectors