Mil Collections Debt Collectors – Should You Pay? 2022
For free and impartial money advice and guidance, visit MoneyHelper, to help you make the most of your money.
Feeling anxious after receiving a Mil Collections Debt Collectors letter? Don't know where to turn or if it's genuine? Read our complete guide on Mil Collections Ltd, who they are and how to respond to their debt letters.
We understand that debt letters and CCJ threats can be scary experiences, but we also know how you can act to make your situation better.
It's not your fault. Complaints to the Financial Ombudsman have risen this year from 830 to 2,006, so it's safe to say that you're not alone.
Deal with your debt today and feel amazing tomorrow.
Don't worry, here's what to do!
You could get rid of Mil Debt Collection by writing off some of your debt.
There's several debt solutions in the UK, choosing the right one can take years off your debt, but the wrong one can be expensive and drawn-out.
Fill out the 5 step form to get started.
Who Do Mil Collections Debt Collectors Work For?
Mil Collections are known to work for household utility companies, councils, mobile phone providers and even government departments. Their clients can change each year, so there really is no way of knowing who they are working for.
Any communication you receive from them is likely to state who they are contacting you on behalf.
Are you struggling with debt?
Affordable repayments
Reduce pressure from people you owe
Stop interest and charges from soaring
Get started
Why Are Mil Collections Debt Collectors Chasing Me?
Mil Collections are a debt collection agency, which means they are a business that chases unpaid debt for other businesses. For example, if one business has a customer that has not paid their bill or invoice, they can outsource the responsibility of collecting that debt to a debt collection agency just like Mil Collections.
Lots of small and large companies do this because chasing debts can be time-consuming and reduce in-house productivity. By getting Mil Collections on the case, they can concentrate on running their business while their debt is collected. Most debt collection agencies charge a fee for their service or take a commission when the debt starts to be repaid.
If you have received a letter from Mil Collections requesting payment, it is likely that you owe money to a business that Mil Collections works for.
But there could have been a mistake. More on this later.
Are Mil Collections Ltd a Real Debt Collection Agency?
Yes, Mil Collections are a real debt collection company. Their website claims that they have been working in the debt collection industry for over two decades. They are regulated by both the FCA and the CSA.
If you need to contact Mil Collections, they can be called on 01872 470239. However, you may find answers and better tips when dealing with Mil Collections Debt Recovery throughout this guide, i.e. there's no need to call just yet.
Yet, one of the biggest clients of Mil Collections was First Utility, which is now known as Shell Energy because Shell bought First utility in 2018. Here is some evidence of Mil Collections Debt Recovery's partnership with the company:
"Yesterday I received a demand from Mil Collections for £11.58 for a supposed debt from 2013 when I was with First Utility. At first I thought it was an internet scam, and I called their head office to make certain they are genuine – which they appear to be."
[Money Saving Expert Forum]
There has been an array of cases reported online that customers have left First Utility/Shell and are with new suppliers. Yet, First Utility keep sending them letters about unpaid bills for the same period. This could result in unwarranted contact from Mil Collections Debt Recovery.
Feeling like Chandler?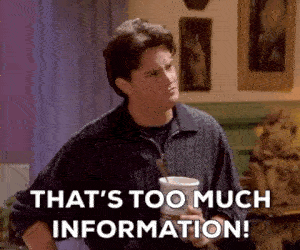 Is all this information starting to feel overwhelming? Don't panic! There's plenty of help available. You can get started below.
Should I Pay Mil Collections Ltd or Ignore Them?
If this is your first contact with Mil Collections, you should in no circumstances ignore their debt letters. There are ways to get Mil Collections to stop contacting you and sometimes to not have to pay debt, but these can only be achieved by making sure you respond to Mil Collections first.
There may be times when you can ignore them in the future, and in those cases, you may even claim that Mil Collections are harassing you and take action against them.
Can Mil Collections Debt Collectors Take My Home?
No – Mil Collections are a business that chase debts, but they have no powers to enforce them. In fact, Mil Collections Ltd do not have any more legal abilities to seize money or homes than the companies they work for.
Businesses chose to use Mil Collections because they can apply time and resources to chasing debts. They do not use Mil Collections because they have special legal powers.
Mil Collections cannot:
Take your items
Take your vehicle
Take your home
Pretend they can do any of these things
They can pay you a visit, but you don't have to talk to them if you don't want to. Only a law enforcement team can carry out repossessions after a CCJ has been issued.
This may only happen if you ignore Mil Collections debt letters.
Why Mil Collections Ltd Sometimes Make Mistakes
Many people who receive a Mil Collections debt letter are already aware of the debt they owe. If you would struggle to pay the debt, it is normal to hope nobody contacts you and the debt goes away.
Sometimes however, Mil Collections make mistakes or errors that mean people without any debt receive their debt letters. They receive them because Mil Collections are having trouble locating the person who owes their client money. In an attempt to find them, they send lots of debt letters out to everyone with the same or a similar name. They could send debt letters to addresses where they know the debtor used to live.
If you received a debt letter from Mil Collections and know there has been a mistake, you still need to take action. You could call Mil Collections on the contact number given above, or you can send them a prove the debt letter…
Get Mil Collections to Prove the Debt
The initial letter you received from Mil Collections stating you need to cough up the money is what the industry classifies as a Letter Before Action (LBA). The letter tells you to pay or there will be a Mil Collections CCJ issued. This means a court could give enforcement officers the right to repossess your items or even your home.
Sounds scary? It is serious but these letters are there to scare you into paying, especially if you do not know your legal rights.
A CCJ can only be issued if Mil Collections can prove to you that you owe the debt. So before you go looking for your cheque book, you should be requesting proof of the debt.
Proof of the debt is usually an agreement between the company that Mil Collections are working for and yourself, such as a signed utility contract or tenancy contract. If Mil Collections cannot prove the debt, you won't have to pay.
Lots of people do not realise this and pay instantly out of fear. But there is a chance that Mil Collections and their client cannot prove the debt because they don't have significant proof anymore.
How to Write a Prove the Debt Letter?
To make things even easier, prove the debt letters have already been made for you online. You can choose from many effective templates and add some of your personal details to make them relevant to your situation and the LBA from Mil Collections.
Prove the debt letter templates are widely available online.
But if you want to write your own letter, you should remember to include:
Your name and the date
Reference numbers if applicable
Notification that you received the LBA
Ask for proof of the debt (do not admit to the debt even if you know about it)
Tell them future contact without proof is considered harassment
You will report harassment to the FCA
Do not sign, print only
Keep a copy of the prove the debt letter just in case you do need to report Mil Collections. If they contact you again without proof, you can report them for harassment to the FCA.
Statute Barred: You Might Not Have to Pay!
There is a chance that even if you owe the debt, and the debt is rather old, you will not have to pay.
The courts introduced legislation that stopped older debts being enforceable because they were getting too busy with cases referring to old debt. It was creating pressure on the court system and taking up too many resources.
To protect the courts and their resources, they decided to stop debt that is six years or older in England or five years or older in Scotland from being enforced. This is known as statute barred.
For your debt to be statute barred in England, the debt must be:
Six years or older
Not had a payment on it in the last six years
Unacknowledged in the last six years
Not currently being looked at by the courts
If you made a payment or acknowledged ownership of the debt in the last six years, at that point in time the six-year countdown restarts.
Statute Barred Debt Is Not Wiped Debt
One misconception about statute barred debt is that people believe it is wiped debt. Technically this is not the case because the debt still exists. The major difference is that a CCJ cannot be issued for the debt, and therefore, there is no legal way for Mil Collections or another agency to collect the debt.
Unless you were feeling kind and obliged to pay.
If your debt is statute-barred, you can send Mil Collections a statute-barred letter to let them know and to stop them from contacting you. Templates are again available widely online.
I Can't Afford to Pay Mil Collections Today, What Should I Do?
Threats of CCJs can send you into panic mode if you cannot afford to pay the debt that Mil Collections are asking for. If they have proved the debt to you, there are solutions even if you are unemployed or a low earner.
#1: Agree on a Payment Plan
If you cannot afford to pay the debt, then you can agree on a payment plan with Mil Collections. This is not unusual as most people are not able to pay off unexpected debts out of the blue. Before you negotiate a payment plan, you must first calculate what you can afford to pay each month.
Never commit to an unreasonable and unaffordable payment plan because it can make the debt worse!
#2: Consider an IVA
An IVA is an alternative option for people who already have debt as well as their Mil Collections debt. They can use an IVA to make larger monthly payments, but with the promise that all debts will be wiped after a five-year period.
For people in significant debt, an IVA could save as much as 90% of the debt because all debt is gone after five years.
#3: Explore Other Debt Solutions
There are other debt solutions, including writing off debt, bankruptcy and further alternatives. The right solution for you depends on your situation. You should not attempt to cut and paste methods that worked for other people without considering your Mil Collections debt, your income and any other debts you have.
Mil Collections Debt Collectors Are Harassing Me
Mil Collections Ltd may be harassing you if they are:
Calling repeatedly
Visiting your home frequently
Not allowing you time to assess your options
Contacting you at work
Calling after usual sociable hours
If they do any of these things after requesting them not to, or if they claim to have legal powers which they do not, you can make an official complaint to the FCA.
Ways of making a complaint can be found on the FCA's website.
Further Support for Dealing with Mil Collections Debt Collectors…
If you need additional support when dealing with debt from Mil Collections, you can seek help from UK debt charities. These groups can help you with letters that you need to send Mil Collections and offer their own templates.
Some of these group can even talk you through your debt solution options and offer to laisse with Mil Collections Debt Collectors on your behalf.
Search online for help from:
Are you struggling with debt?
Affordable repayments
Reduce pressure from people you owe
Stop interest and charges from soaring
Get started
References
CONC 7.3 Treatment of customers in default or arrears (including repossessions): lenders, owners and debt collectors