Money Saving Expert IVA Forum – Martin Lewis
Have you ever read posts on the Money Saving Expert IVA Forum? If you have or you are thinking of using this IVA forum regularly, you might want to read our guide first. Martin Lewis's website has been proven useful to thousands of UK households, but how does the Money Saving Expert IVA Forum fair?
An IVA in a Nutshell
An IVA stands for Individual Voluntary Arrangement and is a debt solution for some applicable debtors. To get an IVA, you usually need to have more than one debt and a total debt over £15,000. As such, this debt solution is aimed towards people in considerable debt.
But, how does it work?
Well, the IVA is a formal solution which means that it must be arranged and overseen by an insolvency practitioner with a license to do so. The insolvency practitioner will work out how much you can afford to repay your creditors each month and propose this amount within a 60-month repayment plan.
If successful, you will only make one payment each month (typically £100-£300+ depending on your debt), which will be split between the creditors proportionally to how much you owe them, and a fee will be taken by the insolvency practitioner.
If you keep to all repayments over the 60 months, the IVA will be successful, and you will not have to pay creditors any more once the IVA ends. This still applies even if you haven't paid back everything you owe. The IVA instantly wipes off any unpaid debt when it terminates.
And that is why an IVA is a popular debt solution in the UK among some debtors!
Feeling like Chandler?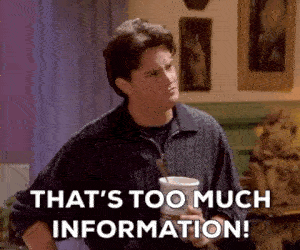 Is all this information starting to feel overwhelming? Don't panic! There's plenty of help available. You can get started below.
What Is an IVA Forum?
The above description of an IVA covers what one is in a nutshell, but these solutions are much more complex in reality. There are so many questions to ask when considering an IVA, and so many other things to know about before committing.
It would be really helpful if there was a place where people considering an IVA or in the process of an IVA could go for help, information and community support.
And there is just that!
An IVA forum is an online forum dedicated to understanding IVAs, the process and helping debtors to find an insolvency practitioner (or debt management company) that can help them.
One IVA forum that is rather popular in the UK is the Money Saving Expert IVA Forum. So, is it a good forum to use?
The Benefits of the Money Saving Expert IVA Forum
One of the biggest benefits of using the Money Saving Expert IVA Forum is that it is so well-known. The website itself is chaired by Martin Lewis, the UK's finance guru who "fights your corner" to help everyday people discover clever money solutions. He has become a bit of a hero among working-class people for helping them with money problems and showing them ways to save.
And this popularity has fed into the Money Saving Expert website, which receives hundreds of visitors each day from people across the UK. The site has generated a big following and creates more potential for good advice and information.
Another benefit in using Money Saving Expert is that the forum section, which can be accessed by a link at the top of the page, is neatly categorised so you can find financial information on a selection of topics effortlessly.
Negatives of the Money Saving Expert IVA Forum
The only disadvantage when using the Money Saving Expert IVA Forum, and it is the same for other IVA forums, is that information is provided by people without financial qualifications or insolvency practitioner certificates. Most of the time, the people posting know a lot from experience, but it is never fact-checked.
There is a possibility that you could find information on the Money Saving Expert IVA Forum that is wrong or outdated if you read older threads.
Should I Use the Money Saving Expert IVA Forum?
You could use the Money Saving Expert IVA Forum for advice, guidance and support, but when you do use this forum, remember that the people posting are not always correct. If you find the information useful, make sure you fact-check it on other trusted websites as well – such as Money Nerd!
Alternative IVA Forums
Another IVA forum that you could consider using is IVA.co.uk. This forum, unlike Money Saving Expert, really is just about IVAs. Whereas Money Saving Expert will discuss lots of finance topics, IVA.co.uk is all about IVA debt solutions.
But remember, this forum is also not always 100% correct so remember to be diligent when researching more about IVAs.
Where Else Can I Get IVA Advice and Information?
One way you can do your research is to use other website's that are fact-checked by authors rather than anyone who signs up and can post. There are lots of reputable sources out there, including Citizens Advice and debt charity websites.
You might also want to read our IVA posts and discussions on MoneyNerd. We provide extensive information on debt solutions for UK residents, including IVA guides.
Can Debt Charities Help with IVAs?
Debt charities can usually provide free debt advice and recommend which solutions can benefit you. Most debt charities can recommend solutions but are not able to arrange formal debt solutions like IVAs. Some will arrange Debt Management Plans (DMPs) because they do not require insolvency practitioner licenses.
If you want to have an IVA arranged, you will need to seek out an insolvency practitioner or debt management company with an in-house insolvency practitioner. As you pay monthly fees for the IVA, the cost of this exceeds thousands of pounds.
But by paying these fees and not missing payments, ending the IVA and wiping a lot of debt can make these fees worth it in the long run.