We Want to Say Yes – Should You Pay? 2022
For free and impartial money advice and guidance, visit MoneyHelper, to help you make the most of your money.
Have you received a debt letter from We Want to Say Yes? This can be confusing because We Want to Say Yes isn't even their real company name. Learn more about We Want to Say Yes debts and what you should do after receiving a letter, right here!
Who is We Want to Say Yes?
We Want to Say Yes is the website domain name of a company called Zinc Group Ltd. The full domain name is wewanttosayyes.co.uk. Because they use such a different domain name to their company name, it can cause confusion. Some people think they're different companies but they are one and the same. They use to have a different website name which aligned more with their company name.
Beating Debt Collectors
There are several ways to deal with We Want to Say Yes and improve your finances.
Choosing the right way to tackle your debt could save you time and money, but the wrong one could cause even more harm.
It's always best to find out about all your options from a professional before you take action.
Fill out the 5 step form to get started.
Who are the Zinc Group Limited?
Zinc Group Limited is a debt collection company. They may also be known as Zinc Group Debt Management. They chase unpaid invoices and arrears on behalf of companies. They do not own these debts typically, but they will receive a commission when they manage to recover a debt for their client. They try to recover the debt by requesting you pay and may threaten legal action if you don't.
Zinc Group is not a bailiff company, which would come to your home and repossess items to clear your debt. Bailiffs, now better known as enforcement officers, are only involved after a judge has ordered you to pay and you ignore that request. Zinc should not come to your home or give the impression that they have such legal rights.
Are you struggling with debt?
Affordable repayments
Reduce pressure from people you owe
Stop interest and charges from soaring
Get started
So, why are they called We Want to Say Yes?
It begs the question: why is this debt collection agency using We Want to Say Yes as their website name? Although we can't say for certain, the name might be used as a way to encourage debtors to get in touch and ask for a payment plan. This is usually possible with most debt collection companies when you can't afford the full amount.
To support this possibility, their website does have a function where debtors can make a payment plan offer. This is rather unique and not often found on other debt collection websites. But before you do make an offer or pay – you need to know your other options. Keep reading!
Who do We Want to Say Yes collect debt for?
They will try to collect debts for companies across different industries. Their website states that they will work for telecommunications companies, utility providers, banks, insurers and creditors. They will also work for commercial businesses wanting to chase other businesses for an unpaid debt.
Received a We Want to Say Yes debt letter?
We Want to Say Yes – or rather Zinc – will request that you pay a debt by sending a letter to your home address. This letter is called a Letter Before Action (LBA) because if you don't pay or agree to a payment plan, they will take further action. And that further action would be taking you to court. However, these could be empty threats and their client may have no intention of taking the matter further than a debt collection agency. But there is no way of knowing for sure and they could really take you to court for not paying.
Feeling like Chandler?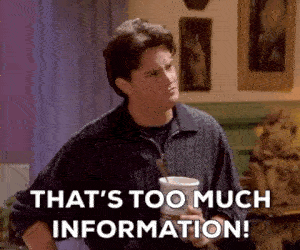 Is all this information starting to feel overwhelming? Don't panic! There's plenty of help available. You can get started below.
Should you pay We Want to Say Yes?
The good news is that you don't have to give in and pay We Want to Say Yes straight away. You might have to pay eventually or you may get away with it. But you should never ignore their letters and hope they simply stop contacting you – they won't.
Here is what you can do…
Send them a prove the debt letter instead
You are allowed to ask for proof you owe the debt before making a payment. This can be beneficial if:
You genuinely don't know about the debt
You know about the debt but want to buy yourself some time
You think there has been a case of mistaken identity and you want Zinc to realise this
Until they supply proof, which should be a copy of a signed agreement, you don't have to pay the debt. If they ignore your request but end up being taken to court, you should inform the judge. This could help you win the case but it's not certain.
MoneyNerd has created a prove the debt letter template that all of our readers can download for free. Simply add your own account details and send it off. Don't sign the letter and remember to keep a copy!
The other legal loophole!
You shouldn't request proof of the debt if they already sent it within the initial LBA, although this is unlikely. You also shouldn't ask for proof you owe the money if the debt is too old to be collected. But what do we mean by this?
The courts have blocked many older debts from being taken to court to prevent their resources from being stretched. If your debt is at least six years old, it might qualify as a debt that is too old to be collected, officially known as a statute barred debt.
Ask a debt charity for clarification on your debt and if it's statute barred. And read our dedicated statute barred guide for more details on this topic.
More debt support – 100% free!
We hope you found the answers and clarity you were looking for here. For more help dealing with debts, contact a charity like StepChange or National Debtline. And you're always welcome back to MoneyNerd for more up-to-date information on debt collectors and escaping your debts. We recommend starting at our debt help centre.
Are you struggling with debt?
Affordable repayments
Reduce pressure from people you owe
Stop interest and charges from soaring
Get started