Bluestone Debt Credit Management, HMRC – Should You Pay? 2022
For free and impartial money advice and guidance, visit MoneyHelper, to help you make the most of your money.
Dealing with debt collectors is never fun. Whether you've been delaying the inevitable or taken unawares by a missed payment, their often aggressive tactics can be stressful. The type of debt collection agency you have to deal with also depends on who you owe money to. For example, Bluestone debt collectors are often used by HMRC. We take a look at who they are and what steps you need to take when dealing with them.
It's not your fault. Complaints to the Financial Ombudsman have risen this year from 830 to 2,006, so it's safe to say that you're not alone.
Deal with your debt today and feel amazing tomorrow.
Don't worry, here's what to do!
You could get rid of Bluestone Debt Collectors by writing off some of your debt.
There's several debt solutions in the UK, choosing the right one can take years off your debt, but the wrong one can be expensive and drawn-out.
Fill out the 5 step form to get started.
1. Know who you're dealing with
The first step is getting to know the company that's written to you. Many companies use similar names to try and give credibility to their shady operation. As such, it's important to do your research and fully understand who you're dealing with. We've done the hard work when it comes to Bluestone debt collectors:
Who is Bluestone Consumer Finance Limited?
The Bluestone name is a fairly significant one when it comes to finance and debt collection. The Sheffield-based company was first incorporated back in 1971 and has continued to grow in the years since. You may also see them named as Bluestone Credit Management (BCM), Bluestone, Empingham and Mail Safe. They're not to be confused with Bluestone Arm, a Hertfordshire-based debt collector.
Are you struggling with debt?
Affordable repayments
Reduce pressure from people you owe
Stop interest and charges from soaring
Get started
Why are they contacting me?
Have you received a letter from this debt collector? I'll buy it off you for £5
You've probably not heard of Bluestone before, especially if you've not dealt with them as a debt collection agency. If they're writing to you, the chances are that you have a debt that you haven't paid that's been passed over to them. Often, this is HM Revenue and Customs (HMRC) debt, such as unpaid tax or overpaid tax credits.
Are they legitimate?
This question is always worth asking when you're dealing with things like Bluestone debt collection. It's worth checking whether the company is real and has the necessary authorisation to collect unpaid money. In this case, you can rest assured they are legitimate. They are registered with Companies House under the number 01028803, as well as on the FCA Register with the number 716347.
Feeling like Chandler?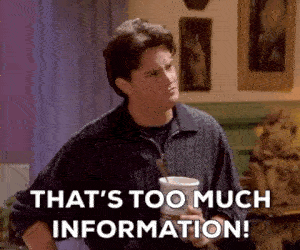 Is all this information starting to feel overwhelming? Don't panic! There's plenty of help available. You can get started below.
2. Understand your situation
Once you know who you're dealing with, it's time to focus on getting to grips with your situation. There are a few things that you need to consider at this stage:
Do you owe the money?
The first thing you need to confirm is whether or not you owe the money that they're claiming you do. When they write to you, they should outline all of the necessary details. However, you want to make sure that the information is correct. You should also compare it to your own records.
Follow my 'prove it' guide with letter templates and get them to prove that you owe the money.
Is it statute-barred?
One question that people often ask about their debts is whether or not it's statute-barred. Essentially, some types of debt has an expiration period of around six years. That being said, if Bluestone is collecting money you owe to HMRC, there's little chance of this. Tax and VAT debt can be chased for years after you owe it.
Can you afford to pay?
Everyone has to pay their debts at some point. However, you shouldn't have to go into further debt to pay off what you currently owe. Check your financial situation and determine whether or not you can pay back the money, either in one lump sum or in monthly instalments.
3. Know your rights
Once you've understood the situation in more detail, it's time to think about what your rights are and what companies like Bluestone debt collection can do:
Your rights
There are a few things that are worth knowing when it comes to dealing with any debt collectors. These can make sure your rights are protected at all times:
They cannot verbally or physically harass or abuse you
They cannot speak to anyone else about your debt without your consent
They cannot force entry into your home or seize your belongings
They cannot pretend to have legal powers that they don't have
If a debt collector does visit your home, you do not have to let them in. However, if they are a court-appointed bailiff, there are some instances where they can force entry to your home.
Actions they can take
Debt collectors don't have any special legal powers when it comes to recovering money. However, they can contact you via phone and email, and they can visit you in-person. Additionally, they may be able to add extra fees or charges to your debt but only in line with your initial agreement. If you don't pay, they may be able to take you to court with a CCJ or be able to call the bailiffs in.
4. Next steps
So, now we need to know what you can do to deal with your Bluestone debt head-on. There are two main steps to take here, and the prep you've done so far will help:
Contact them
You'll want to reach out to either your original creditor or Bluestone Consumer Finance themselves. If your debt is with HMRC, they may suggest that you deal directly with the debt collection agency.
When you get in touch with them, you'll want to confirm the situation and notify them of any extenuating circumstances. Additionally, if there are mistakes on the debt letter, you can raise these too.
Arranging payment
You can either settle your debt in one payment or try and come to a repayment arrangement. Although your creditor doesn't have to accept the latter, you'll often mind that many are happy to. Smaller monthly repayments may make things more manageable for you.
5. Getting help
If you're struggling to repay your debt, you have a few options available that can offer help. Below, we've highlighted a few of the methods:
Financial options
You might want to opt for something like an IVA or debt consolidation loan if you owe various creditors quite a lot of money. These can help reduce your payments and may even help write-off Bluestone debt.
Support options
You can use a debt support charity such as National Debtline or StepChange for help and support with your finances. Citizens Advice can also help.
Are you struggling with debt?
Affordable repayments
Reduce pressure from people you owe
Stop interest and charges from soaring
Get started