County Court Letter – Here's What To Do 2022
For free and impartial money advice and guidance, visit MoneyHelper, to help you make the most of your money.
Here's what to do if you have received a county court letter in the mail. County court judgement letters can leave you feeling frightened and anxious. It's always a stressful letter to wake up to. I want to help you take the right steps to solve the issue and relieve some of the stress you may be experiencing.
What is a County Court Letter?
The county court letter is a court order telling you that you must pay a debt that you owe. The county court judgement is one of the options available to creditors during the debt collection process. Don't panic or ignore the letter, there is help available to you.
I have lots of useful articles giving you lots of useful information about debt help and how to get it. Keep reading on for more guidance on what to do if you receive a CCJ.
What is a Letter of Claim?
Before court action begins you will receive a letter of claim. This is necessary as the creditor must send this in the post before a county court claim can start. The letter of claim will detail the debt. Don't ignore this letter. You can arrange an affordable repayment plan at this point. You must reply to the letter of claim within 30 days, or the creditors can take you to court.
Ask for Proof of Debt
The first step is to check that the debt is yours. I have a useful 'Prove It' template for you to use that will help you to get the proof that the debt does in fact belong to you, or not! For example, you might find the debt belongs to someone that used to live at your address.
How to Reply to the Letter of Claim?
Use the form in the letter of claim to respond to the creditor. If you agree that you owe the debt the next step is to fill in details of your income and expenses. have created this free budgeting spreadsheet as it helps you to work out what you can and can't afford. Once you have your budget, make an offer of payment to your creditor. You may be able to repay the debt in full but offer an instalment plan if full payment will leave you in hardship.
Failure to come up with an agreement with your creditors can lead to court action. The next letter you may receive is a county court letter informing you of the CCJ.
Feeling like Chandler?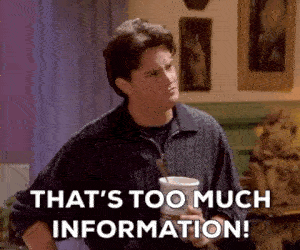 Is all this information starting to feel overwhelming? Don't panic! There's plenty of help available. You can get started below.
What Happens if I Ignore a County Court Letter?
Ignoring the county court letter will not stop court action from going ahead. The court will issue the judgement without taking your circumstances into account. This is because you won't have responded to share any information about your finances with the court. You only have the chance to explain your circumstances and put forward a payment plan if you reply.
How Long Do I Have to Reply to a County Court Letter?
You have a little over two weeks to reply If you receive a county court claim form. It's vitally important that you reply within this timeframe. If you reply within the two weeks, you have the opportunity to arrange a repayment plan that is affordable to you. If you fail to respond, you might have to pay a more expensive rate as decided by the court. Having unaffordable payments can lead to further problems with the debt and could lead to enforcement action.
What Will Happen if I Get a CCJ?
You will need to repay the debt if you have a CCJ registered against you. You'll be informed about how you must clear the debt. The court decides the payment terms, which is why I always encourage people to respond to all county court letters.
Will a CCJ Affect My Credit Rating?
Your credit score can be negatively affected by a CCJ. When the CCJ is entered, it's added to The Register of Judgment, Orders and Fines. Credit reference agencies told of the CCJ, who add the details to your credit file. Lenders use the credit file when you apply for credit or for services, such as estate agents and energy providers.
Can I Stop a CCJ Appearing on My Credit Score?
You can stop the CCJ from appearing on your credit file by clearing the outstanding debt in full within one calendar month of the judgement. If you're able to clear the full amount within the timeframe the CCJ taken off your credit file and cancelled.
You can make a request to the credit reference agencies to have the CCJ removed from you fill if you have the evidence to show that:
The CCJ was set aside by the court or cancelled
The six years have passed but the CCJ is still showing on your credit score
You cleared the entire debt within one calendar month of the judgement being issued
The debt is the responsibility of an insurance company
Don't worry, here's what to do!
There are several debt solutions in the UK that can be used to improve your finances. Choosing the right way to tackle your debt could save you time and money, but the wrong one could cause even more harm.
It's always best to find out about all your options from a professional before you take action.

Fill out the 5 step form to get started.
How Long Does a CCJ Show on My Credit Score?
It takes six years for a CCJ to stop showing on your credit file if you're unable to clear the full balance of the debt within one calendar month. The CCJ will remain on your file for the entire six years, however, it will show as 'Satisfied' if you clear the debt at any point within those six years. Creditors will be able to see that that debt is no longer outstanding. Removal of the CCJ from your credit file automatically happens after the six years are over.
Seek Help for Your Debt
Reading and learning about debt problems and solutions are a great start. The next step is to seek help for your debt and personal situation with a debt advisor. They have a full bank of knowledge to help you find the right solution to your debt worries. It's important to tell your creditors you're seeking debt help as they will see you are actively doing something to resolve the problem. I hope you found this article helpful, for more information read my article on the County Court Business Centre and get up to speed on everything you need to know.
Are you struggling with debt?
Affordable repayments
Reduce pressure from people you owe
Stop interest and charges from soaring
Get started