Dealing with debts and debt collectors is more common than you might think. During these strange and uncertain times, we have all had to tighten the purse strings and consider our finances a lot more. That being said, sometimes we can forget about essential payments. When this happens, and it happens to the best of us, it can lead to a letter from someone like government debt collection looking to reclaim the debt. Debt collectors have a bad rep, but it can be argued that we all must pay our debts.
We take a look at government debt collection and how you should go about dealing with them.
It's not your fault. Complaints to the Financial Ombudsman have risen this year from 830 to 2,006, so it's safe to say that you're not alone.
Deal with your debt today and feel amazing tomorrow.
Government Debt Collection – what you need to know
We'll start off by going into the basics behind government debt collection. You'll undoubtedly be a little upset and worried by hearing from them – after all, you probably weren't expecting to receive a letter from them, and you probably didn't realise that you owed this amount anyway.
With nearly £1 in every £5 of debt owed, government debt collection is a big deal. This information will help you on your path to dealing with Government debt collection.
Don't worry, here's what to do!
You could get rid of debt collectors by writing off some of your debt.
There's 7 debt solutions in the UK, choosing the right one can take years off your debt, but the wrong one can be expensive and drawn-out.
Start our calculator to find your best debt solution:
Why are they getting in touch?
If you have had difficulties with your council tax arrears or anything else that involves a governmental body, then you are not alone. National Debtline, one of the best services for debt advice, reported that in 2019, 29% of callers had issues with council tax arrears.
They also reported that the number of callers who have been struggling with benefits and tax credit overpayments (owed to HMRC or other local authorities) has jumped from 3% to 22% over the last decade. So you're not alone in your dealings with government debt collection.
How should you deal with them?
One of the best steps to take in dealing with government debt collection is to make sure you gather as much information as you can find. You should have received correspondence from the government before you got your letter regarding your debt.
Take this information into account, and compare the amounts on both letters. If there are any discrepancies or differences between the two amounts, you may not have to pay them.
Another piece of information that may dictate whether you need to pay them or not is a 'Prove the Debt' letter. This requires them to send you all the information they have about the debt you may or may not owe. There are some great prove the debt templates you can use, or you can try and write your own.
Feeling like Chandler?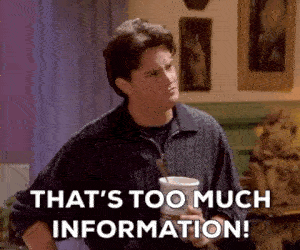 Is all this information starting to feel overwhelming? Don't panic! I've put together a 4 question calculator so you can quickly and easily find the best debt solution for you.
Answer the four questions now.
How do you get in touch with them?
Citizens Advice reported that some government departments were not great at resolving disputes with customers. In 2016, 48% of advisers reported that HMRC tax credit collections staff were rarely or never co-operative. Despite this, you should try and reach out to them as soon as you can.
Depending on whom you owe the money to will dictate how you contact them. There isn't a general address to write to about your debt, as it may come from a variety of different government departments. Make sure you read the letter they have sent you carefully, as they will include essential details of how you can get in touch with them on it.
Are they trustworthy?
You may think that anyone representing government debt collection will be legitimate and trustworthy. However, there are always those out there looking to scam the vulnerable or the unaware out of money, by contacting them about debts they don't owe.
You will be able to check the legitimacy of who you are dealing with in a few different ways. As each government debt collection letter will be with regards to different companies and government bodies, you should note down who has sent you the letter.
Once you have this information, you can head over to Companies House. If you search for the company who has sent you the letter, they should have an official Companies House page. All legitimate companies will have their own Companies House page, so if they don't, they may not be legitimate.
HMRC
If your letter is from HMRC, they have their own method of confirming legitimacy. You can find all the information about the process you should go through to confirm that the person who has contacted you is indeed legitimate and genuinely does work for HMRC here.
This is especially useful for if an HMRC representative makes a home visit. You can call 0300 200 3862 and let them know the HMRC employee's ID number. They will quickly confirm whether or not the person on your doorstep is indeed under the employ of HMRC.
Next steps
Dealing with debt collectors, and in particular with government debt collection, can seem like a daunting and stressful task. If you keep a cool head, and make sure you act quickly, you'll be able to deal with them easily, however.
Be active
As soon as you receive the letter regarding government debt collection, you should immediately start to gather all the information you can, and get in touch with them as soon as possible.
Don't ignore them
You may think that by ignoring their correspondence, they will go away. Unfortunately, debt collectors are some of the most persistent people out there, and they will not stop until they've heard from you. They may even transfer your debt to a private debt collector.
Pay them
If you are certain that the debt is yours, and you have the necessary funds available to you to pay in full, you should do exactly that. By doing this, you will stop them from sending you any further letters or making any further phone calls to your home.
If you don't pay them, they could end up involving bailiffs, outsourcing your debt to a private debt collection agency, or even issuing you with a County Court Judgment that could mean you have to go to court, and could lead to bankruptcy, a bad credit rating, and even incarceration.
Final thoughts
So there's a round-up of how to deal with government debt collection. It can take many forms, so make sure you know exactly who you are dealing with from the letter they send you and take it from there.
It's never nice getting strongly-worded letters through the post claiming you owe money, but if you have plenty of information to hand, you should be able to deal with them quickly and easily.

Sometimes debt collectors can be a little heavy-handed. If you believe that this is the case with government debt collection, you should make a complaint. First of all, get in touch with the offending party and highlight the nature of the complaint. If they don't respond, you can escalate the matter to the Financial Ombudsman Service.