Oriel Collections Debt – Should You Pay? 2022
For free and impartial money advice and guidance, visit MoneyHelper, to help you make the most of your money.
Have you been contacted by Oriel Collections about outstanding debt? Are you receiving threatening phone calls?
Don't let it get to the point where they threaten court action. Here's what to do when you get a debt letter or phone call from Oriel Collections which could help you write off your debt payment.
It's not your fault. Complaints to the Financial Ombudsman have risen this year from 830 to 2,006, so it's safe to say that you're not alone.
Deal with your debt today and feel amazing tomorrow.
Don't worry, here's what to do!
You could get rid of Oriel Collections by writing off some of your debt.
There's several debt solutions in the UK, choosing the right one can take years off your debt, but the wrong one can be expensive and drawn-out.
Fill out the 5 step form to get started.
Who is Oriel Collections?
Oriel Collections is a debt collections agency that specializes in collecting debt on behalf of businesses and individuals. This can include collections for outstanding tax (HMRC) or debt from credit card companies and phone companies. They are a registered member of the Credit Services Association and as such, they have to operate in a fair and compliant manner when dealing with debtors.
Oriel Collections collects debt for companies such as Virgin Media and HMRC, as well as for debt such as electric bills, parking tickets, catalogue debt, and gas bills.
The company can collect debt for credit card companies and payday loans and while most of their work is to collect on behalf of other creditors, some of these debts are bought over, which means that they now own the debt.
A good example of this would be where you owe money on your credit card payment. You can't pay the bill so Oriel Collections purchases the debt from the credit card company, thereby now owning it. You now owe Oriel Collections the outstanding monies and they will collect from you.
In most cases, it's a win-win for them, because they buy these debts from creditors for a very low rate, so if you pay them back at least most of it, they make quite a profit.
Are you struggling with debt?
Affordable repayments
Reduce pressure from people you owe
Stop interest and charges from soaring
Get started
What Can Oriel Collections Do?
If you own Oriel Collections or one of the creditors they represent money, they may continue with legal action against you. However, this will usually start with either a phone call or a visit to your work or home. this is why it is important to always first establish whether the debt is, in fact, yours and if it is, you can then make arrangements to pay this off.
There are a number of steps that Oriel Collections can take in order to collect on the outstanding debt that you owe.
They may contact you to arrange repayment of your debt, however they are legally not allowed to harass you in any way. They have to abide by the law and follow the correct legal procedures in order to collect the outstanding debt.
They may send debt collectors to your work or home if you don't pay your debt. Note, these are not enforcement officers (aka bailiffs) and they are not allowed to say that they are.
Debt collectors are not allowed to enter your home without a court order nor may they remove any of your property. If you ask them to leave, they have to (if they don't have a court order).
They need to take you to court if they want to:
Have a judgment issued against you
Want to collect your property with the help of a bailiff
Want to have an earnings order issued against you
Handling a Home Visit from Oriel Collections
When Oriel Collections visits your home, it's important to not ignore them. Ask for proof of your debt and keep in mind that they are not allowed to come in to your house without a court order.
You should also establish how old the debt is as you might be able to avoid paying it.
However, conditions apply so it's important to educate yourself on your options as well as what to look out for when establishing the validity of this debt.
So always remember to:
Establish whether the debt is yours
Confirm how old the debt is
Ask for proof of the debt
Feeling like Chandler?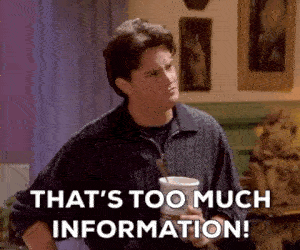 Is all this information starting to feel overwhelming? Don't panic! There's plenty of help available. You can get started below.
What Should I Do When Oriel Collections Contacts Me?
When you've been contacted by Oriel Collections there are a number of steps you can take to sort this out.
First, start by establishing whether the debt is yours. If you really are not sure, you can contact a credit agency to confirm this. An example would be Experian.
If you've established that the debt is yours, you can follow these steps below.
1. Ask them for proof of the debt
Every debt collecting agency has the duty to prove to you that the debt they are collecting is yours. If they are unable to prove this, they have to take the debt as settled.
So you have the right to ask for proof and you can do this in writing, by sending them a letter, asking them to provide you with evidence that you do in fact owe the debt or they should then stop making contact with you if they can't provide evidence.
In light of this, Oriel Collections is required to provide you with the original agreement that you signed.
Here's a tip: Don't include your signature with the letter! This gives them the opportunity to use your signature to reconstitute the original credit agreement document.
By law, they need to prove that you owe the debt, and can't simply state that they've done an investigation and determined that you owe money. It's not enough.
2. How old is the debt?
In some cases, debt could expire after a specific period of time. This is usually six years from the date that you last agreed to pay, or made a payment.
If nothing happened after that, the debt would have expired and debt collectors may not collect this anymore.
This is also referred to as statute-barred.
In this case, you need to make sure that there was no judgement issued against you, or that you didn't admit to owning the debt during the last six years.
Keep in mind that if you incurred the debt with someone else, that person should also not have made a payment or admitted to the debt in the last six years.
3. Make sure it is addressed to you
It is not all that uncommon for a debt collector to look for someone else at your address. The person may not have updated their details recently, which is why they are looking for them at your address.
If this is the case, just inform the debt collector as they will need to amend their details. However, they may ask for some evidence of this, so keep this in mind.
Should I Pay Oriel Collections?
As with any legitimate debt you owe, you unfortunately need to pay it. It might not always be possible for you to pay the full amount immediately but there are often other alternatives that you can use.
When you are connected by Oriel Collections – either by phone or with a letter – and the debt is, in fact, yours, you'll need to make arrangements to pay it.
What Happens If I Can't Pay the Debt?
If you have been contacted by a debt collector and you've verified that the debt is yours, that it hasn't expired, and the proof was provided to you, you'll need to pay. However, you might be in a situation where you can't afford to pay the full amount at once.
So what happens next? You have a few options available, including a payment arrangement, having it written off and opting for a debt management plan.
Set Up a Payment Plan
If you are unable to pay you may try and set up a payment plan with Oriel Collections. It's important to make sure the payment plan you set up is realistic and that you will be able to afford it.
Keep in mind that they should not add unreasonable charges, penalties or interest rates.
A payment plan could be a great option if you want to pay your debt but you aren't able to pay the full amount at once.
Most debt collectors would be happy to accept a reasonable payment plan so this is a great option if you want them to stop phoning you or sending you letters.
Have the Debt Written Off
In some cases, you can have certain debts written off but conditions apply.
First off, you need to make use of the correct scheme to do that, and in most cases, this will be done with an IVA or individual voluntary agreement.
It can help by consolidating all your outstanding debt into one, therefore allowing you to make one lower monthly payment to cover your debt.
Most IVAs are usually set for a period of 60 months, so that gives you a lot of time to repay your debt. You can pay it off faster if you can, especially if your financial situation changes for the better.
But it's always a good idea to rather keep the repayment agreement amount low so that you know you will be able to afford it every month.
Note: In Scotland, these arrangements are made for 48 months instead of 60.
On average, around 60% of your debt will be written off, but it can be a maximum of up to 90% in some cases. This will be evaluated on a case-by-case basis to determine how much of your debt could potentially be written off.
In order to qualify for an IVA, the following is needed:
Your debt should be at least £5,000 in total
You should be able to afford at least £90 per month in repayments
Your assets should be less than your liabilities, i.e. be insolvent
Other Options to Repay Your Debt
If you want to look at other options to repay the debt to Oriel Collections, you can consider:
Taking out a debt consolidation loan to replace all your outstanding debt with one loan that has a single monthly payment.

Opting for a debt arrangement scheme to assist you in repaying your debt affordably.

Filing for bankruptcy or applying for sequestration to help you clear away your debts.
Although all these options are ideal if you can't pay your debt, you need to know that filing for bankruptcy could have a very negative impact on your credit history. It might even influence your job eligibility in certain circumstances, going forward.
FAQs
Can debt collectors take your house?
Yes and No. Whilst debt collectors can get a court judgement that you must sell your house to pay a debt, it is not likely that you will lose your home. It also depends on whether the debt is secured or unsecured.
How can I stop phone calls from Oriel Collections?
You may legally request that they contact you via a preferred method, for example in writing instead of phone calls.
Can I complain about Oriel Collections?
If you think that Oriel Collections are not abiding by the law you may lodge a complaint by contacting them directly at 0845 226 1816 or by writing to them at 1st Floor, Regent House, 65 Rodney Road.
You may also choose to file a complaint to the CSA or FCA against Oriel Collections. You can reach the FCA at 0300 1239 123 or the CSA at 0191 2170 775.
Are you struggling with debt?
Affordable repayments
Reduce pressure from people you owe
Stop interest and charges from soaring
Get started
References
CONC 7.3 Treatment of customers in default or arrears (including repossessions): lenders, owners and debt collectors