Bryan Carter and Co Solicitors Debt – Do You Have to Pay?
For free and impartial money advice and guidance, visit MoneyHelper, to help you make the most of your money.
2020 update: Bryan Carter as a firm is now dissolved and has no activity at all in its own name. All current debt collection matters were taken over by Lowell Solicitors in Leeds.
Bryan Carter and Co Debt Collection is a law company who acts for debt collecting companies (DCAs) of the type found in DBSG (The Debt Buyers and Sellers Group) and/or mentioned in consumer finance forms. They are permitted to operate as debt collectors, but there has been some concern around debt collectors, and the fact that some companies (not necessarily clients of Bryan Carter and Co), and in particular the debt collection aspect, take it all too far and end up causing people to feel upset and ashamed, and some of these people are already feeling at their most vulnerable. We are not insinuating that they are not adhering to the law, but letters and phone calls can be extremely distressing.
It's not your fault. Complaints to the Financial Ombudsman have risen this year from 830 to 2,006, so it's safe to say that you're not alone.
Deal with your debt today and feel amazing tomorrow.
Who are Bryan Carter and Co Debt Collection?
Bryan Carter and Co used to be a debt collecting company registered in the UK. However, the company has since been deregistered and is no longer operating as a debt collecting company.
Beating Debt Collectors
There are several ways to deal with debt collectors and improve your finances.
Choosing the right way to tackle your debt could save you time and money, but the wrong one could cause even more harm.
It's always best to find out about all your options from a professional before you take action.
Fill out the 5 step form to get started.
If you find that clients of Bryan Carter and Co are hassling you, the best thing to do is relax, and not let yourself get distressed. This is their objective, so don't rise to the bait. They want you to get distressed so that, ultimately, you will just call their number and speak to someone in their specially trained sales team who will be able to give them 'advice'. This will put them in a position where they will be more likely to do what you tell them, rather than seeking independent advice, which would be impartial. It is important to always stay in touch with the debt collectors and keep an open line of communication, and ultimately, make sure you do this in writing, so you have the evidence to support your claims. Doing this will stop you from ending up taking action which is not going to be in your own interests. Don't let them put you under pressure about your debt, and to the point where you pay when you can't afford it.
What to do?
In order to deal with your debt situation, there are various courses of action you can take.
One of the best options to consider is a debt management plan or alternatively, you may want to look at taking out an IVA. This option is quite extreme, but it does allow you to write off a chunk of your debt. There is not a one size fits all with this option, therefore, it is important to look at your income and expenditure, and make the right decision based on this, rather than making an impulsive decision on it.
Another option which some people opt for is the 'logbook loan' which can be extremely handy if you are suffering from debt problems. With this option, you take out a loan against your car, but the good part if that you keep the cash and your car! That's why this seems like a great option for many, as you can unlock the equity on the vehicle, without the need to sell your car. To apply for a logbook loan click here.
You may also want to opt for a no-credit-check guarantor loan. This is a good option as they won't look at your own credit rating, so if your credit rating is far from good, this is hugely appealing. The only slight issue with this is that you will need to have someone around you who is willing to act as a guarantor. Most people seek this kind of help from a family member or close friend, for obvious reasons! If your credit rating has been downgraded for any reason, this may be a favourable option. So click the following link for Unsecured Loans and you won't need a credit check either.
If you wanted to try a debt management plan, we are able to provide a whole-of-market service, which includes a wide range number of debt management experts, who are available on our panel. Regardless of your circumstances, your application will decide on the best plan to suit you, which means you will always find the most suitable for your individual situation.
Feeling like Chandler?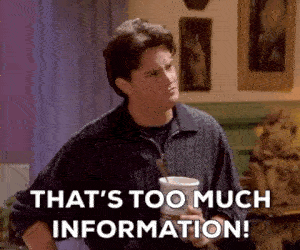 Is all this information starting to feel overwhelming? Don't panic! There's plenty of help available. You can get started below.
The Legals
Please be aware that figures entered need to be accurate by law, and to give the best service to you. It is extremely important that you budget for all necessary expenditure including rent or mortgage, council tax and utility bills, etc., and any other necessary outgoings related to the upkeep of your household and in relation to any specific circumstances which may apply to you or your household. This website only collects data on behalf of debt management professionals, from which it will receive affiliate remuneration for data collection only and does not itself engage in any debt management services. Other debt management options are available and may be more suitable. People entering into an IVA or debt management will have this entered on their credit profile and this may affect their ability to get credit in the short term or even in the long term in some cases. It is free to apply from this website; you will be given advice by debt management professionals and a 'cooling off' period, by law, to decide whether or not the debt management plan is suitable for you, and you should be aware that a fee will be chargeable upon a successful arrangement, as with any commercial transaction. Failure to meet the repayments on an IVA or any debt management programme may result in serious consequences, including, but not limited to, bankruptcy. Bankruptcies, CCJs and similar defaults will be entered into a public register and will remain there for a statutory period of not less than six (6) years.
Bryan Carter and Co Contact Details
Name: Bryan Carter and Co.
Address: 56 Baker Street, Weybridge, Surrey, KT13 8AL or De Havilland Drive, Weybridge, Surrey KT13 0NT (they seem to be a bit selective about which letters they claim to have received, so best to always get a signature).
Telephone: 01932-852833 (for Baker Street) and 0203 147 8060 (for De Havilland Drive)
Fax: A terse note at the foot of their headed paper reads 'This firm does not accept service of documents by fax or e-mail (sic)'.
Email: See above.
Extra Data: They share office space with Fredrickson debt collectors.
NOTE: Bryan Carter is a solicitor's firm, not a debt collector. The information that follows therefore relates to Bryan Carter's clients and not to the law firm itself, which is acting on their behalf. Having a lawyer between the debt collector and the debtor muddies the water somewhat. Guidance still relates to the debt collector, as stated in law. But the solicitor will have a more virtuoso approach to the larger legal picture, and will be able to creatively throw more spanners into the works. It's a bit like endowing the debt collector with a brain. You may want to start taking your own legal advice now.
Bryan Carter and the Truth About Your Debt
The following relates to debt collector clients of Bryan Carter solicitors and not to Bryan Carter & Co.
You may question the validity of the money owed or indeed the existence of the account itself by making a sar (Subject Access Request) as a foil to Bryan Carter and Co. The owner of the debt (the bank or the dca) must give you a fair signed copy of your original credit agreement if that agreement was made prior to April 6th 2007. When they fail to do this they are breaking the law, and the alleged debt is then said to be in dispute. As long as the debt is in dispute they are not allowed to demand that you pay anything (if they do they are in further breach of the act) and they are not allowed to sell it on to another agency (which many do anyway). For as long as the debt is in dispute it is said to be unenforceable, even by a judge. There's a series of pre-written letters available for this purpose. You can get a solicitor to do this for you, because it can be a bit of a strain sometimes. There are also legal firms professing their services in this area.
So ask Bryan Carter for a copy of the original contract when you took out your loan or credit card.
More Data On Bryan Carter and Co.
Ostensibly an innocent surburban law firm in the stockbroker belt of the south east of England, Bryan Carter's website lists their areas of interest as family law, probate and conveyancing, both private and commercial. However, they seem to share office space with Fredricksons, the debt collectors, and may have taken care not to mention their interest in the debt recovery sector so as not to tarnish their appearance.
There is evidence to suggest that a significant proportion of their work comes from debt collection on a "letterheads for hire" basis. This would explain why letters with Bryan Carter & Co headed paper were sent out at a time when the firm seems not to have been trading (there is written evidence from the Law Society's regulatory arm that the business ceased trading then restarted trading for periods during 2007 but that business was carried on during the time that they appeared to have not been officially trading, and they are given a bit of a wigging for this).
It is also unclear as to the real location of Bryan Carter & Company's actual address. It seems that post is being collected from the Baker Street address up to April 2009 (albeit somewhat selectively) but the address on their letterheads in De Havilland Drive, which is in Brooklands Business Park in Weybridge.
If you have any information that you would like honest people to know about Bryan Carter then send us an email in complete confidence and we will try to corroborate it with the clowns involved.
References
CONC 7.3 Treatment of customers in default or arrears (including repossessions): lenders, owners and debt collectors