EOS Solutions Debt Collection – Must You Pay? 2022
For free and impartial money advice and guidance, visit MoneyHelper, to help you make the most of your money.
Are you being hassled by EOS Solutions Debt Collectors? Do you owe money you are unable to repay? Are you being asked to repay debts you don't owe? Are you being threatened about being taken to court? If any of these questions relate to you, this article is designed to help you. You might not need to pay them back!!
It's not your fault. Complaints to the Financial Ombudsman have risen this year from 830 to 2,006, so it's safe to say that you're not alone.
Deal with your debt today and feel amazing tomorrow.
Don't worry, here's what to do!
You could get rid of EOS Debt Collectors by writing off some of your debt.
There's several debt solutions in the UK, choosing the right one can take years off your debt, but the wrong one can be expensive and drawn-out.
Fill out the 5 step form to get started.
Who EOS Solutions Debt Collectors?
EOS is a registered debt collector in the UK. The company works with B2B and B2C companies and also assists with international debt recovery. The company is registered and regulated in the UK.
They're known for collecting for companies like Halifax, Bank of Scotland, and Paypal. EOS also buy debt on the cheap from other companies and then try to collect the part or full debt to make a profit.
Why are EOS Solutions Debt Collectors trying to get hold of you?
Have you received a letter from this debt collector? I'll buy it off you for £5
If you haven't ever had to deal with a debt collector before, you are one of few, or one of the lucky ones. The debt collection is big business these days, and with so many people facing debt issues, there is always a need for them. There are many types of debt collectors; there are those who operate as independent businesses, others are sole traders, and then there are those who work together with the creditor you have the original debt with.
They may operate different but the business model is pretty much the same. The debt collectors purchases the debt from the company you owe the money to. For instance, if you have taken out a loan in the past and failed to pay it back, the lender may pass the debt over to a debt collector when they have exhausted their efforts to track you down or to get you to pay up. It isn't the best deal for the original creditor, as they sell it on for a fraction of the value, but it gets rid of it, and allows them to make a bit of money, without the hassle. It is profitable for the debt collector though, as they make profit after they get the payment – although getting the payment is the difficult part in many cases. Some debt collectors fail to act in a proper and decent way. Many resort to a range of underhand tactics to try and get payment.
Read what to do if you can't pay back your debt.
Feeling like Chandler?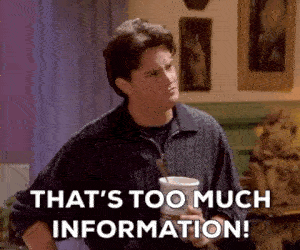 Is all this information starting to feel overwhelming? Don't panic! There's plenty of help available. You can get started below.
Wait, is this my debt?
Before you reach for your debit card, make sure you establish if this is your debt and whether you are liable for it. If you are unfamiliar with the original creditor or you believe you have already paid the debt, you should get confirmation of it before you pay it. The value is likely to look different, as there may be charges and/or interest added to it.
The best thing to do is to write to EOS Solutions Debt Collectors and request a copy of the original credit agreement. If they refuse to provide this or they advise you that they are unable to, you would not be required to make any payment.
See my most popular post for the guide on how to get a refund.
If you can pay, then pay!
We would never suggest that you pay EOS Solutions Debt Collectors if it will leave you short of cash. However, if you are able to, it is worth just clearing your debt as soon as possible. If you are unable to do this, the next best thing is to reach an arrangement with the debt collectors to pay the debt in suitable installments. In some cases, they may even accept a partial payment to clear off the balance.
Are debt collectors affecting your life?
Debt collectors are known to use some pretty bad tactics to try and get you to pay your debt, and in some cases, these could even be described as harassment and bullying. The list of tactics is long, but these include calling you frequently throughout the day, and threatening court action if you refuse or are unable to pay.
Debt problems can be embarrassing, and when you add on the additional pressure from EOS Solutions Debt Collectors, it can cause feelings of sadness and even depression. Some people have even talked about feeling suicidal as a result of their debt issues. It is common to feel down and upset about your debt issues, but you don't deserve to be harassed or bullied as a result of these. Research has shown that debtors feel humiliated by their debt, and even disconnected. These feelings are then escalating and leading to major mental health problems. This is why the government were asked to step in and take action. The problems were getting out of hand and as a result, new legislation was brought into place.
EOS Solutions Debt Collectors and the legalities
The Office for Fair Trading (OFT, 2012) put a set of guidelines into place for the debt collection industry. According to these, EOS Solutions Debt Collectors and other debt collectors have a responsibility to:
Treat debtors in a fair and proper way, without the need for any aggressive practices, or improper behaviour
Ensure transparency with any information provided, and never mislead or try to confuse the debtor
Show consideration to debtors who are facing financial difficulties
Take the debtors' circumstances into account, before deciding what action to take
If you feel harassed or intimidated by EOS Solutions Debt Collectors, and if they are not adhering to the required guidelines, you would be within your rights to report them to the OFT. They may decide to take more harsh action, and remove their license.
You would be able to make a complaint about EOS Solutions Debt Collectors by using this online complaint form.
You should be aware of the lies that debt collectors sometimes tell, and that deceit is against the legislation. If EOS Solutions Debt Collectors are being deceitful towards you, you would have every right to report them for this behaviour.
What else you need to know about EOS Solutions Debt Collectors
The best way to be able to deal with debt collectors like EOS Solutions Debt Collectors is to know what to expect and what drives them. These are some facts that will help you understand how they work.
They only make money if you pay
Debt collectors like EOS Solutions Debt Collectors purchase the debt from the original creditor, and although they get a good deal on it, they will only make money – or even get their money back, if you pay up. This is why they are often so persistent when it comes to getting debt repayments. The last thing they want is to buy the debt, and end up losing money. In this case, a lot of time and money will have been wasted. They will do anything but come off the call and saying they have a "no payment."
This is not your problem though, and not something you should be particularly concerned about. You should only ever pay debt at a rate you can afford. Don't be persuaded into paying because of the abuse or harassment you have received from debt collectors. You need to pay the debt, but in a controlled way.
The agents get bonuses
It is usually case that debt collection agents will receive bonuses, based on getting payments and achieving targets. They may be persistent in getting the payments, and this is the reason why. If they fail to get you to pay, they will not only miss their bonus, but they will also have some questions to answer about why they failed to meet targets. There is no doubt that there tactics are often over the top.
Even though the agents are eligible for bonuses, it does not mean that you need to put up with any poor behaviour. If they do this, you should keep a note of the calls you have received, and the content, as this can be used if you decide to report them to the Financial Ombudsman.
The best way to reach the Financial Ombudsman is by phone on 0800 023 4567 or 0300 123 9123
How to deal with debt collectors
One particular tactic which seems to be quite common with debt collectors is the switch from being friendly and helpful, to abusive and bullying – even in a single call. They may start the conversation by trying to help you, but you can bet that they won't be so pleasant, if you are unable to make any payment to them. The premise of the call is not to have a chat and explore options, it is to get payment from you. Of course, not all agents are the same, but many use this tactic to try and get the outcome they desire. Some of the most common ways they try to break you down is to threaten court action or even become abusive.
It is not easy to deal with this kind of behaviour, which is ultimately why they do it in the first place. If you keep strong though, and stand up for yourself, it is possible to resolve the situation. If you are finding this difficult though, you can report them to the OFT using this online complaint form.
Embarrassing you by talking to third parties
If someone apart from you answers the call then agents frequently attempt to embarrass you by discussing your debt and financial problems with whoever answers the call. This could be a family member at your home, or it could be someone at your workplace. This is certainly illegal behaviour and breaches not only OFT guidelines, but also other privacy laws.
Again, such behaviour should be reported to the Financial Ombudsman on 0800 023 4567 or 0300 123 9123
Can they prosecute you?
There are debt collectors out there who will go as far as to pretend they are bailiffs, and they plan to come to your property and remove some of your belongings. They might even say they are at court and they are looking to prosecute you. These are untruths and this deceit is against the legislation. They should never threaten you or pretend they can take action that they have no right to.
You should not allow EOS Solutions Debt Collectors to come to your home and enter your property. If you are concerned that they will turn up, and you feel under threat, the police will be able to help.
It's not worth the stress
You should try not to take the comments you might receive from EOS Solutions Debt Collectors personally. They are trying to collect the debt and are not particularly concerned about anything else. Of course, they should never cross the line and start to abuse or harass you, and if they do, this should be taken seriously. If you are struggling with debt, you will need to resolve the situation and deal with your situation, but in a way that doesn't compromise your ability to pay day to day expenses. Don't let them stress you out, as it is not worth it!
Free debt help
If you are concerned about your debt and need professional help and advice, there are several organisations offering free support. There are also commercial organisations who provide the service for a charge, but it is best to go with the free option first. You will find highly skilled and trained advisors, who can offer you the support you need and help you get out of debt. These are some of the relevant organisations:
Citizens Advice Bureau (CAB) an organisation who offer help and advice in getting out of debt. There are trained and experienced advisors who can also offer support on a range of other matters.
Christians Against Poverty (CAP) an organisation who can provide free debt help.
StepChange online debt advice for free, helping you get out of debt and manage your finances.
You might be able to write off some of your debt
There is also the potential of writing off a significant amount of your debt, through entering into an Individual Voluntary Arrangement (IVA). As a formal agreement you reach with debt companies, you would agree to pay a set monthly amount, and then the remaining debt is written off in around five years. The process should be carried out by an insolvency practitioner.
Find a local licenced IVA insolvency practitioner here.
Another option is a Debt Relief Order (DRO). This would only be available if you are living off £75 or less each month, after your debts are paid, and you must not be a homeowner or have assets which are worth over £2,000.
If you want to apply for a DRO, you would need to do it through an authorised debt advisor. You can find a list of authorised debt advisors here.
Conclusion
Unfortunately, despite all the warnings and regulations, there are many debt collection agencies who act in an unlawful way. They prey on the vulnerable and make debtors feel embarrassed and inadequate. When you have debt, you have a responsibility to pay it, but this should be done in a way which works for you and your own circumstances. You can spread out your repayments in a way that works for your finances.
If you are being subjected to harassment or bulling behaviour, you should report them to the Financial Ombudsman. They could even lose their licence.
EOS Debt Collectors FAQs
Who are EOS Debt Collectors?
One thing that you notice when you look at EOS is that they work globally, tackling any debt that is owed, no matter which country it is owed from. They work with a wide range of clients, all with a view to ensure that they end up getting the money that is owed to them. Whether that is in the UK or perhaps the other side of the world.
Are EOS Debt Collectors Legit?
Based in Warrington, EOS work around the globe, which means that they definitely come across as a legitimate company. However, as they are not only a debt collection agency, but also work in
debt purchase
, it can seem that at times they are not fully acting with anyones best interests apart from their own.
What does EOS Debt Collectors Do?
As we have just mentioned, EOS are not only a standard debt collection agency, as you normally see in the industry. They are also a debt purchase agency too. A debt collection agency works on behalf of a client, securing repayments on a debt that is owed to them. In comparison, a debt purchase agency will buy outstanding debt from other lenders and then make it theirs to
chase up
, and receive payments for.
What does EOS Debt Collection Process look like?
The collection process via EOS looks like many other collection processes out there. They will often connect via the telephone or perhaps letter, whichever seems to have the biggest impact. They will usually request for payment in full for any debt, however, they can also set up a
repayment plan
if this is better for the debot, so long as the funds are secured. There is also the opportunity to make any payments online, as this offers up flexibility (and in turn makes the debt more likely to be paid) however, if you need to speak to someone, you can also call into the office too.
Summary
It seems that there is nothing particularly remarkable about EOS Solutions. They take a relatively standard approach to debt collection and work to ensure that debtors make payments that are owing on their accounts. They have online payments, which can make things a lot easier for the debtor and they work with a range of clients around the globe.
EOS Solutions Debt Collectors Contact Details
Company Name: EOS Solutions UK PLC
Other Names: EOS Solutions UK, EOS UK, EOS Debt Collectors
Address:
2 Birchwood Office Park
Crab Lane
Warrington
Cheshire
WA2 0XS
Phone: 0344 372 9673
Fax: 01925 853 432
Website: uk.eos-solutions.com
Email: [email protected]
Numbers they call from:
08443729696
08443729650
01925552210
Are you struggling with debt?
Affordable repayments
Reduce pressure from people you owe
Stop interest and charges from soaring
Get started
References
CONC 7.3 Treatment of customers in default or arrears (including repossessions): lenders, owners and debt collectors