Henriksen Limited – Should You Pay? 2022
For free and impartial money advice and guidance, visit MoneyHelper, to help you make the most of your money.
Who are Henriksen Limited and why are they asking me for money? This is a common question among UK residents who have received a letter from Henriksen. We answer your immediate questions and uncover what you can do next. You could get out of having to pay.
Beating Debt Collectors
There are several ways to deal with Henriksen Limited and improve your finances.
Choosing the right way to tackle your debt could save you time and money, but the wrong one could cause even more harm.
It's always best to find out about all your options from a professional before you take action.
Fill out the 5 step form to get started.
What is Henriksen?
Henriksen Limited is a debt collection company working in the UK and abroad. The company might purchase debts from other businesses for much less than their value, so when they get the debtor to pay they make a profit. But more often than not, they simply chase payment for other companies and take a commission from the eventual payment for their work.
Most people who get contacted by Henriksen have never heard of them before and assume they're a scam. However, they are a legitimate debt collection agency and are authorised to operate in the UK by the Financial Conduct Authority.
Are you struggling with debt?
Affordable repayments
Reduce pressure from people you owe
Stop interest and charges from soaring
Get started
Who does Henriksen Limited work for?
Henriksen Limited's website states that its clients come from the public and private sectors. They continue to state they have worked for:
Utility companies
Loan companies
Veterinarians
Dentists
Telecommunication companies
Tradespeople
Any business with an outstanding debt to chase can use the services of Henriksen Limited. They will not be required to pay upfront fees as Henriksen makes its money from the debtor.
Henriksen Limited reviews
Henriksen Limited reviews online are split. Many businesses that use their services to get money from unpaying customers are happy with their work:
"I have been using Henriksen for my business for well over 3 years now. They have successfully reclaimed money owed to me 95% of the time. I have been very satisfied with the company and will continue to use them!"
Deb the Web (Google Review)
Whereas those that receive payment requests from Henriksen are less pleased, often calling them a scam. But it's important to remember that Henriksen Limited is a legal business, even if you don't like what they do.
Henriksen Limited debt recovery letters
Henriksen will start the debt collection process by sending you a communication to let you know they are chasing the debt and to ask for payment. This communication has to be in writing. The letter will state the debt you owe and how to pay it. It will probably threaten legal action if you don't pay by a certain date.
You'll probably be given the option to discuss a payment plan to repay if you have financial difficulty. Or you could consider other debt solutions.
Feeling like Chandler?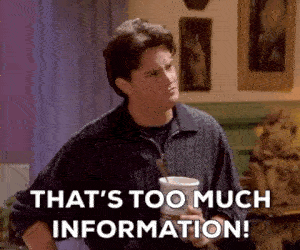 Is all this information starting to feel overwhelming? Don't panic! There's plenty of help available. You can get started below.
What happens if you ignore Henriksen Limited?
If you don't pay the debt then you might be taken to court. This will be a decision made by the company rather than Henriksen chasing you on their behalf. The matter could escalate to court, or legal threats may just be a scare tactic to get you to pay.
If the matter does go to court and you lose, you'll have to pay the debt or you could face debt enforcement action, such as a bailiff. Going to court and facing bailiffs will cause the debt to grow.
But before you decide to pay, there may be a way to avoid having to pay at all. Read on!
Is your Henriksen debt too old to be collected?
You're only forced to pay a debt in the UK when the court orders you to do so. But some older debts cannot be taken to court to prevent clogging up the legal system. If your debt is older than six years and you haven't made a payment or acknowledged the debt in writing in the last six years, your debt may be too old to be collected.
The proper term for this is a statute-barred debt. We've put together a complete guide on statute-barred debts so you can work out if your debt has become legally unenforceable. If it has, notify Henriksen and tell them you won't be paying.
Send Henriksen a Prove the Debt Letter
If your debt isn't statute-barred, you might still be able to get out of having to pay. You should reply to their letter with a request for proof you owe the debt. This can be easily done by using our free prove the debt letter template. Simply download the template, add your details and send it off.
Henriksen Limited must provide solid evidence that you owe the money they're asking for. This usually means they have to show you a contract or credit agreement you've signed. If they've made a mistake by sending you a letter, they'll realise this themselves after you have requested proof of the debt.
Should you pay Henriksen Limited?
You don't have to pay Henriksen Limited if your debt has become statute-barred. Depending on how they responded to your prove the debt letter, you may or may not have to pay them to avoid potential court action.
Henriksen proved I owe the money
If Henriksen proves you owe the debt, you should consider paying in full or agree on a payment plan. Alternatively, you might want to explore other debt solutions by speaking with a charity.
Ignoring payment requests after they provided evidence could lead to (expensive) legal action and even bailiffs.
Henriksen never proved the debt
If Henriksen failed to provide the correct evidence, you don't have to pay until they do. Keep in mind that if it takes them a long time, your debt could become statute-barred.
If you're taken to court over the debt, you can show the judge that you requested proof of the debt but it wasn't provided. Keep copies of your letters. This can help you to win in court because Henriksen won't have followed the correct process.
Can a debt collector come to your house?
A debt collection worker cannot come to your property or try to seize your goods. Debt collection agencies aren't enforcement officers and don't have these legal powers.
Henriksen is basically an admin company sending letters on behalf of the company you're judged to owe money to. Pretending to be a bailiff is a serious offence and should be reported.
Need extra debt help?
For help with your existing debts, don't forget to use free debt charity services and browse our own debt help page!
Are you struggling with debt?
Affordable repayments
Reduce pressure from people you owe
Stop interest and charges from soaring
Get started