Rundles Enforcement Agents Debt – Pay the Bailiffs?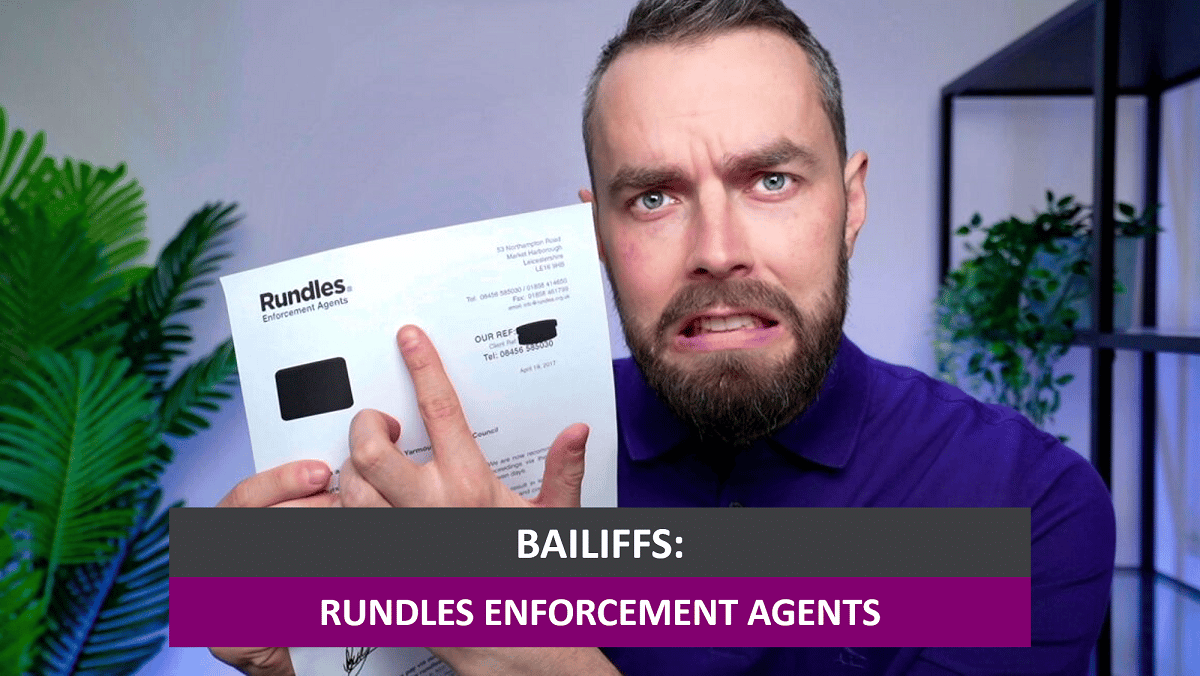 For free and impartial money advice and guidance, visit MoneyHelper, to help you make the most of your money.
Rundles Bailiffs contact many different people about their debt issues, and this can obviously be quite distressing at times for the recipient.
Debt problems are common and they can be very difficult for people to deal with.
If you are being contacted by Rundles & Co bailiffs about an outstanding debt you have, including calls, letters or emails, you may be feeling quite worried and distressed.
It is important to deal with the debt from Rundles & Co bailiffs, but you might be confused about how to handle the situation.
This article will help you understand a bit more about Rundles & Co bailiffs, including who they are, what they want, and how to deal with their contact. It should put you in a better position to be able to handle yourself, when such contract arises.
It's not your fault. Complaints to the Financial Ombudsman have risen this year from 830 to 2,006, so it's safe to say that you're not alone.
Deal with your debt today and feel amazing tomorrow.
Don't worry, here's what to do!
You could get rid of Rundles Debt Collectors by writing off some of your debt.
There's several debt solutions in the UK, choosing the right one can take years off your debt, but the wrong one can be expensive and drawn-out.
Fill out the 5 step form get started.
Who are Rundles Bailiffs?
Rundles Bailiffs, by their own words, is a company that provides 'ethical enforcement services'. In reality, what this means is that they're a company that has the legal power to collect debts. Although many of us still refer to companies like this as bailiffs, they're actually now officially called 'enforcement agents'. Rundles has been in operation since 1992, and they work in both the public and private sector. They often collect debts for things like unpaid council tax and parking tickets, as well as for other reasons.
They generally only get in touch if you've ignored previous warnings or contact from the courts. The important difference between an enforcement agent (bailiff) like Rundles and a debt collection agency is their legal standing. Rundles have the legal authority to collect a debt, whereas debt collection agencies don't.
The Credit Services Association makes sure that enforcement agents adhere to strict legal guidelines, and Rundles is a member of this organisation. So, in theory, they have to follow certain rules when collecting debts.
Are you struggling with debt?
Affordable repayments
Reduce pressure from people you owe
Stop interest and charges from soaring
Get started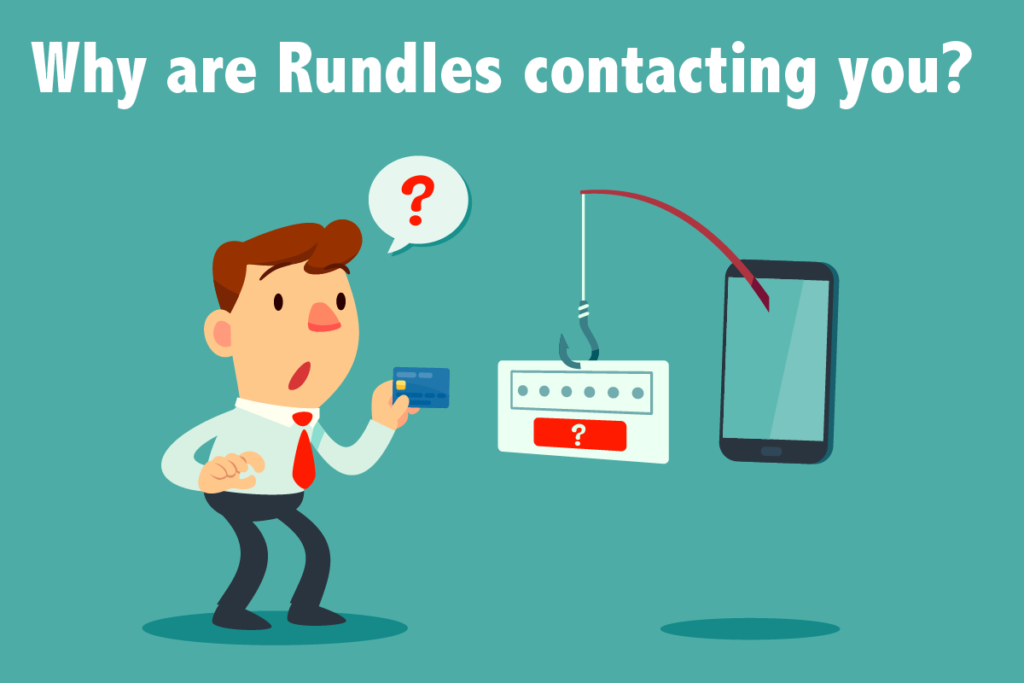 Why Do They Want to Speak to You?
If you are being contacted by Rundles & Co bailiffs you might be wondering why they want to speak to you.
Have you received a letter from this debt collector? I'll buy it off you for £5
As a legitimate organisation, you should not ignore contact from them. Instead, you should find out what they want, as there are various reasons why they might be getting in touch with you. These include:
Debts which you may owe to other business, organisations or individuals
Tax overpayments and unpaid tax on behalf of HMRC
Payday loan debts and unpaid credit card debt
The way it works is the the organisation, company or person you owe the debt to will hand it to Rundles & Co bailiffs to take care of, usually because you have not been in touch with them to sort out the debt.
This may go a long way to helping you understand why you might not recognise them. These are some companies they will chase you on behalf of, and you might recognise one of these names:
Utility companies, which may include NPower, United Utilities, as well as a range of other gas and electricity suppliers.
Mobile phone companies, including O2, EE and Virgin Media.
Local council debt, including parking tickets and council tax.
Companies like Rundles & Co bailiffs will purchase the debt from these companies, and often this is bought in bulk. They buy the debt for a fraction of the value of the debt, and they only start making money when they collect the payments. This is why they can be quite persistent in their attempt to get you to pay back the debt you owe.
Feeling like Chandler?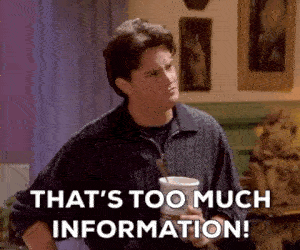 Is all this information starting to feel overwhelming? Don't panic! There's plenty of help available. You can get started below.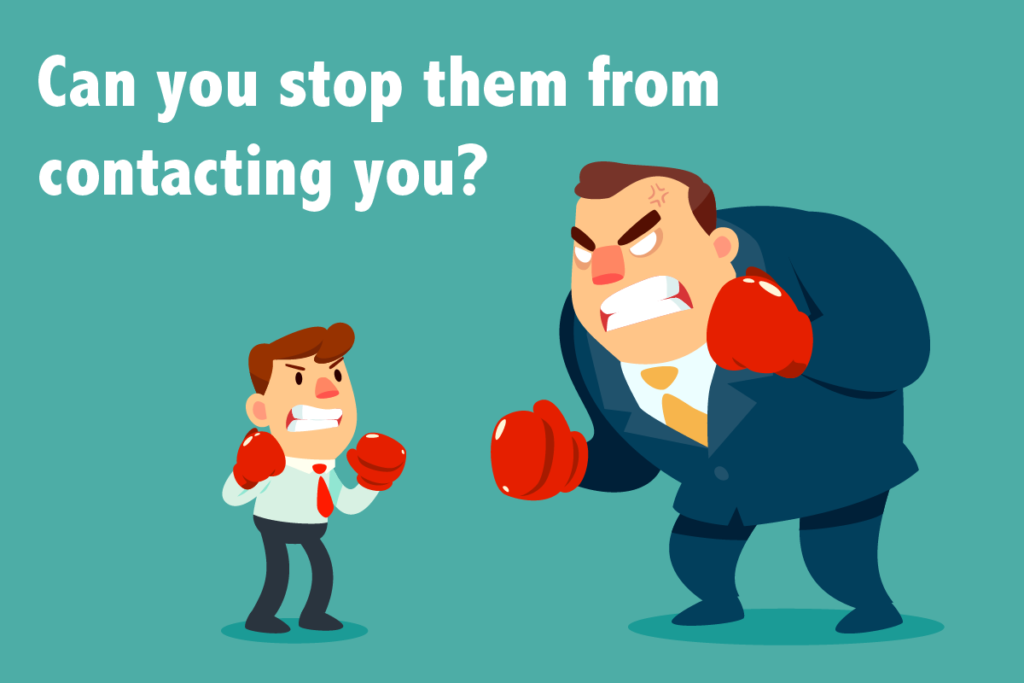 Is There Any Way of Stopping Rundles & Co bailiffs?
The agents from Rundles & Co bailiffs may be extremely persistent in their quest to get payment, this is quite common among these types of companies. They will usually send letters, and make calls to get your attention, and in the more extreme circumstances, they might even turn up at your home.
It can be tempting to just ignore them, but this won't help. It is better to deal with the issue and speak to them. As they are bailiffs, Rundles & Co bailiffs will often show up at your home with court documents, or to give notices or summons.
They cannot just turn up though, they must give you notice and this should be at least 7 days. If you want to avoid this kind of situation, it is best just to pay off your debt, as this is ultimately what they want you to do.
There are things that Rundles & Co bailiffs can't do, and these include:
Sending letters to you that look like court forms
Attempting to call you at unreasonable hours of the day, such as early hours of the morning
Contacting you via methods you have asked them not to (for example, your work phone).
Using language or jargon that you don't understand.
If you wish to contact Rundles, you can check the letters they have sent or take a look at the company's website to get the details you require.
If you contact them, it will help to increase your ability to resolve the matter, and save yourself a lot of time and stress, as well as saving yourself from the costs of them visiting your home. You may be in a situation where the debt isn't even yours. In this case, you may request that they provide proof and give confirmation of the debt. The Financial Conduct Authority's guidelines have more information on this (see section 7).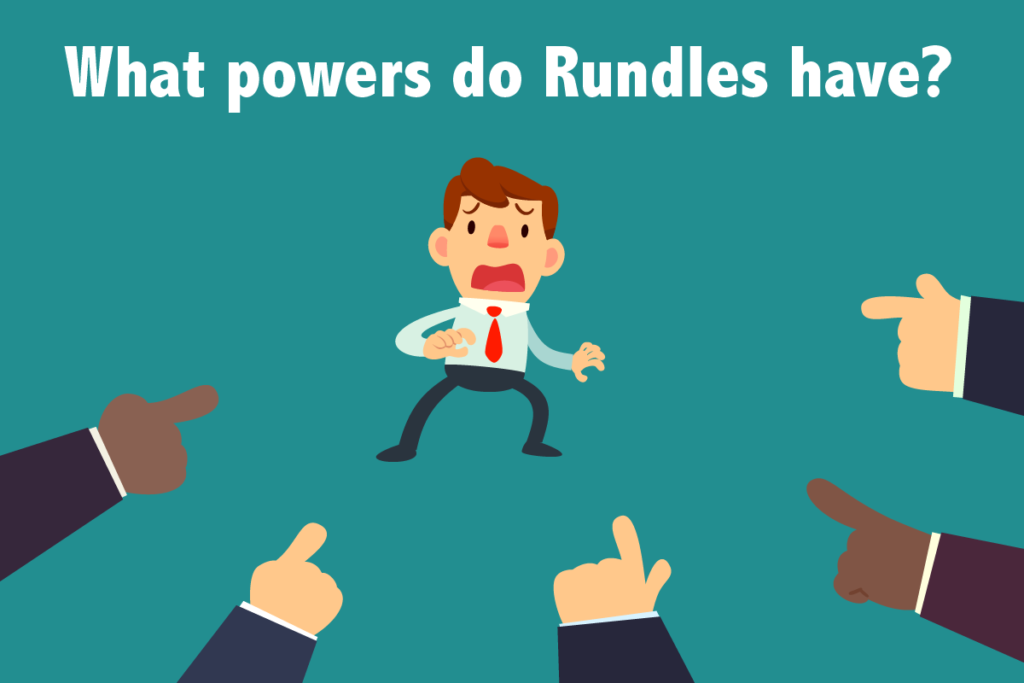 Do Rundles & Co Have Any Powers?
As they are an authorised enforcement agent, Rundles Bailiffs do have legal powers with regards to your debt. You have certain rights as well, it's not all about them, and you should know what they can and can't do.
Unfortunately, bailiffs like Rundles Bailiffs can visit your home and demand that you pay the debt you owe. They may have the right to enter your home and take assets to sell, if you are unable to pay back the debt. It is not advisable to refuse to pay them and tell them they can't enter your home, as in these circumstances, they might end up removing your car, or other assets from outwith your home.
If Rundles Bailiffs do visit your home, and enter the premises, they might take some of your prized possessions, including your games consoles, expensive jewellery, and TV's etc. – f you have failed to pay criminal fines, or your income tax, you may find that bailiffs will force the entry to your home. There are certain things that bailiffs cannot do when it comes to entering your home, and these include:
Forcing entry when you refuse to let them in
Attempting to enter your home when there are only vulnerable people at home, or young people of aged under 16
Visiting at unreasonable times, such as after 9pm or before 6am.
Attempting to enter your premises via the windows or other areas of the home, which are not the door!
How to Deal with a Visit from Rundles Bailiffs?
You do not need to let the bailiffs into your home, despite what they might tell you. It is only in extreme cases they they can actually enter your home, such as if you have criminal charges you have not paid, or you have tax debts. They should also have paperwork to back this up, and if they don't have this, you should not let them in. In extreme cases, they may go to the trouble of getting a locksmith in to entry your property, but they do not have permission to break the door.
If Rundles Bailiffs turn up at your home, you should always ensure you ask them for identification. This will prove that they are authorised to enter your premises. These are some types of identification:
ID card or badge which shows who they are – i.e. their name and any other relevant details.
The name of the company they are representing (in this case, Rundles)
Breakdown of what you owe, and the total costs
Warrant or any other proof that they have permission to enter your premises.
If you are worried about answering the door to get this information, you can just ask them to pass it through the letterbox or under the door. You should inspect them closely, including ensuring they are not out of date, and that all the information is accurate.
If there is no proof that they can enter your home, you have the right to demand that they leave, and you should agree to contact the Rundles Bailiffs head office to make payment or to get a plan in place. If the debt isn't in your name, you should ask them to leave, and you can contact the head office.
If you do owe the debt, you can be assured that Rundles Bailiffs will continue to try and contact you to get payments from you. It is not worth ignoring the debt.
How to Cope if Rundles Take Your Belongings?
If you have allowed Rundles Bailiffs to enter your home and they have taken some of your belongings to cover the debt you owe, don't worry, as all is not lost, you can still get it back.
You can recover your goods by paying the debt quickly, but you need to make sure you do this before they get sold off. If you can't afford to do this, you may be able to set up a repayment plan to pay it off, or buy the items back.
It is important to be aware of the legal procedure which Rundles Bailiffs must follow, and if you find that they have failed to do this, you may be able to get the belongings back. You may want to contact Citizens Advice to for some free advice on how to deal with this.
How to Deal with Contact by Rundles
If you are contacted by Rundles Bailiffs and you are not sure what to do, these are some things to bear in mind:
Speak to them
It may seem tempting to just ignore the contact from Rundles Bailiffs in the hope that they will just disappear. This is not the case, they won't just disappear, so there is no point in ignoring them. As they are enforcement agents, they may charge you an extra fee as they need to deal with the debt. These fees include:
Compliance – £75. This is the cost of sending an enforcement notice asking for payment.
Enforcement – £235 (or 7.5% over £1500). A charge for having to visit your property.
Sale of goods – £110 (or 7.5% over £1500). The cost of selling the possessions they take from your property.
You should always respond to any contact from Rundles Bailiffs, even if the debt doesn't belong to you. If you speak to them, they'll be less likely to take action and visit your home. Speak to them and find out what the debt is, and make sure it is yours.
Is it your debt?
The first step if you are sent a letter which states that you owe the money, is to make sure it is correct. If you don't recognise it, it could belong to someone who lived at your address prior to you moving in, or there could be an error with the name. Alternatively, you may have already cleared the debt.
If six years have passed since contact with the original creditor, you might not be liable to pay the debt. If you were put under pressure to take out the credit, and sign the agreement without adequate checks taking place on your affordability, you might not have to pay this.
Pay your debt
If you receive confirmation that the debt belongs to you, and there is evidence of this, you should pay the debt back. If you pay the debt off, Rundles Bailiffs will stop contacting you and if you can't pay it, you should set up a repayment plan. This will not only get them off your back, and save you a lot of stress, it will also save you from getting a visit from them. Always ensure you get receipts for any payments you make to the company.
Whatever you do, it is always best to speak to Rundles Bailiffs and be honest about your financial situation. If you set up a repayment plan, and for any reason, you are unable to make a payment, you should give them plenty of notice to let them know.
Do You Need Help in Dealing With Rundles Bailiffs?
If you need help with dealing with Rundles Bailiffs, there are various ways to do it. You should try to contact them as soon as possible to discuss the debt, and if the debt is yours, you should either pay it in full or set up a repayment plan. You can get some help in dealing with this situation though.
You may be able to write off your debts by entering into an IVA. An IVA in Northern Ireland, Wales and England will allow you to combine debts into one. The IVA process allows you to make just one monthly payment to combine your debts, and a chunk will be written off.
There are also other debt management options available, which will depend on your situation. These may include debt management plans, consolidating your loans, and in more extreme cases, bankruptcy. You should explore the options available to you, and if possible, discuss with a professional to get the best option based on your circumstances.
Citizens Advice
The Citizens Advice are a great organisation for supporting you with any queries you might have about Rundles Bailiffs, especially if they are sending you correspondence you are not happy about. They may be able to help you deal with visits from bailiffs, and check notices.
Formal complaints
If in doubt, you might want to check out the Trustpilot reviews of Rundles, as you will see that the reviews are less than favourable. You will find words such as 'bullies,' 'threatening,' and 'mistreated.' If you have been on the wrong end of Rundles, you have the right to make formal complaint.
If you want to complain to the bailiff company you can use our free letter template which outlines exactly what you should say.
If Rundles don't respond in the way you would like, you can contact the Financial Ombudsman Service who will deal with the situation for you.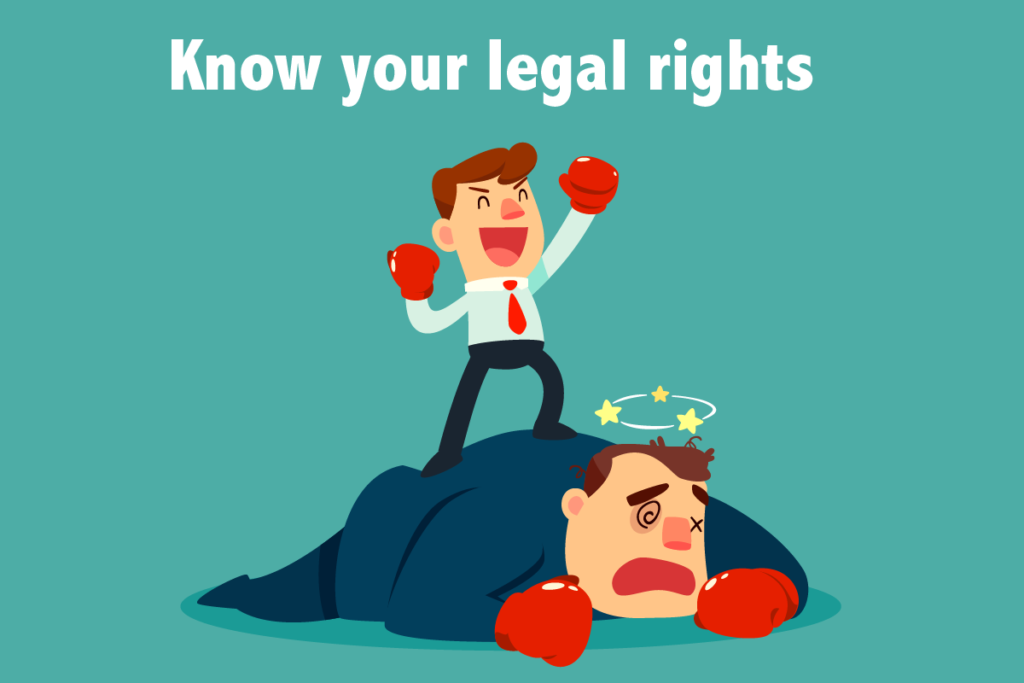 FAQs
Are Rundles high court bailiffs?
No. Rundles are bailffs, but not high court bailiffs. They are county court enforcement agents.
What can Rundles do?
As certified bailiffs or 'enforcement agents' Rundles are court appointed and have greater rights. This allows them to visit your home, enter your home and sell your assets should you refuse to pay the debt.
How do you pay Rundles?
There are many ways to pay Rundles all of which are detailed on their website.This includes 24/7 online and telephone payment, in person, by bank transfer and many more.
Rundles Bailiffs and the Final Word
Dealing with debt enforcement agents such as Rundles is never a pleasant thing to do. If you understand your legal rights, though, and their boundaries, you will have a better idea of what to expect. It is best that you don't ignore letters or calls from Rundles Bailiffs or similar companies, even if the debt is not yours. If Rundles visit your home, you should not let the bailiff in unless they have proof such as a court-certified warrant or writ. You can contact the original credit company director to sort out payment of the debt.
Are you struggling with debt?
Affordable repayments
Reduce pressure from people you owe
Stop interest and charges from soaring
Get started
References
Schedule 12, Tribunals, Courts and Enforcements Act, 2007
Part 1, Regulation 10, Certification of enforcement agents, 2014.