Shop Direct Finance Group Debt – Should You Pay? 2022 Guide
For free and impartial money advice and guidance, visit MoneyHelper, to help you make the most of your money.
Have you received letters from Shop Direct Finance Company about a debt? Don't worry, you're not alone. I know first-hand how stressful this can be.
If you have a loan, store credit card, or catalogue debt with a retailer such as Littlewoods or Very then this may be why.
It's incredibly stressful receiving letters and phone calls from a finance company, and they are known for using intimidation to try and recover debt – whether you can afford it or not.
If you're wondering how to deal with Shop Direct Finance Company debt, this guide will give you everything you need to know.
Don't worry, here's what to do!
You could get rid of Shop Direct Finance by writing off some of your debt.
There's several debt solutions in the UK, choosing the right one can take years off your debt, but the wrong one can be expensive and drawn-out.
Fill out the 5 step form to get started.
Who are Shop Direct Group?
The Shop Direct Group is a firm owned by billionaires, the Barclay brothers. You may have looked at your credit file and don't recognise the name. It includes many catalogue shops that offer credit to customers including Argos, Homebase, and Littlewoods. Recently, they have merged to form The Very Group.
If you have ever taken out a loan or store credit with any of these companies and have fallen behind on payments, you'll now have Shop Direct Finance Company debt.
They may also have purchased your debt from other retail firms and now legally you will owe them in the same way as a debt collection firm may purchase debt.
Are you struggling with debt?
Affordable repayments
Reduce pressure from people you owe
Stop interest and charges from soaring
Get started
Are Shop Direct Finance legit?
Yes. They are an integrated digital retailer with over 1900 brands. With a £2bn annual revenue and 4 million customers, you're not alone in facing debt from this finance company.
The Shop Direct Group (or Very as it is now known) is the parent company that all these brands fall under.
Why are the Shop Direct Group Contacting Me?
You've probably received letters from Shop Direct Finance because you have credit with them or one of their retail partners. Most likely in the form of a catalogue credit that you've failed to make payments on.
You may also be confused because your letter has come from Arrow Global. They are debt collectors that Shop Direct Finance use to chase owed debts.
Skye-pie on Money Saving Expert talks about how they received a letter from Debt Managers Ltd saying they owe money to Arrow Shop Direct. These letters often come with different names and that's what can be confusing. Another name you might not recognise is Shop Direct Carval.
These are often used as scare tactics and sometimes these attempts are to get a debt paid sooner rather than later.
If you don't recognise the name Shop Direct Group, can you think of a retail store that you have a credit card with? Or perhaps you purchased items from a catalogue with a store credit buy-now-pay-later scheme that you couldn't afford?
This is what these letters will be referring to.
UK Personal Debt 2021 Update:
As of April 2021, the average UK credit card debt was £1,928

(Source: The Money Charity)
Can I stop the Shop Direct Group Contacting Me?
Unfortunately, Shop Direct Finance has the right to try to contact you regarding debt. Initially, they'll do this by phone or letter.
If they're calling you too often or sending too many letters, you can get in contact with them and tell them your preferred contact method, whether this is by phone, mail etc.
Once you have informed them of this, they should only try to get in touch via this form of contact. Any further contact from them will be considered harassment and you can complain to the Office of Fair Trading.
Can I Make a Complaint about the Shop Direct Group?
If you feel that the Shop Direct Group is harassing you over the debt you owe, then you should make a complaint
This would now have to be done through Very (formally Shop Direct Finance):
Their phone number is: 0844 292 1000
You can reach them by letter at: Skyways House, Speke Road, Speke, Liverpool, L70 1AB
Should I Ignore Shop Direct Finance?
No. Ignoring correspondence from Shop Direct Finance won't make them go away, or the debt that you owe. What may actually happen is that after a while they will escalate the matter by sending agents and eventually take you to court.
Taking control of the situation is your best option. Begin by writing to the finance company to let them know you've received their debt claim and you're looking into it. Make sure you make it clear you dispute the claims if you believe they are untrue. If you don't think you owe them money, don't pay anything!
At this point, do not admit to anything – there are some checks you need to do first!
Feeling like Chandler?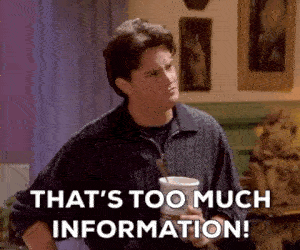 Is all this information starting to feel overwhelming? Don't panic! There's plenty of help available. You can get started below.
What Legal Action Can Shop Direct Finance Company Take Against Me?
You'll first receive a slew of letters or phone calls. Sending regular letters is a common tactic used by finance firms to intimidate people into paying back the debt without question.
If they are unable to reach you in this way then there are several stages that they may take to try to contact you and get the debt repaid.
Send agents to your home or property
After failing to contact you the company may send their own agents to your home or property to try to make contact with you.
Even if they claim to be bailiffs, they are not and have no right to enter your property nor remove your assets. If you ask they must leave your property, so never invite them inside.
If you don't want to answer the door to them, simply tell them to leave from a window or ignore them.
County Court Judgement
If they still cannot contact you regarding the debt then they will likely take you to court, but not until they've given you enough time to make attempts to pay the debt. If they take you to court there are several outcomes.
If granted, a County Court Judgement will compel you to pay the debt, otherwise, the company can get a warrant for bailiffs to visit your home.
If this is the case the bailiffs do have the right to enter your property and seize assets.
Attachment of Earnings Order
Alternatively, they may apply for an Attachment of Earnings order which will take money directly from your pay before you see it. This is only filed against those will a regular salaried job.
Can Shop Direct Finance Enter My Home to Take My Property?
No. If the company sends its own agents before taking you to court, they cannot enter your property nor can they remove any assets to settle the debt. They can only establish contact with you and must leave if asked to do so.
However, if the company is successful in taking out a County Court Judgement against you, then they are within their rights to send bailiffs to your property. Bailiffs do have the right to enter your property and remove assets to settle the debt.
They need to be granted a warrant to enter your property and they must give you two weeks' notice that bailiffs will be coming to your property.
Bailiffs cannot remove assets that would put you in further hardship. This includes cookers, fridges or a car that is used for work amongst others.
How Should I Respond to Shop Direct Finance Company?
Here are three steps to take after receiving a letter from Shop Direct Finance. To summarise, they are:
Ask for proof of the debt – it's likely they are after someone of the same or similar name and have got the wrong one.
Check the debt is legitimate
Check the statute-barred status of the debt. If you haven't made any payments in the last 6 years, you may not be liable to pay the debt.
Read on below for an elaboration on these steps, and why they're so important to you.
1. Ask for proof of the debt
Respond to the finance company, and let them know you dispute the debt in question and require proof. Shop Direct Carval have to respond to this if they want the outstanding debt paid.
They should send you the original credit agreement that you signed when you took on the store credit card or catalogue order.
If they can't provide you with this signed credit agreement, they have no proof and no legal recourse to recover the debt.
Follow my 'prove it' guide with letter templates and get them to prove that you owe the money.
2. Check the debt is legitimate
While you're waiting for them to send you proof, do your own due diligence to see if the debt is legitimate.
If you're unsure, free credit check sites like Experian will be able to tell you if you have accounts with any of the Shop Direct Finance companies.
3. Check the statute barred status
Finally, if they can prove that the debt is yours, check to see if it is statute barred. In England creditors cannot chase debts more than six years old (in Scotland it is five years).
The clock will start ticking from the last payment made towards it or from written acknowledgement of the debt. If it's close to the time limit do not acknowledge the debt in writing.
Should I Repay the Shop Direct Finance Company Debt?
Yes. If you are in a financial situation to pay off the debt then the quicker you can pay off the debt the quicker you can stop the phone calls and letters.
Not only this but by beginning to pay the debt you can limit the likelihood of the company taking you to court which can involve hefty fees.
But you should never agree to pay the debt if it will put you into further hardship. In the section below the alternatives are explained in more detail.
What if I Can't Afford to Repay the Debt?
If you are financially unable to pay the debt then let the company know, they should give you some breathing space to work out how to proceed.
Affordable Repayment Plan
The best solution in this circumstance is to try to arrange a repayment plan with Shop Direct Finance to make monthly, affordable repayments of the debt.
It's a good idea to work out what your total income and outgoings are. This way, you'll be able to figure out an affordable payment each month that won't land you in further debt.
If you have some money in the bank, you might also be able to negotiate a lowered final settlement.
An IVA
If you can't afford the monthly payments offered or a final settlement, an Individual Voluntary Agreement may be the best option.
This is an agreement whereby any debts will be consolidated together and then you will be required to pay an affordable monthly amount for a period of usually five years (this is at least £90 a month).
After this, any remaining debt will be written off which is often up to 60-90% of the original debt.
FAQs
What is a shop direct debt?
Shop direct debt is when you fall behind on payments often in catalogue debt with shop direct who are a major provider of catalogue financing through names like Argos, Littlewoods and more.
What happens if I don't pay my very account?
If you don't pay your very account by the set date, a lump sum of interest will be charged to your account which you must pay to avoid further action.
How do I complain to shop direct?
You can complain to shop direct by contacting them by phone at 0844 292 5000 or by writing to them at Customer Excellence, Sandringham House, Sandringham Avenue, Chelmsford, CM92 1LH
Who owns Shop Direct?
The Very Group Owns Shop Direct along with many other online retailers.
Who is Shop Direct Finance Company Limited?
Shop Direct are an integrated digital retailer with over 1900 brands. With a £2bn annual revenue and 4 million customers, you're not alone in facing debt from this finance company.
Who are Debt Managers Ltd?
Debt Managers Ltd collect "bad" debts from companies like Aktiv Capital and Arrow Global. Arrow collect on behalf of Shop direct, and that may be why you're hearing from them.
Need More Debt Management Options?
If you're still unsure how to deal with your Shop Direct Finance Company debt and you want to explore more options, head to our full guide on getting out of debt.
Are you struggling with debt?
Affordable repayments
Reduce pressure from people you owe
Stop interest and charges from soaring
Get started