Debt Collection Laws in the UK – 2022 Guide
Not all debt collection agencies and creditors play fair. Some of them bend the rules and break industry regulations to get you to pay. Sometimes, their rule-breaking is a criminal offence and they should be punished.
To make sure you know your legal rights when dealing and communicating with debt collectors, take a look at our list of debt collection laws UK debtors need to know, just below!
It's not your fault. Complaints to the Financial Ombudsman have risen this year from 830 to 2,006, so it's safe to say that you're not alone.
Deal with your debt today and feel amazing tomorrow.
Six Common Debt Collection Laws UK
There are many laws and rules that debt collection agencies and creditors must abide by when chasing money from debtors. We have put together seven of the most useful rules for debtors in the UK to be aware of.
By knowing the six debt collection laws below, you will know your rights and be able to deal with debt collectors in a more confident and better way.
Beating Debt Collectors
There are several ways to deal with debt collectors and improve your finances.
Choosing the right way to tackle your debt could save you time and money, but the wrong one could cause even more harm.
It's always best to find out about all your options from a professional before you take action.
Fill out the 5 step form to get started.
#1: They Cannot Discuss Your Debts with other People
Lots of people who have debt have not found the courage to tell the people they are close with about the debt.
It is common for debtors to not tell their close relatives and spouses that they are in debt because they feel embarrassed or don't want to make them worry as well.
The stress and anxiety caused by the debt are increased by worrying that these people will find out about the debt. The good news is there are laws in place to block debt collection groups from discussing the debt with third parties.
This means your creditors or the debt collector chasing you is not allowed to discuss your debt with colleagues, bosses, employers, spouses and any other person. If they do, it is a serious offence.
#2: They Cannot Pressure You into a Decision
There is no denying that debt collection agencies want the money as quickly as possible. As a result, they tend to apply pressure to make you pay. This may be through repeated communications or many other rule-breaking techniques.
If you tell anyone working for the debt collector company that you are deciding what to do, they should respect your statement and give you time to find the right debt solution for you.
#3: They Cannot Refuse to Explain Confusing Jargon
The world of finance is often confusing for the average person. Most people don't have any financial knowledge further than a typical high street bank account.
And that's okay because debt collectors are required by law to not use technical jargon on purpose to confuse you.
If they set out to make you confused because they use technical words that you don't understand, you can ask them to explain what they mean.
The use of technical terms is often part of their pressuring techniques to make you just go along with what they say – or ask of you.
Feeling like Chandler?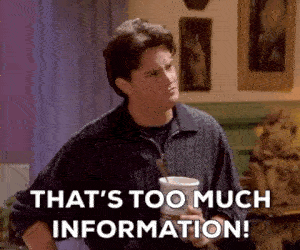 Is all this information starting to feel overwhelming? Don't panic! There's plenty of help available. You can get started below.
#4: They Must Adhere to Your Contact Preferences
Debt collector harassment is one of the biggest complaints among debtors and it is an illegal activity. Debt collectors will call, text and maybe even show up at your home to discuss the debt with you. If they do this repeatedly, then it is classed as harassment.
The best way to deal with this rule breach is to provide them with contact preferences, i.e. the times you are willing to speak to them on the phone. The company must then only contact you during these times.
#5: They Must Not Claim to Have Legal Powers
The term debt collector is used to discuss two groups within the debt collection industry, but these two groups have significantly different capabilities.
Debt collection agencies are one of these groups. They are really just administrators chasing debt, and they could lean on the courts to get their money.
But debt agencies may rely on another group to help get the money – bailiffs who can enforce the debt. Sometimes, these bailiffs who can repossess items to pay off the debt are referred to as debt collectors as well.
It is illegal for a debt collection agency to pretend or give the impression that they have the same powers as bailiffs. They cannot come inside your home and they certainly can't take your items to pay off the debt. This would be theft.
#6: They Must Prove You Owe the Debt
And we have saved the best for last. Just because someone says you owe the debt doesn't mean they have the right to demand money. They must be able to prove that you owe the debt with a signed agreement or similar evidence.
Without proof that you owe the debt – even if you know you owe it – it is hard for the debt collection agency to convince the courts that you are responsible for the debt. And thus, it is difficult for them to get a CCJ to make you pay
What If Debt Collectors Break the Rules?
If the debt collectors or creditors you have been dealing with have broken these rules, you can make an official complaint. First you are required to complain directly to the debt collection company, and if the issue is not resolved, the complaint can be forwarded to the Financial Ombudsman
Our team at Money Nerd has written a complete guide on complaining to the debt collection ombudsman. Read it now to understand the process in detail – and if you could be due compensation!
MoneyNerd Can Also Help You Out of Debt
Complaining is recommended when debt collectors break the rules and regulations. But it doesn't solve the problem of paying debts. For additional information on the different debt solutions, take a look at our dedicated debt solution page.
Last but not least, if your debt is six years old, there is a UK debt industry rule that could get you out of paying. This is known as statute barred. Find more information on statute barred debts on Money Nerd.
You could avoid your debts legally!