Themis Recoveries Debt – Should You Pay? 2022
For free and impartial money advice and guidance, visit MoneyHelper, to help you make the most of your money.
Have you been left worried after receiving a Themis Recoveries debt letter? You might be confused about why you're being asked to pay or wondering if it's all a scam. We explain who they are and how to deal with Themis Recoveries debt letters the right way.
Beating Debt Collectors
There are several ways to deal with Themis debt and improve your finances.
Choosing the right way to tackle your debt could save you time and money, but the wrong one could cause even more harm.
It's always best to find out about all your options from a professional before you take action.
Fill out the 5 step form to get started.
Who is Themis Recoveries?
Themis Recoveries Debt Collection, also known as Themis Global, is a debt collection agency working in the UK. They help other businesses to chase down customers in arrears to get them to pay their debts. This service is provided for a fixed fee, or Themis Recoveries may take a commission from any debtor payments.
Although you might not have heard of them before, they are a real company that is authorised and regulated by the Financial Conduct Authority.
Are you struggling with debt?
Affordable repayments
Reduce pressure from people you owe
Stop interest and charges from soaring
Get started
Who do Themis Recoveries recover debts for?
Themis Recoveries work to collect debts on behalf of a number of companies across industries. They are well-known to collect for energy companies, specifically EDF Energy. They're also frequently working for telecommunications businesses, such as Vodafone.
They are not the same as bailiffs. The company only chases debts in the early stages of the process. Thus, they should not make threats to come to your home or repossess goods because they're not able to.
How long does debt recovery take?
Recovering debts from customers can take varying amounts of time. The princess can take much longer if the debt collection business needs to track down the debtor's new address and contact information. And of course, it all depends on how the debtor reacts and responds to payment requests.
Themis Recoveries reviews
Themis Recoveries has limited online reviews, but those that have reviewed the debt collection company have complained about the volume of contact, suggesting that Themis Recoveries are guilty of harassment. Check this review out:
"My debt is with EDF, I have a payment plan in place […] but that doesn't seem to stop you harassing me. Can't reply to your texts or emails and after finding a number for you I find it doesn't accept calls. You may be a member of the FCA but that doesn't stop you from behaving in a threatening manner to the clients you deal with."
If you do experience harassment from Themis Recoveries, you can send them contact preferences which they should abide by. You can also complain and eventually escalate a harassment complaint to the Financial Ombudsman Service (FOS).
Themis Recoveries calls, texts, and debt letters
Themis Recoveries may call you, email, and send letters to your address. They can only discuss the debt with you. It's an offense to disclose your financial problem to anyone else not named on the debt.
The most important communication you'll get from Themis Recoveries is a Letter Before Action. This is a letter asking you to pay off the debt or expect to be taken to court.
Can Themis Global take me to court?
Themis Global will not take you to court over the debt. But the client they're working for might. Sometimes debt collection businesses send these legal threats to scare you into paying when the client has no real intention of taking you to court. But there's no way of being certain if the legal threat is real or not.
Feeling like Chandler?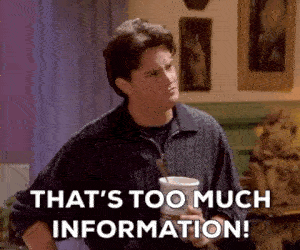 Is all this information starting to feel overwhelming? Don't panic! There's plenty of help available. You can get started below.
How can I stop debt letters from Themis Global?
The only way to stop debt letters from Themis Global is to take action and not ignore these letters. Ignoring these letters will only cause the debt collection agency to send more, and they may start calling, texting, and emailing as well.
The type of action you take will depend on your situation. We explain how you can respond to Themis Recoveries further down this guide.
Should you pay Themis Recoveries?
You might have to pay Themis Recoveries eventually. But there are some loopholes that could get you out of having to pay or that can buy you some more time. You can check to see if the debt is too old to be collected and request proof that you owe the debt.
Is your Themis Recoveries debt unenforceable?
To prevent the courts from becoming overwhelmed with debt cases, a time limit is applied to many types of debts. The company owed the money must take legal action before this time limit runs out, which is six years for a lot of debts, including energy and telecommunications arrears.
If Themis Recoveries is asking you to pay a debt that has become too old to be enforced, you can simply inform them and tell them you won't be paying. We explain more in this helpful post.
Ask Themis Recoveries to prove your debt
Alternatively, it's time to make Themis Recoveries work for your money. You have the right to request proof that you owe the debt. This requires the debt collection businesses to send you a copy of the agreement you signed, which was subsequently defaulted on. If they can't or don't, you don't have to pay.
Learn more in our prove-the-debt guide with a free letter template!
Themis Recoveries proved my debt – help!
If Themis Recoveries proved that you owe the debt, then it's time to consider paying. You might want to pay in full, offer a debt settlement figure, speak to them about a payment plan or consider other debt solutions, such as a Debt Management Plan (DMP).
You might want to ignore them and hope their client decides not to take you to court. But this is a huge risk.
Themis Recoveries contact number
You can call Themis Recoveries on 0345 218 5225. Or you can email them using [email protected] They also have a contact form via the Themis Global website.
Need more help dealing with Themis Recoveries?
Learn more about debt collection agencies and the tricks they'll try on our debt help centre. And don't forget that debt charities are always available to offer free support!
Are you struggling with debt?
Affordable repayments
Reduce pressure from people you owe
Stop interest and charges from soaring
Get started