Junk mail, junk mail – Face to Face Debt Collection letter!
If you received a Face to Face debt letter recently, you will need to read our guide on how to handle this daunting situation.
Get the answers you are looking for, right here.
Who Are Face to Face Debt Collection?
Face to Face Debt Collection – otherwise written "Face2Face Debt Collection Agency" – is a debt collection agency that has been in operation since 2006. They collect debts from people in the UK by chasing them for payment. They may do this on behalf of other companies that own the debt.
But Face to Face Debt Collection is not just a debt collection agency. Their services are rather diverse and they also offer field visit services – hence their name – to exchange documents, gather information, site surveys and even financial means testing.
Don't worry, here's what to do!
You could get rid of debt collectors by writing off some of your debt.
There's 7 debt solutions in the UK, choosing the right one can take years off your debt, but the wrong one can be expensive and drawn-out.
Start our calculator to find your best debt solution:
Who Do Face to Face Collect Debt for?
Face to Face Debt Collection Agency may collect debts for any other business. As the process of chasing debt is uniform throughout different industries, they could collect for financial companies and banks, or they could collect for utility providers where homeowners or renters have not paid their bills in full.
There is some evidence that Face to Face Debt Collection Agency have been collecting debt on behalf of BT:
"Have anyone heard of this company[Face to Face Debt Collection Agency], the Old Man has informed me that they have sent him a letter saying they have been instructed by Commercial Credit Services for an outstanding amount owed to BT Group."
[Money Saving Expert Forum]
Face to Face Debt Collection Agency Debt Letters
The initial way that Face to Face Debt Collection Agency will contact you is by sending you a debt letter. This is known as a Letter Before Action (LBA) because it requests the money in full of tells you they will take further action.
And further action means legal action.
These debt letters are written to scare you and make you pay instantly. But we will tell you what you can do before reaching for your debit card.
It might even stop you having to pay Face to Face Debt Collection Agency anything at all!
Feeling like Chandler?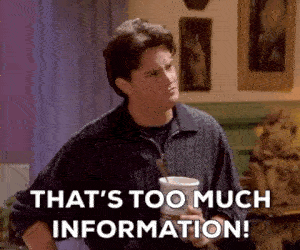 Is all this information starting to feel overwhelming? Don't panic! I've put together a 4 question calculator so you can quickly and easily find the best debt solution for you.
Answer the four questions now.
Ignoring Face to Face Debt Letters
The best piece of advice you can take from our Face to Face Debt Collection Agency guide is to never ignore their debt letters.
Sometimes their threats of court action are empty (and that is illegal) but not all the time. They could take you to court.
Most debtors will ignore Face to Face Debt Collection Agency because they haven't got the money to pay. But there is even a way around not being able to pay the full amount.
Further details are found later in our discussion.
How to Halt Those Face to Face Debt Calls
If you have started receiving calls from Face to Face Debt Collection Agency, you can't make them stop completely but you can stop them from calling too frequently.
Send them your communication preferences and they must stick to them. If they don't, they could be found guilty of harassment and this could land them in hot water with the Financial Ombudsman if you complain.
Will Face to Face Workers Come to My Home?
Some of the services carried out by Face to Face Debt Collection Agency do require them to visit people at their homes, and that means they do employ "field workers".
There is no evidence to say they will come to your home and ask for payment. But only a bailiff has this legal right AFTER the debt has gone to court.
If a Face to Face Debt Collection Agency field worker does any of the following, they are acting illegally:
Telling you they have the right to enter your home
Telling you they can or will take your items if you don't pay
Repeatedly turning up at your home
Refusing to leave your premises
Ask Face to Face Debt Agency to Provide Proof!
Instead of paying the Face to Face Debt Collection Agency debt off straight away, you can use the process to your advantage.
Face to Face Debt Collection Agency must prove that you owe the debt and you can ask for proof, such as a signed agreement you didn't stick to.
To request proof before paying, you can ask for it by sending them a prove the debt letter.
We have created a prove the debt letter template you can use to save you the trouble of writing one yourself.
You Have Face to Face Debt Solutions!
If Face to Face prove you owe the money do not ignore them. It is time to assess your debt solution options and they must give you time to do that.
One of the easiest ways for people who cannot pay the full amount is to agree a tailored Face to Face Debt Collection Agency repayment plan. But only enter this after working how much you can realistically pay back. Don't pluck a figure out of the air.
Other people may benefit from a different debt solution. One of the best for people with a lot of debt is an IVA because it can wipe your debts in five years without having to pay them all off.
When You Never Have to Pay Face to Face Debt Agency
There is one law that can stop you having to pay at all.
Debts that are at least six years old and have never received a CCJ might not have to be paid because of The Limitations Act.
Because the courts are so busy with new (debt) cases, they made old debts banned from court and therefore they cannot be legally enforced.
Look up more information on statute barred debt to see if your Face to Face debt qualifies.
Face to Face Debt Collection Agency Complaint
If you think that Face to Face have treated you wrongfully, make your complaint directly to them. If they don't reply to your satisfaction, you should then report them to the Ombudsman.
You might win compensation!