How Much Will Debt Collectors Settle For? 2022 UK Laws
For free and impartial money advice and guidance, visit MoneyHelper, to help you make the most of your money.
If you were in debt and have received a lump sum of money, you can use that sum to pay off your debts entirely. This applies even if the sum of money you have is not the complete amount you owe to your creditors.
You can do this by arranging what is called a 'full and final' settlement offer with your debt collectors or creditors.
While this may seem too good to be true, it's actually quite possible if you possess the proper know-how of how 'full and final' settlement offers work.
Having a better idea of what your creditors and debt collectors expect from you will help you reach a settlement that they'll be more likely to accept.
You can also seek the help of an independent charity which can assess your situation and help suggest what kind of offer you should make to your creditors.
It's not your fault. Complaints to the Financial Ombudsman have risen this year from 830 to 2,006, so it's safe to say that you're not alone.
Deal with your debt today and feel amazing tomorrow.
Beating Debt Collectors
There are several ways to deal with debt collectors and improve your finances.
Choosing the right way to tackle your debt could save you time and money, but the wrong one could cause even more harm.
It's always best to find out about all your options from a professional before you take action.
Fill out the 5 step form to get started.
What is a 'Full and Final' Settlement Offer and How Does it Work?
If you get a lump sum of money such as through inheritance or by selling an asset or as a gift from family or friends, you can definitely use it to pay off debt collectors. Depending on the amount of money you have, you may be able to pay off the full amount of your debt and become debt-free immediately.
If the lump sum you've received is less than the debt you owe, then you can opt to make a 'full and final' offer to your creditor. This would mean that your debt collector would agree to receive a lump sum of money from you at once and in return, they would write off the rest of your debt.
While it's definitely something a lot of debtors are unable to afford, a settlement is definitely a more hassle-free debt solution as compared to others such as an Individual Voluntary Arrangement (IVA) or a Debt Management Plan (DMP). This is because all of the debt owed is paid off in one fell swing rather than a series of monthly payments.
Are you struggling with debt?
Affordable repayments
Reduce pressure from people you owe
Stop interest and charges from soaring
Get started
How Do I Make a Settlement Offer?
Settling a debt may seem like a complicated procedure but really, it's all mostly common sense. In order to make a settlement offer to your creditor or creditors, you'll first need to figure out how much you're going to settle for.

If you have only one creditor, it's fairly simple. You'll just offer to pay them the entirety of the lump sum amount that you have. However, if you have multiple creditors, you're going to need to divide the sum equally among them.
For example, suppose that the lump sum of money you have is about 80% of the total debt that you owe. In this case, you should offer each creditor 80% of the total amount that you owed to that particular creditor.
Always remember that before you send over any money to your creditors, you should ask them if they accept your offer. Be sure to get their acceptance in writing so that you have proof in case of any dispute in the future.
Make sure that you keep all of the letters and any other correspondence you have with debt collectors and your creditors regarding the settlement offer just in case you need to refer to them in the future.
I recommend that you keep these safe with you for at least six years after you have paid the settlement amount to your debt collector or creditors. This is because the mention of a debt typically stays in your credit report (and thus, affects your credit score) for six years.
As you can probably imagine, this task will require a lot of micromanaging if you have a lot of creditors. Every creditor may not be receptive to your offer and they might need convincing. Hence, you'll probably have to deal with them individually and hopefully, you'll be able to get them all to agree to your offer.
To ask your creditors or debt collectors to accept a full and final settlement offer, use our free letter template.
Once all of your creditors have agreed to your offer, be sure to send each of them the agreed-upon amount by the due date. Make sure to keep proof of payment from each of them just in case a dispute comes up in the future.
Feeling like Chandler?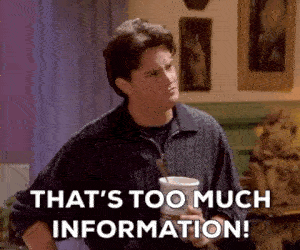 Is all this information starting to feel overwhelming? Don't panic! There's plenty of help available. You can get started below.
How Likely is it that My Offer will be Accepted?
This is a very difficult question to answer as it varies from person to person. Most creditors are unwilling to accept a full and final offer unless you have already defaulted in the first place.
If you have been making very low monthly payments in the past or no payments at all, your creditors would be very happy to receive a lump sum payment even if that sum is not the complete amount that you owe.
Many creditors are also likely to be swayed by a full and final offer if they know that otherwise, it's going to take you a very long time to pay back the entire amount.

In most cases, it's a very good idea to be completely transparent about your situation and share all financial information that you comfortably can with your creditors.
This will not only make them more understanding of your situation but it will also make them see that a full and final offer is actually the better choice in the long run rather than a conventional monthly payment plan.
My Creditors Refused to Settle, What Should I Do?
While getting your offer refused can definitely be a significant source of discouragement, you must keep in mind that you still have the lump sum of money. As long as you have that, you have a whole bunch of options you can pursue in order to pay off your debt.

For example, you can opt for an Individual Voluntary Arrangement (IVA). An IVA is typically a process that lasts five years in which you make payments to your creditors each month.
However, if you have a large sum of money at hand, you can opt to pay off your creditors at once using that amount rather than opting for a monthly payment method. However, you should keep in mind that when you opt for an IVA, even if you pay it off all at once, it will still stay in your credit file for 6 years after it was initiated.
You can also opt for a Debt Management Plan (DMP) if you happen to receive a lump sum. You can contact an independent charity such as Payplan or StepChange in order to help you construct your debt management plan.
They'll assess your financial information and give you advice on how much you should be paying as part of your debt management plan each month.
You can also opt for a Debt Relief Order (DRO) if you are not a homeowner and meet the other eligibility criteria. These are:
Your debt is less than £30,000.
You do not have a lot of assets that have much value.
You do not have a lot of income.
If you feel you are eligible for a DRO, you can opt for one by contacting a special DRO adviser. This adviser will assess your situation and help you fill in the application which will then be sent to the official receiver. While the DRO adviser cannot charge you for advice, the DRO application itself does have a fee of £90.
My Creditor has Proposed a Full and Final Offer, What Should I Do?
While this is extremely rare, it can definitely occur if you have been missing payments or providing a lot less in your payments than what was agreed upon. Your creditor (or creditors) may be fed up of you falling behind on payments and they may be wanting you to get it over with.

Of course, there's a high chance that you won't have any money to fulfil this offer but if the offer is good, I do suggest that you take a hard look at your options. If there's any way you can secure the amount necessary to pay your debts, I suggest that you go for it.
It can also be a good idea to assess the situation and see if you can negotiate with your creditors to bring the settlement amount down.
For example, if they have suggested 60% of the total debt owed, see if you can bring them down to 40% or 50%. Again, be thorough about your situation and financial information to make them understand that this would be a much better option than you sluggishly paying off your debt for what could be years.
Last but definitely not the least, read the letter they've sent you with the utmost care. Ensure that they have mentioned that they will be writing off the rest of the debt once you pay off the agreed-upon amount. If you are unsure then get them to clarify this in writing.
Will This Settled Debt Show Up in My Credit Report?
Debt settlements are definitely a sigh of relief for any debtor but just like most debt solutions, it's going to stay in your credit report for a while.
Once you settle your debt, your creditors will mark the debt as 'partially settled' on your credit file. This will show other lenders that the complete amount was not paid back by you in order to settle the debt.
As you can probably imagine, this will negatively impact your ability to secure credit in the future. The mention of a debt settlement stays in your credit file for a six-year period after it was settled.
Keep in mind that if your debt defaulted, then it's going to stay in your credit file for a six-year period after the date it defaulted. Reaching a partial settlement in regards to the debt does not change this.
References
CONC 7.3 Treatment of customers in default or arrears (including repossessions): lenders, owners and debt collectors
CONC 7.9 Contact with customers
Conclusion
A full and final offer may seem like a great debt solution but just like most other options, it has its pros and cons. It's a quick and easy solution that makes you debt-free immediately but it also severely impacts your credit score making you unable to secure debt reliably for years.
In the end, no matter what solution you opt for, the important thing is that you be equipped with all the relevant information necessary to make it successful.
Are you struggling with debt?
Affordable repayments
Reduce pressure from people you owe
Stop interest and charges from soaring
Get started