JCIA Debt – Should You Pay? 2022
For free and impartial money advice and guidance, visit MoneyHelper, to help you make the most of your money.
Should you pay a JCIA debt? We explain who JCIA are and their relationship to CARS, who often tell people they have a debt to companies like Three. If you're receiving calls and letters from JCIA Debt Collection, this is an easy-to-follow guide for you.
Beating Debt Collectors
There are several ways to deal with JCIA debt and improve your finances.
Choosing the right way to tackle your debt could save you time and money, but the wrong one could cause even more harm.
It's always best to find out about all your options from a professional before you take action.
Fill out the 5 step form to get started.
What is JCIA?
JC Internationals Acquisitions (JCIA) is a debt purchasing company. The business will buy unpaid debts from other businesses and then chase the debtor for payment. They buy the debts for much less than their actual value, meaning JCIA can make a significant profit on the debt if the debtor agrees to pay.
Is JCIA a legitimate business?
Yes, JCIA Debt Collection is a real business that is authorised and regulated by the Financial Conduct Authority. JCIA is also a member of the Credit Services Association (CSA).
Are you struggling with debt?
Affordable repayments
Reduce pressure from people you owe
Stop interest and charges from soaring
Get started
What is a JCIA debt?
A JCIA debt is a debt owed to JCIA because they bought the debt from a company you previously had dealings with. They are well-known to buy debts from gyms, telecommunications businesses, credit card companies, payday loan providers and insurance businesses.
So, if you have a debt to one of these types of businesses, it's possible that they have sold your debt to JCIA, making it a JCIA debt.
How does JCIA chase you for payment?
You might be contacted by JCIA to pay your debt, but in the UK, it's more likely that you'll be contacted by Creditlink Account Recovery Solutions (CARS). CARS is part of JCIA and is responsible for tracing debtors and getting them to pay.
They will send you letters asking you to pay or get in touch to discuss payment plans when you can't afford the full payment at once. These letters may be threatening and could suggest that legal action will be taken if you don't pay. Sometimes this is a real possibility, but some debt collection companies say this to make you scared and pay.
JCIA reviews (CARS)
There are a lot of negative reviews online about JCIA and CARS. Lots of reviewers state that they're being chased for debts that they don't owe and being harassed. Here are a couple of examples:
"Useless company, chasing me for a debt that I don't owe. Had the account fully closed by Three after they admitted the fault was their end. Have sent this proof to C.A.R.S via E-Mail and letter, had no response. Three themselves have told me twice they've also informed C.A.R.S but they still keep harassing me!"
"SCAM. This company keep sending me letters saying I owe money to Three. I have never had a Three account so don't know how I can owe them money."
One explanation why people keep getting chased for debts they don't know about is mistaken identity. JCIA may be tracing debtors to the wrong address – or there could be admin errors during the process.
But don't ignore JCIA just yet. There are things you need to do even if you think there's a mistake!
Feeling like Chandler?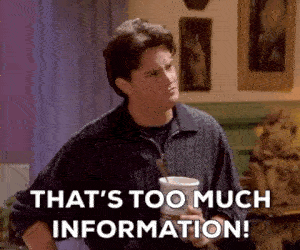 Is all this information starting to feel overwhelming? Don't panic! There's plenty of help available. You can get started below.
Should you pay JCIA?
You don't have to pay JCIA straight away and you might not have to pay them at all. When you receive a JCIA debt letter requesting payment, make sure you take action and don't ignore it. There are things you can do without having to instantly pay.
How to respond to a JCIA debt letter (without paying!)
You can respond to the JCIA debt letter by asking for evidence that you owe the money they claim you owe. JCIA or CARS then need to send you evidence of the credit agreement or contract you signed, which should be a copy of the signed original. You're not obligated to pay the debt until JCIA has provided this evidence.
JCIA may not reply with the evidence and simply re-state what you owe. If this happens you should keep a copy of their failure to supply evidence and ignore future letters until they provide evidence. If they take you to court over the debt, you should show the judge that you asked for proof but never received it. This can assist you in winning the case and is why you should keep copies of your prove-the-debt letter.
Another loophole to avoid JCIA debt
There is another way you could potentially avoid having to pay your JCIA debt. Some debts in the UK are banned from going to the courts because they have become too old. The average timescale is six years for most debts, including the types of debts that JCIA and CARS chase.
When a debt becomes too old to go to court – i.e. a statute-barred debt – you can tell JCIA that you won't be paying for this reason. We've made a free statute barred letter template to help you get the message across easily. Just be aware that your credit score can still be affected by unpaid statute-barred debts.
Further JCIA debt help
Additional support and guidance can be found at debt charities and Citizens Advice. We recommend speaking to these organisations if you have more money worries. And we have created our free debt help centre, which is full of information on different aspects of dealing with debts.
Are you struggling with debt?
Affordable repayments
Reduce pressure from people you owe
Stop interest and charges from soaring
Get started