Vanquis Debt Recovery – Must You Pay?Collection Agencies?
For free and impartial money advice and guidance, visit MoneyHelper, to help you make the most of your money.
Life can move at a million miles an hour. And in our daily lives, we find there are all sorts of things we need to sort day-in, day-out. Sometimes these things involve paying off debts or paying towards debts we owe, and it's very easy for these to get accidentally forgotten. If this happens, as it happens to the best of us, you may end up receiving a letter from a debt collection agency like Vanquis debt recovery.
While it can seem terrifying to get a letter from a company you don't recognise asking you for a sum of money you may not even realise you owe, it's best to keep a cool head and figure things out. We take a look at who Vanquis debt recovery are, and how you should go about dealing with them – and even how you might be able to beat them at their own game.
It's not your fault. Complaints to the Financial Ombudsman have risen this year from 830 to 2,006, so it's safe to say that you're not alone.
Deal with your debt today and feel amazing tomorrow.
Beating Debt Collectors
There are several ways to deal with Vanquis Debt Recovery and improve your finances.
Choosing the right way to tackle your debt could save you time and money, but the wrong one could cause even more harm.
It's always best to find out about all your options from a professional before you take action.
Fill out the 5 step form to get started.
Who is Vanquis debt recovery?
Knowing who you are dealing with is the first, and potentially the most important step in your journey to dealing with Vanquis debt recovery. It can be upsetting and confusing to receive an often strongly-worded letter from an unknown company demanding you pay back a sum of money you didn't realise you owed.
The unfortunate reality is that debt collection agencies don't often contact you in error, so it's likely you owe the sum they say you owe. But who is Vanquis debt recovery? And why are they getting in touch?
Vanquis debt recovery
Vanquis debt recovery is the debt collection arm of Vanquis bank. Vanquis bank is a part of the Provident Financial Group, who is a business specialising in the home credit market. Vanquis was established by Provident in 2002 as their main credit card provider.
If you have a credit card account with Vanquis, and you maybe have missed a payment towards it, then it is highly likely that Vanquis debt recovery will have written you a letter.
Are you struggling with debt?
Affordable repayments
Reduce pressure from people you owe
Stop interest and charges from soaring
Get started
Are they legitimate?
The next step in dealing with Vanquis debt recovery is to ensure that they are a legitimate and trustworthy company. After all, we have all heard about people scamming others, pretending to be debt collectors chasing up a debt that doesn't exist.
One of the most effective methods of checking whether the company you are dealing with is seeing whether they have a Companies House page.
Companies House collects information from all the companies in the UK and is basically the ultimate way of finding out whether you can trust the company you're dealing with.
Vanquis debt recovery doesn't have its own personalised Companies House page, but Vanquis bank does – you can find that here.
They have a company number of 02558509, and their official, registered office address is No. 1 Godwin Street, Bradford, West Yorkshire, BD1 2SU. You'll notice that this is also the official registered address of Provident Financial Group, their parent company.
Feeling like Chandler?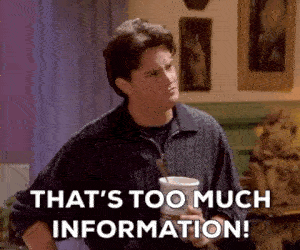 Is all this information starting to feel overwhelming? Don't panic! There's plenty of help available. You can get started below.
Getting in touch with them
It may seem confusing that Vanquis debt recovery don't have their own address, and you may be wondering how you might get in touch with them. The letter they have sent you will have details on how to contact them, but we go through the options they offer.
The address they offer on their website is PO Box 399, Chatham, ME4 4WQ. You'll notice that this is different from their registered office address – this is their customer service address.
If you want to contact them by phone, you can call 0330 099 3000. Their lines are open from 8am to 8pm Monday to Friday, and 9am to 5:30pm on Saturdays.
They even offer an SMS text message service –text your name and a brief description of your query to 0786 009 3000. The hours are the same as the phone times, with the addition of 10am to 2pm on Sundays.
Next steps
So now you know who Vanquis debt recovery are, and how you can contact them. We'll go through the next steps to dealing with them, and even beating them at their own game.
Be active
Make sure you get in touch with Vanquis debt recovery as soon as you receive their letter. The sooner you do this, the sooner you can sort the situation out.
Follow my 'prove it' guide with letter templates and get them to prove that you owe the money.
If you are worried about your financial status, you can also discuss this with them. They may agree to a repayment scheme where you pay off the debt in monthly instalments.
If you have continued worries about your finances, there are several different charities and services available to you that are in place to help you out. Take a look at Citizens Advice, National Debtline and the StepChange Debt Charity.
Gather information
As soon as you get the letter from Vanquis debt recovery, you should try and dig out as much information as you can. Cross-reference all the figures on all the correspondence that you can find with the debt letter. If there are any discrepancies between the numbers, you may not have to pay the debt.
Similarly, if you don't believe that the debt is yours, you can ask Vanquis debt recovery to prove the debt with a 'Prove the Debt' letter. There are some great templates for these on our article on proving the debt letters.
Pay the debt
If you are certain that the debt is yours, and you have the funds to pay it in full, you should pay Vanquis debt recovery as soon as you can. This will stop them from hassling you with further phone calls and letters.
There is also a chance that they might reduce the debt slightly too, so it's worth trying to sort out as soon as you can.
FAQs
We answer some of the more commonly asked questions about Vanquis debt recovery and debt collectors in general.
How can I pay them?
You can pay Vanquis debt recovery in several different ways. They have a dedicated payment section to their website that you can find
here
.
Can they visit my home?
If you fail to respond to their letters and calls, Vanquis debt recovery may send a representative to your home. However, they cannot disclose information about your debt to any third parties.
Can I make a complaint about them?
If you have reason to believe that Vanquis debt recovery hasn't dealt with your case in an appropriate way, you should make a complaint about them. To do so, you can get in touch with them with a formal written complaint. If they don't respond in a satisfactory manner, you can escalate matters to the
Financial Ombudsman Service
.
Are you struggling with debt?
Affordable repayments
Reduce pressure from people you owe
Stop interest and charges from soaring
Get started