Brecon House Caerphilly – Who Are They? 2022
For free and impartial money advice and guidance, visit MoneyHelper, to help you make the most of your money.
Have you received a scary or even threatening letter from Brecon House, Caerphilly Business Park? Is that letter demanding you make a payment or potentially be taken to court? You probably have a lot of questions. The good news is we have the answers for you right here.
Don't worry, here's what to do!
There are several debt solutions in the UK that can be used to improve your finances. Choosing the right way to tackle your debt could save you time and money, but the wrong one could cause even more harm.
It's always best to find out about all your options from a professional before you take action.

Fill out the 5 step form to get started.
Who are Brecon House Caerphilly?
Brecon House Caerphilly is the registered company address of Kearns Legal Services Ltd. Specifically, the address is:
Kearns Legal Services Ltd
Brecon House
Caerphilly Business Park
Caerphilly
CF83 3GQ
Who is Kearns Legal Services Ltd?
Kearns Legal Services, better known as Kearns Solicitors, is a company providing legal services in the UK. However, unlike other solicitors and legal firms, they only advertise two services. They can help landlords deal with problem tenants, and they can help with debt recovery.
The latter service is intended to help individuals and businesses recover unpaid debts from customers or other businesses. They will chase the supposed debtor for payment and threaten court action. Unlike most debt collection agencies, they can provide the client with legal support if they do wish to take the matter to court.
Are you struggling with debt?
Affordable repayments
Reduce pressure from people you owe
Stop interest and charges from soaring
Get started
Kearns Solicitors reviews
Kearns Solicitors have a number of online reviews from supposed debtors. Most of them don't have anything good to say about Kearns and their staff. Here is a taster of what's been said online:
"Send out fake court orders. When confronted they don't have a clue, stand your ground with them you will win."
"Well, they have taken action against me so I may well be a little bit biased. Not a massive fan. However I have had a couple of communications with them and have found them fairly responsive."
The Fizzy Scrapper (Google review)
We should state that the first review isn't factually accurate. Ignoring a letter from Brecon House Caerphilly does not always mean you'll "win". The second review also shows that their legal threats aren't always empty and their clients may end up taking debtors to court.
So what can you do when contacted by Kearns Solicitors? First, you need to know how they operate.
Feeling like Chandler?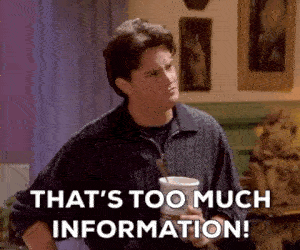 Is all this information starting to feel overwhelming? Don't panic! There's plenty of help available. You can get started below.
Kearns Solicitors debt collection process
Kearns Solicitors start its debt collection service in the same way that any other debt collection company operates. After being contacted by their client, they'll track you down and send you a letter requesting payment.
This letter is actually known as a Letter Before Action (LBA) because it requests payment and threatens legal action if you don't. If someone was going to take you to court over the debt, this letter must be sent first. However, not all legal threats are genuine. Sometimes a debt collection business will make legal threats in the hope it makes you pay out of fear. Because these letters are being sent by legal professionals, it will make the threat of legal action feel more real – which it might be!
There is no way of knowing whether Kearns Solciiotrs's client will want to take you to court or not. But it's not worth taking the risk. There's something you can do to fight back against Brecon House Caerphilly's letters without ignoring them. Keep reading as you'll want to know this!
How to respond to a Brecon House debt letter
You can respond to a Brecon House debt letter by asking Kearns to send proof that you owe the debt. The only time you shouldn't do this is when the debt is too old to be collected, which is discussed in the section below.
Kearns Solicitors must provide evidence that you owe the money before you have to pay. This should be a copy of a signed contract or credit agreement when possible. It might just buy you some more time, or it could get you off the hook from paying.
If they don't provide proof you owe the money and later take you to court, you can tell the judge that your request was ignored, which would help fight your case. We've made it easier to ask for proof you owe the debt. Click here to download our free prove-it letter templates.
Is your Brecon House debt too old to be collected?
Sometimes a debt becomes too old to be taken to court. And without a judge ever able to issue you with an order to be paid, you can never be forced to pay. This doesn't mean the debt is wiped, although you may ask the company to write it off.
In general, many debts become too old to go to court after six years. The exact criteria are more complex than this, which you can read about in our statute-barred guide. Check to see if your Kearns debt cannot go to court right now.
Can Kearns come to my house?
Kearns is a solicitors and debt collection agency. They have no right to come to your home or to suggest they can take your items away to pay off your debt. This can only be done by enforcement agents after a judge has ruled in favour of the client chasing you for the money.
How do I complain about Kearns?
You can complain about too many calls, texts and letters from Brecon House Caerphilly by letting Kearns know your contact preferences. If they ignore this or keep harassing you lodge a complaint directly. If the matter isn't resolved, you can then complain about Kearns Solicitors to the Financial Ombudsman Service (FOS).
Get more debt support for free
Access free debt help from Citizens Advice and UK debt charities like StepChange. They'll provide expert debt solution advice based on personal circumstances. And you can learn more about getting out of debt and dealing with debt collectors here at MoneyNerd.
Are you struggling with debt?
Affordable repayments
Reduce pressure from people you owe
Stop interest and charges from soaring
Get started