Capitol Commercial Collections Debt – Do You Have to Pay?
For free and impartial money advice and guidance, visit MoneyHelper, to help you make the most of your money.
Are you being contacted by Capitol Commercial Collections Debt about an outstanding debt ? Do you owe money but you are not in a position to repay it? Are you being asked to repay debts you don't believe are yours? Are you concerned they'll take you to court? If any of these questions relate to you, don't panic! This article is designed to help you. I'll explain why you might not need to pay them back!
It's not your fault. Complaints to the Financial Ombudsman have risen this year from 830 to 2,006, so it's safe to say that you're not alone.
Deal with your debt today and feel amazing tomorrow.
Beating Debt Collectors
There are several ways to deal with Capitol Commercial Debt Collectors and improve your finances.
Choosing the right way to tackle your debt could save you time and money, but the wrong one could cause even more harm.
It's always best to find out about all your options from a professional before you take action.
Fill out the 5 step form to get started.
Who are Capitol Commercial Collections?
Capitol Commercial Collections started trading in 1998, and are based in Watford, Hertfordshire. They are a relatively small debt collection agency, with just eight (!) employees. The company specialises in providing credit management and debt recovery services for businesses.
They sometimes go by other names! The other trading names that Capitol Commercial Collections have been know to use are:
A1 Certificated Bailiffs
The Corporate Consortium
Capitol Commercial Collections
The Collection Service
paymentsbycard.com.
Why you are being contacted by Capitol Commercial Collections Debt Collectors?
Have you received a letter from this debt collector? I'll buy it off you for £5
There are so many people struggling financially, that the debt collection business has became massive. Debt collectors like Capitol Commercial Collections will be found in various forms.
Many debt collection agencies work as independent businesses; some could also be a business arm of a creditor such as a credit card company or a bank etc; there are even individual sole trader debt collectors.
The business model rarely differs, as they purchase debt at a small fraction of the face value, often for as little as 20% of the face value, and they make a profit by collecting the debt at (or close to) its full value. There are not many morals involved. They believe that you ran up the debt, so you need to take care of it, regardless of your situation. They care nothing about you and your personal circumstances. Simply put, they tend not to be nice people. The Office for Fair Trading (OFT, 2010) acknowledged that such poor practices "appear to be widespread".
Are you struggling with debt?
Affordable repayments
Reduce pressure from people you owe
Stop interest and charges from soaring
Get started
Should you pay the debt?
Is this really your debt to pay? You should establish where the debt came from in the first place, and the total cost, including a breakdown with interest and charges. This is particularly important if you don't recognise the debt and you are confused as to where it came from in the first place!
The best thing to do is to write to Capitol Commercial Collections Debt Collectors with a request for a copy of the credit agreement. If they are unwilling to send this over to you, don't make any payments to them. They should be able to provide this without any issue.
Are you able to pay and don't want to?
If this is definitely your debt, then you should repay it, if possible as this will get them off your back. If you cannot make payments to the debt, or if paying it would stop you from being able to afford your essential bills, including rent or mortgage, then you should reach an arrangement with Capitol Commercial Collections Debt Collectors. You may even to make a partial payment and close the account.
Feeling like Chandler?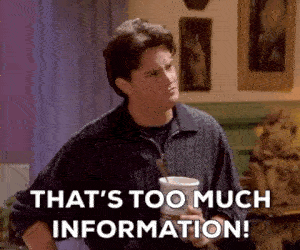 Is all this information starting to feel overwhelming? Don't panic! There's plenty of help available. You can get started below.
How debt companies can make your life miserable
Debt companies are eager to get payments from you, and they will try every possible avenue to achieve this. Unfortunately, the tactics they employ are often not in line with the law. Some of the most common tactics used by debt companies include, harassment and bullying. Some debt collectors will even call up your workplace to try and reach out to you to get you to repay the debt.
If you are being hassled by Capitol Commercial Collections Debt Collectors, it could be highly distressing and affect your day to day life. If they are employing seriously underhand tactics, it may lead you to become frightened to pick up your phone or answer your door, in case they are at the other side. If these are feelings you are experiencing, there are many in the same boat as you. The debt support trust even said that a substantial number of people have considered suicide as a result of their debt. The distress caused by debt collectors obviously doesn't help either. Debtors have reported feeling on embarrassment, humiliation, and generally feeling trapped by their debt. Having debt is difficult enough, but adding debt collectors into the mix puts even more emphasis on these feelings. The government were asked to take action on debt collectors, and the way they were both dealing with debtors, and their responsibility for ensuring they were lending to people who could afford to pay the debt back.
Capitol Commercial Collections Debt Collectors and what the law states
The Office for Fair Trading (OFT, 2012) put out a set of guidelines for the debt collection business. In summary, Capitol Commercial Collections Debt Collectors should:
Treat debtors with respect and without using aggressive practices, or being oppressive, obstructive etc.
Ensure transparency and offer concise information that will not mislead the debtor or confuse them.
Show consideration towards those borrowers who could be suffering with financial troubles.
Take time to understand the debtors circumstances, and act according to these.
If you feel intimidated by Capitol Commercial Collections Debt Collectors, and they are not sticking by this legislation, then you would have a strong case for reporting them to the OFT. They may even have the power to remove their license.
There are debt collectors that say they are an external agency, when they are actually a business arm of the company you owe money. This goes against some of the legislation, as they are not permitted to deceive you in any way.
How do Capitol Commercial Collections Debt Collectors operate?
Unless you have previously had dealing with debt collectors before, you may not have much knowledge about who they are and what they do. This is some information that may be useful to know when corresponding with debt collectors.
They may be looking for their bonus
Debt collection agencies don't tend to pay their agents very well, and the way they incentivise them to get payments is by offering bonuses. The agents will be target driven and hungry to get the payment from you! With this in mind, you will have a better understanding of why they might come across as quite aggressive. As a targeted job, they will need to explain themselves if they are unable to collect any payments. It gives you a better grasp of what is going through their minds!
You should stand up for yourself, regardless of the pressure Capitol Commercial Collections Debt Collectors agents try to put on you. The threats they make are usually meaningless, there is not a lot they can do, unless they decide to get bailiffs in. It is important to deal with your debt, but only ever in a controlled way.
Call technology is common
Most people are tempting to just ignore the contact they receive from debt collectors. They throw letters in the bin, cancel calls and stop answering their door. Of course, there is not much Capitol Commercial Collections Debt Collectors can do if you don't respond to them, but they will keep trying and by ignoring them, you are just giving yourself more hassle in the long run.
If they are contacting you excessively though, you should keep a note of the correspondence, including dates and times. This behaviour is breaching the OFT guidelines and as such, you will have the right to report them to the Financial Ombudsman.
Why the sudden change?
You may experience a sudden shift in the behaviour of the debt collection agents from Capitol Commercial Collections Debt Collectors, and this can be quite alarming, if you are taken unaware. They might be only too willing to help, and may be friendly and polite. However, if you inform them that you can't or won't make any payment to the debt on that day, they may change to becoming quite aggressive. As we discussed previously, this is down to the fact that they have targets to meet and bonuses to achieve. If they come off the call and explain to their manager that they have been unable to get a payment, they may have hassle to deal with. If this happens on all their calls, throughout the entire day, their job may even be put on the line!
Speaking to others about your debt
Another common tactic of debt collectors is to discuss your debt with anyone who will listen! If they can't get you to speak to them then surely it is their right to discuss it with your partner. The answer is no! They have no right to speak to anyone else about your debt. When they do this, they are in breach of both the OFT guidelines and privacy laws.
You have the right to report them for discussing your debt with others and you can do this by contacting the Financial Ombudsman on on 0800 023 4567 or 0300 123 9123
Common lies
It is quite common for debt collectors to lie to debtors about various things to try and get them to pay the debt. They may say that they are a bailiff, and that they have the right to visit them at home and take some of their possessions. They may even hand out threats about court action. These are empty threats and not something Capitol Commercial Collections Debt Collectors are permitted to do.
Do not allow them to visit you. If they do this anyway without your permission, you can ask them to leave. You should never feel that you are in physical danger but if you do, contact the police immediately. You should feel safe in your own home.
Strength and courage
If Capitol Commercial Collections Debt Collectors are exhibiting some of the behaviours mentioned in this article, we understand how difficult and confusing this can be to deal with. The best thing you can do in this situation is to stand up for yourself, and show real strength and courage. The debt does need to be paid, but you should never be forced into paying it when you don't have the means to do so. You should only start paying your debt if it won't affect you having a roof over your head or food to eat.
Organisations offering free debt help
Many debtors feel that they are completely alone with their debt problems. It can be difficult to turn to friends and family, as many people feel humiliated by their situation. If you are struggling to cope with your debt issues, there is professional debt help out there. There are organisations who offer free help and companies who will charge you a fee to use their debt services. These are some of the not-for-profit organisations offering a free service:
Citizens Advice Bureau (CAB) will be able to give you extensive advice and help with getting out of debt, and they can also stop the debt collectors from getting in touch with you, as long as you can prove you are attempting to repay the debt.
Christians Against Poverty (CAP) offer free debt help and have assisted many borrowers in getting out of debt.
StepChange provides free online debt advice and help borrowers take back control of their finances.
Is there any way to write off your debt?
Many borrowers decide that the best course of action is to sign up to an Individual Voluntary Arrangement (IVA). With an IVA, you will be able to clear off your debt by combined the debts into one affordable monthly payment. In a specific time period of usually five years, any debt you have remaining will be written off. It is most beneficial if you have quite a lot of debt and it's all over the place! You must use an insolvency practitioner for this.
There are other options, if you feel an IVA might be too severe. You may want to consider another debt management programme or in the worst case, you may find that bankruptcy is the only plausible solution to your debt problems.
Let's Summarise!
In summary of the above information, which might be a lot to take in, we suggest that you should deal with your debt problems, and not hide away from them. You should always speak to the agents from Capitol Commercial Collections if they have contacted you. However, we also say that you should pay debt at a rate that doesn't compromise your ability to pay essential bills. You should not be harassed, bullied or in any way treated unfairly by debt collectors. The law is on your side, and if they are doing this, you can make a formal complaint to the lender. If nothing happens with this, you should always report the debt collection company to the Financial Ombudsman who will help to settle the dispute.
FAQs
Will my debt go away if I ignore debt collectors?
The debt won't go away if you ignore debt collectors. In fact, the debt collectors may send doorstep agents to your home. It is not a good idea to ignore debt collectors, even if you are unable to repay the debt at that time.
Are Capitol Commercial Collections able to take you to court?
Yes, Capitol Commercial Collections have the ability to take you to court as a result of the debt. If they plan to take you to court, they will issue you with a County Court Judgement – also referred to as a CCJ.
Will you end up in jail for debt collections?
You don't need to worry about being sent to jail for the debt you owe, this won't happen!
Will anything happen if I ignore a CCJ?
If you decide to just ignore the CCJ altogether, you may end up with bailiffs being sent to your home. They may end up taking some of your possessions as payment for the debt, if you refuse to pay up.
Are Capitol Commercial Collections able to issue you with a warrant?
Capitol Commercial Collections do not have the legal right to issue you with an arrest warrant. They can, however, request a CCJ against you, and if this is successful, you may end up with bailiffs at your door to take items as payment for the debt.
Do Capitol Commercial Collections also operate as bailiffs?
They may say they are but no,Capitol Commercial Collections are not bailiffs and they cannot act like one! They may request bailiffs to be sent to your door, but they cannot do this of their own accord. If they are planning to do this, warning letters will be sent to you.
Are Capitol Commercial Collections allowed to come to your property?
They could come to your property, but they won't be able to do anything! They don't have any legal powers. Therefore, a trip to your home will be a bit of a waste of time on their part! If they do come to your home, you have the right to turn them away.
What if Capitol Commercial Collections force entry?
Capitol Commercial Collections are not permitted to force entry into your property, as they do not have any legal rights. The exception to this would be if they get bailiffs to visit your property.
Are Capitol Commercial Collections likely to give up?
You can be sure of one thing and that is that Capitol Commercial Collections will not give up trying to get this debt from you. They will realistically keep chasing you for 6 years!
Can a debt be too old to collect?
Capitol Commercial Collections won't give up chasing you for the debt until they've exhausted all of their legal options. This usually means being chased for up to 6 years.
What is the expiry on this debt?
According to the the Limitation Act 1980, debt collectors can keep trying to get the debt for 6 years. The 6 years begins from the last time you paid anything towards your account, or in some way acknowledged you have this debt.
Can my debt be written off?
You may be chased for 6 years about the debt and then it would be written off. However, this doesn't apply if you have a CCJ against you for the debt. In this case, there is no limit. Another way you can get at least some of the debt written off is by signing up to an IVA.
Are you struggling with debt?
Affordable repayments
Reduce pressure from people you owe
Stop interest and charges from soaring
Get started
References
CONC 7.3 Treatment of customers in default or arrears (including repossessions): lenders, owners and debt collectors
CONC 7.9 Contact with customers