Debt collectors often have a bad rep – the tactics they use for getting payments from you can be a bit unpleasant, as they're usually pretty persistent, and the language they use can come across as kind of cold. It may be a bit upsetting to get a letter from a debt collection agency like ABC Debt Recovery. If you keep a cool head, you can make motions to beat these debt collectors. We take a look at who ABC Debt Recovery are, and what you should do if they get in contact.
It's not your fault. Complaints to the Financial Ombudsman have risen this year from 830 to 2,006, so it's safe to say that you're not alone.
Deal with your debt today and feel amazing tomorrow.
Who is ABC Debt Recovery?
ABC Debt Recovery is a debt collection agency. They are the trading name of SHCE Ltd (Sheriff's High Court Enforcement), a company who first started out in the 1970s dealing primarily with High Court writs. ABC Debt Recovery specialises in debt collection, in particular pre-judgment and post-judgment debts. These are court-mandated debts, and can sometimes only be for smaller amounts. ABC Debt Recovery mainly focuses on these lower amounts.
Don't worry, here's what to do!
You could get rid of debt collectors by writing off some of your debt.
There's 7 debt solutions in the UK, choosing the right one can take years off your debt, but the wrong one can be expensive and drawn-out.
Start our calculator to find your best debt solution:
Is ABC Debt Recovery a legitimate debt collection agency?
One of the first things you want to know when receiving a letter from someone claiming to be a debt collection agency is whether they are legitimate or not. In the case of ABC Debt Recovery, they are confirmed to be a legitimate company.
Their Companies House page says that their company number is 08306066. Their registered office address is 2 Marine Road, Colwyn Bay, Clwyd, Wales, LL29 8PH. ABC Debt Recovery used to have offices in Croydon. However, these appear to have been closed. Their website offers up several different addresses, each linked to their parent company, SHCE Ltd.
Why is ABC Debt Recovery getting in touch?
ABC Debt Recovery could be getting in touch for a range of different reasons. The main reason that they would be reaching out to you is to reclaim an outstanding payment or debt that you owe to a company, who has, in turn, contacted ABC Debt Recovery in order for them to reclaim this amount on their behalf.
Feeling like Chandler?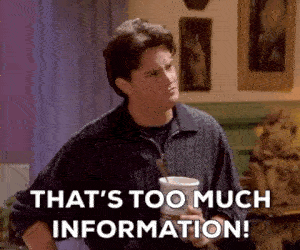 Is all this information starting to feel overwhelming? Don't panic! I've put together a 4 question calculator so you can quickly and easily find the best debt solution for you.
Answer the four questions now.
Who do ABC Debt Recovery collect for?
The 'Debt Recovery' section on the ABC Debt Recovery website says that they recover commercial and consumer debt not regulated by the Consumer Credit Act (CCA). The sorts of debts not regulated by the CCA include:
Mortgages
Household bills (such as gas, electricity and water)
Debts to local or central governments (such as council tax)
Debts to unlicensed lenders
Charge cards
This is just a selection of some of the more common types of debt, and there can be many more which can be either regulated or unregulated. Sometimes, a debt can be either depending on the date you took the debt and the amount you borrowed!
What to do if ABC Debt Recovery have got in touch
It is often upsetting, and quite frightening too, when you receive a letter saying that you owe money you didn't know you owed, to a company you may not recognise.
Unfortunately, debt collection agencies like ABC Debt Recovery don't send these letters by mistake as often as you'd like, so it is a likelihood that you do owe the money they say you owe.
Check the information
The letter you receive from ABC Debt Recovery should have all the details you need about who the original creditor is and how much is owed. Use this information and cross-reference it with any older correspondence you might have received from the original creditor.
It is also worth making sure that all the amounts and details match up. Sometimes, debt collection agencies like ABC Debt Recovery have the wrong details and might be contacting you for a debt you don't actually owe. In the instance that you are uncertain if you do owe the amount stated or not, you can use a 'prove the debt' letter to ensure that it is definitely owed.
Keep track of correspondence
Once you start the process of corresponding with ABC Debt Recovery, it's really important to make sure you keep track of all the phone calls and letters that you and the debt collection agency send.
Note down the time and date of each phone call and letter, and it is also worth noting down the names of the people you talk to. If they turn around and accuse you of discrepancies, you will be able to prove to them that you have continued a good level of contact.
Paying the amount you owe
If you are certain that the debt is yours, and you have the necessary funds to settle it, then you should pay the debt you owe ABC Debt Recovery as soon as you can. The sooner you do this, the sooner they will stop sending you letters and phoning you.
If you aren't able to pay the full amount in one go, don't worry. By keeping a good level of contact with ABC Debt Recovery, you should be able to arrange a repayment scheme in the form of a monthly payment. If you ignore their letters and don't pay or contact them, they could very easily escalate matters to a court case or even petition for bankruptcy.
FAQs
Below, we've answered some of the most frequently asked questions about ABC Debt Recovery, as well as debt collection agencies in general.
Is a debt collection agency like a bailiff?
Bailiffs usually act at the behest of a debt collection agency. Debt collection agencies aren't able to seize your property themselves.
Can ABC Debt Recovery visit my house?
Yes, a representative from ABC Debt Recovery could come to your home and ask you to settle your debt. They don't have any more powers than that however.
Can I complain?
If you believe that ABC Debt Recovery hasn't behaved correctly, you can contact them to make a formal complaint. If they ignore this, you'd be able to escalate the matter to the Financial Ombudsman Service.