Debt collection is one of the biggest businesses out there, and it doesn't seem to be going anywhere any time soon, sadly. With the market being valued at around £2 billion according to some sources, it's a pretty big deal! Getting a letter from a debt collection company like Absolute Debt Recovery is also one of the more stressful things to happen to you, but with some planning and forethought, you can beat them at their own game. We take a look at what you should do if a company like Absolute Debt Recovery get in touch, and answer some commonly-asked questions about debt collection.
It's not your fault. Complaints to the Financial Ombudsman have risen this year from 830 to 2,006, so it's safe to say that you're not alone.
Deal with your debt today and feel amazing tomorrow.
Absolute Debt Recovery
We mentioned Absolute Debt Recovery as an example of a debt collection agency that could reach out regarding unpaid debts. As it happens, Absolute Debt Recovery doesn't exist anymore. They were incorporated in March 2012, with a company number of 08008665, and ended up being dissolved in 2014. While they were a functioning company, their registered office address was 72-74 Topping Street, Blackpool, Lancashire, FY2 0BN. The first and only director of Absolute Debt Recovery was Stuart Paul Cooper.
This means that you're highly unlikely to receive a letter from Absolute Debt Recovery – if, however, you do receive any correspondence from a company claiming to be Absolute Debt Recovery, you should contact the Financial Conduct Authority immediately. We'll give you some tips and tricks to follow if a debt collection agency like Absolute Debt Recovery sends you a letter.
Don't worry, here's what to do!
You could get rid of debt collectors by writing off some of your debt.
There's 7 debt solutions in the UK, choosing the right one can take years off your debt, but the wrong one can be expensive and drawn-out.
Start our calculator to find your best debt solution:
Debt collection agencies – the basics
Debt collection agencies are employed by other companies to collect debts that may have fallen through the cracks. It is always a bit stressful when you suddenly get a letter from a company that you may not recognise, saying that you owe an amount of money you may not even realise you owed, but don't panic.
Make sure you read the letter really carefully, and take note of the company that the debt collection agency are collecting for. It could also be worth looking up the debt collection agency online, because if it is like Absolute Debt Recovery, then they don't exist, so the debt also doesn't exist.
How do I know if it is a real company?
First things first, you should make sure that the company who are sending you this letter is a legitimate company. You can do this by heading over to the Companies House website and searching for the company here.
Every legitimate company will have a dedicated Companies House page, which will tell you the company number, the official registered address, any details of previous company names and occasionally the names of the people who work for them. Sometimes, as in the case of Absolute Debt Recovery, their Companies House page is taken down. If you find they don't have a Companies House page, then you can start to be suspicious!
How do I find out who do they collect for?
Debt collection agencies like Absolute Debt Recovery collect debts for anyone who deals with custom and money basically. You will be able to find out which company they are getting in touch with you about from the letter you receive, but you can also find out other companies they collect for from testimonials on their website or blog posts from other people who have received similar letters.
Depending on the companies they collect debts for, they could also get another accreditation for being an official company – for instance, debt collection agencies that collect debts for car parks will have links to the British Parking Association or the International Parking Committee.
Feeling like Chandler?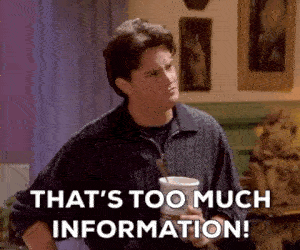 Is all this information starting to feel overwhelming? Don't panic! I've put together a 4 question calculator so you can quickly and easily find the best debt solution for you.
Answer the four questions now.
What steps should I take if I get a letter from a debt collection company?
Getting a letter from a company you don't recognise or have had any dealings with in the past can be a bit upsetting – and even more so when the letter is demanding some money from you too. Don't worry, though – it's surprising how many people get these sorts of letters. There are a few steps to take when you get a letter like this.
Information
Information is key here. Make sure you go through the letter really carefully, note down who the debt recovery agency are collecting for and go through your own correspondence and letters to match it all up. If the amounts don't match, you won't have to pay up.
Follow my 'prove it' guide with letter templates and get them to prove that you owe the money.
Names & Dates
When you get the first letter from the debt recovery company, make sure you note down the date they sent it, and any names that might be on the letter. As you proceed with your dealings with them, continue to note down times, dates, and the names of everyone you speak to. If there is any confusion down the line, you'll have all the information you need.
FAQs
So, there are some basics about what to do if you get contacted by a debt collection agency like Absolute Debt Recovery. Here, we go through some of the more frequently asked questions about debt collection and what to do.
What happens if I don't pay?
If you can prove the debt isn't yours, then you won't have to pay. You can do this in a number of ways, the easiest being a 'proof of debt' letter sent to the company. If you do owe the money, you must pay the amount in full.
What happens if I can't pay?
If you can't pay the full amount, you should let the company know as soon as possible. You might be able to come up with a repayment scheme where you pay a set amount each month. Keeping in touch with the company will mean you can sort this out, so make sure you are active in your correspondence.
Can I complain about the debt recovery company?
Yes. If you believe that the company have behaved disrespectfully, you can make a complaint directly to them. If they don't respond, you can escalate matters to the Financial Ombudsman Service.