Want to know how to react when KPR Debt Collection send you a threatening debt letter? You're in the right place as we discuss everything you need to know about KPR Debt Collection – and how to deal with them.
It's not your fault. Complaints to the Financial Ombudsman have risen this year from 830 to 2,006, so it's safe to say that you're not alone.
Deal with your debt today and feel amazing tomorrow.
Who Are KPR Debt Collection?
KRP Debt Collection are one of hundreds of companies in the UK that make a profit by chasing debts for other businesses. Their administration work and knowledge of the debt collection process is what makes them appealing to big businesses.
A business will ask KRP Debt Collection to follow up on an unpaid debt by a customer and hopefully get them to pay, saving the business the time and resources needed to do it themselves. Sometimes, KRP Debt Collection will take on debts from other debt collection agencies that go out of business.
Don't worry, here's what to do!
You could get rid of debt collectors by writing off some of your debt.
There's 7 debt solutions in the UK, choosing the right one can take years off your debt, but the wrong one can be expensive and drawn-out.
Start our calculator to find your best debt solution:
Who Are KPR Debt Collection's Clients?
KRP Debt Collection may work in a range of sectors and collect debts for all types of businesses. The debt collection process is fairly standard no matter what type of business they collect for, and thus, they can cater to a wide market.
Yet, there is evidence that KRP Debt Collection work a lot in the financial industry, either chasing unpaid credit card debt, bank charges and personal loan debt:
"A large loan with Nationwide has been passed to KPR Debt Collection. I am on a DMP with Payplan. I got a letter this morning from KPR Debt Collection stating that the Nationwide had instructed them to collect £339.45 from me. These are all bank charges that I am trying to get removed […]"
[Money Saving Expert Forum]
As you can read by this post, KRP Debt Collection have worked for Nationwide in the past and may still be doing so today.
What Is a KPR Debt Collection Debt Letter?
When you owe a debt that KRP Debt Collection is chasing, they will let you know with a debt letter, also known as a Letter Before Action.
But don't expect a nice letter with pleasantries. KRP Debt Collection letters can be to the point and aggressive, making legal threats that incite you to pay quickly.
These letters are genuine, but there is no need to pay instantly. We have some tricks for you to try first (read on!).
Feeling like Chandler?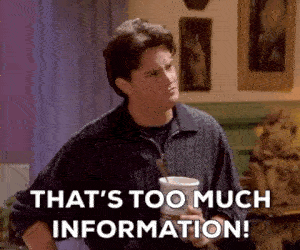 Is all this information starting to feel overwhelming? Don't panic! I've put together a 4 question calculator so you can quickly and easily find the best debt solution for you.
Answer the four questions now.
Why People Ignore KPR Debt Collection (And why they shouldn't!)
The most common reason why a debtor chooses to ignore KRP Debt Collection letters is because they can't afford to pay their debt.
This is understandable, but it is not a clever decision. The reason why it is not smart is because KRP Debt Collection can really take legal action and your debt can grow.
The other is because you don't usually have to pay the full amount instantly to get KRP Debt Collection and their threats off your case.
Know Your Rights When Dealing with KPR Debt Collection
When you are communicating with KRP Debt Collection, it is best to know your legal rights. Make sure KRP Debt Collection don't:
Pressure you into paying
Use technical language to confuse you on purpose
Pretend to be bailiffs who can take your goods (they can't but they can employ bailiffs after a CCJ has been issued to do this)
Make repeated harassing calls
These are some of the things you can complain to the Financial Ombudsman about – and maybe get compensation!
Can KPR Debt Collection Come into My Home?
If a KRP Debt Collection worker comes to your home to discuss the debt, you can ask them to leave. Or you don't even need to open the door to them.
The only people who can come into your property to collect debt is a law enforcement officer. These people enforce actions set forth by a court. If your debt hasn't been to court, nobody can come into your home to discuss the debt if you don't want them to.
Even if it has been to court and you have been told to pay, KRP Debt Collection workers still do not have the right to enter your house.
Request KPR Debt Collection to Prove the Debt
Before you pay anything to KRP Debt Collection, they must prove that you are the person who owes the money. And they must do this with good evidence, such as a signed agreement.
You can request this by using a prove the debt letter template.
If they don't provide the proof and continue to ask for payment, you should keep evidence and report them for harassment. Keep all letters in case they do take you to court.
Learn About Your Debt Solutions, Now!
If you are unable to pay back the KRP Debt Collection debt in one payment, you can still reply to their letter and discuss your options directly with them. Just like many UK debt collectors, KRP Debt Collection offer tailored repayment plans based on your situation.
Only agree to a repayment plan you can keep to – and that means working out a monthly budget!
But there are even more debt solutions available, such as Debt Relief Orders, IVAs and even bankruptcy can be a good choice for some people.
Learn about the best debt solutions at MoneyNerd!
When You Don't Have to Pay KPR Debt Collection
The amount of personal debt in the UK is piling up and the courts have long been under pressure to deal with all the different cases.
As a result, many decades ago a new law was passed that prevented debts that were over six years old to go to court. Thus, easing the pressure on the courts.
If your KRP Debt Collection debt is older than six years old, it might qualify as a statute barred debt and you won't have to pay KRP Debt Collection ever.
Discover if your debt is statute barred by researching online, now!
Get Further Help for Tackling KPR Debt Collection
For further help dealing with KRP Debt Collection, we recommend chatting with some of the UK's excellent debt charities. Many of them offer free debt advice and can guide you out of debt.