Are you getting calls and letters from Network Credit Services? Maybe you thought it was just a scam and thought nothing of it, but now they are beginning to pester you and you're beginning to worry.
If you're wondering who Network Credit Services Debt Collection are and whether you actually owe them money, this guide is for you.
You'll learn all you need to know about dealing with this debt collection firm quickly and in the best way possible for your circumstances.
It's not your fault. Complaints to the Financial Ombudsman have risen this year from 830 to 2,006, so it's safe to say that you're not alone.
Deal with your debt today and feel amazing tomorrow.
Who is Network Credit Services Debt Collection?
Based in Hamilton, Network Credit Services is a debt collector for both commercial businesses and individuals covering the whole of the UK.
Individuals are usually tradespeople or self-employed individuals who need to chase up unpaid invoices.
They are also known for working for local housing associations and landlords to recover tenant arrears, unpaid rent, etc.
Don't worry, here's what to do!
You could get rid of debt collectors by writing off some of your debt.
There's 7 debt solutions in the UK, choosing the right one can take years off your debt, but the wrong one can be expensive and drawn-out.
Start our calculator to find your best debt solution:
Is Network Credit Services a Scam?
No, this is a legitimate debt collection firm which is registered with the Credit Services Association.
Never throw away letters from this company thinking it's just spam. Even if you dispute the debt, it's best to open a dialogue with the firm to avoid further action being taken.
Why are Network Credit Services Contacting Me?
If you have unpaid debt such as rent arrears, unpaid service charges, or perhaps an invoice you've not made payments on, the original lender or business you dealt with has employed Network Credit Services to recover the money owed.
The letter you received should indicate who they are working on behalf of. However, if you are confused and don't recognise the debt, we'll talk about what you need to do later.
Feeling like Chandler?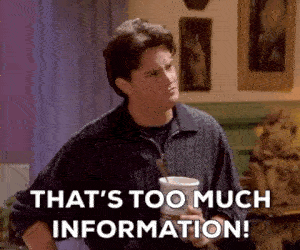 Is all this information starting to feel overwhelming? Don't panic! I've put together a 4 question calculator so you can quickly and easily find the best debt solution for you.
Answer the four questions now.
Can I Ignore Letters from Network Credit Services?
In short, no. It's never a good idea to completely ignore calls or letters from a debt collection firm.
If you continue to ignore Network Credit Services, you'll receive more and more letters in the post, which is stressful enough.
But they may also send agents to your home to try to get in touch with you. These are not bailiffs, and you don't need to invite them in. Their only job is to establish that they have the correct address for you.
On the other hand, it's also important that you don't admit to owing any money. Instead, open dialogue and tell the debt collectors you need time to explore your options.
What Legal Action Can Network Credit Services Take?
Here are the stages that Network Credit Services will go through in attempts to recover the debt owed:
1. Send letters and call you
You'll get an initial letter stating who they are, who they are working for, how much is owed, and the timeline of payments.
After this, you'll also receive follow-up letters and phone calls. If these become intimidating, don't let it pressure you into paying money you're not 100% sure you owe.
2. Send agents
As we've seen previously, if calls and letters go unanswered, the next stage is sending field agents to conduct a house visit. These people are not bailiffs and do not have any right to enter your home or seize property. They are only there to ensure they have the correct address on file.
Do not invite them in and ask them to leave immediately. Also, never agree to any sort of payment plan or admit to owing the debt on your doorstep.
3. Send a default notice
Eventually, they will send a default notice letting you know that you have two weeks (or maybe more) to settle the debt or they will begin court action.
4. Issue a County Court Judgement
If you continue to ignore attempts to contact you, Andrew Wilson & Co have the power to take you to court to have a County Court Judgement filed against you. This will compel you to pay the debt.
4. Send bailiffs
If you still don't pay instalments, a warrant will be obtained allowing bailiffs to come to your home to recover either funds or property.
Find out how to deal with bailiffs.
5. Apply for an Attachment of Earnings Order
Network Credit Services Debt Collection may then apply for an Attachment of Earnings Order which will take the debt owed directly from your wages each month. This is only possible if you have a salaried job.
6. Apply for a Charging Order
If the debt you owe is significant and you don't make any effort to repay, the solicitors can also apply for a Charging Order. This would secure your debt against your home which can then be repossessed to recover the debt if no payments are made.
How Do I Stop Abrahams Dresden Contacting Me?
You can't stop Network Credit Services from contacting you altogether. However, you can make your contact preferences known if, for example:
You only want to be contacted via post
You only want to be contacted via phone
You do not want to be contacted on a certain number (for example, at work)
Once you've given them your contact preferences, they must abide by them.
Network Credit Services Are Harassing Me, What Do I Do?
Although phone calls and letters can be a nuisance, these are not considered harassment. The easiest way to make these stop is to open a dialogue with the debt collectors and make your stance clear.
If they have done anything that might be considered misconduct, you need to file a complaint with the firm directly:
Post: Network Credit Services, Units 21 – 23 Brandon House, 23 – 25 Brandon Street, Hamilton, Lanarkshire, ML3 6DA
Phone: 01698 300026
Email: Use the form on the website
Steps to Take After Receiving a Letter from Network Credit Services Debt Collection
Here are the steps you need to take as soon as you receive a letter from Network Credit Services (or any debt collection agency):
1. Check your credit report
If the debt is legitimate and in your name, it will appear on your credit report. You can check this for free using a reputable credit check agency such as Experian.
2. Ask for proof of the debt
Reply to Network Credit Services Debt Collection letting them know that you dispute the debt in question and need them to prove the debt.
Follow my 'prove it' guide with letter templates and get them to prove that you owe the money.
They will need to send you original copies of any credit agreement or equivalent to prove the debt.
If they can't send you proof, you have no legal obligation to pay them anything.
3. Check if the debt is Statute Barred
In England, creditors have six years from the final payment to retrieve any outstanding debt. In Scotland, lenders have just five years.
After this time, the debt becomes Statute Barred and they no longer have any legal right to take you to court.
Find out more about Statute Barred Debt here.
What Do I Do if I Can't Afford to Pay Abrahams Dresden?
So, you've done the necessary checks and you've discovered that you do owe the debt. What happens if you simply can't afford to pay it?
Here are some of your options:
1. Agree on a payment plan with Abrahams Dresden solicitors
Before anything else, try to agree on a monthly payment plan with Network Credit Services. They should be willing to set up a monthly plan for you.
2. Negotiate a full and final settlement
If you have the funds, you should also be able to negotiate a lowered final settlement amount. This can be as low as 30% of the original debt, so make sure to start negotiations low.
Remember, if you do come to an agreement on a final settlement, you will need to pay it upfront and in full.
Can't Come to an Agreement with Network Credit Services?
If you can't come to an affordable agreement with Network Credit Services Debt Collection, you have plenty of other options available.
First, let the debt collector know that you cannot afford to pay them back and need time to explore your debt management options. Give them a date on which you will be in touch again with your decision (two weeks should be fine).
Here are some other options available to you:
1. An IVA
You may be eligible for an Individual Voluntary Arrangement (IVA). This scheme consolidates all of your debt so you only need to pay one monthly payment as low as £90.
After 60 months, all remaining debt is written off completely. Most people who use an IVA write off around 60% of their debt but in some cases it's as much as 90%. Find out if you qualify for an IVA here.